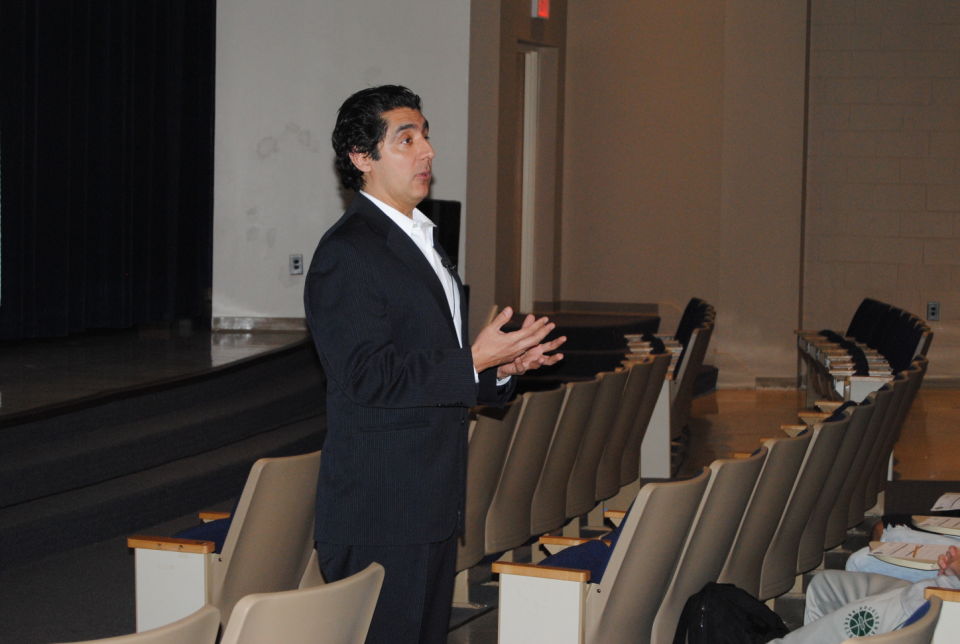 Is black history American history?
Dr. Omar Ali, an associate professor at the University of North Carolina at Greensboro, asked this question to a group of students, faculty and community members during a presentation Wednesday at Rockingham Community College. He received several answers including no, yes and they're in some ways related.
He said American history and black history are intertwined on a number of levels, including economically, culturally and politically.
Ali said through slave labor and the working class, human resources was the basis of the economy. A number of cultural aspects like music, language, food and fashion also come from the African-American population.
Slavery and freedom are intricately woven together, according to Ali. He said slavery makes freedom possible, and vice versa.
"The core concept of freedom rests on the actuality of slavery," he said. "In 1619, the first African-Americans were brought into America in Jamestown, Va., as enslaved people…you have a nation of freedom that brought in the first Africans as slaves."
Ali said history is a seamless process of collective creation and that humans make things happen.
"In history, there is no permanent victory and no permanent defeat," he said.
Race, which Ali said is not scientifically proven as humans have no sub species, has shaped the history of the world tremendously. He said race has only been a part of history in the past 300 to 400 years and many countries see race as something entirely different.
He said in other parts of the world, Africans have risen up to great power from meager beginnings, although slavery is still a part of civilization in all areas of the world.
His presentation also covered the advent of voting in the United States and how it evolved to first include poor white men, black men, women and people from ages 18-21.
When asked what he wanted students to take from his lecture, he said he wanted them to realize history is much more interconnected than most people think.
"It's not just about the great individuals, it's about people of all kinds creating things together," he said. "That is what produces history – the people who have pressed for changes in the most critical ways are the outsiders, the independents. It's these ordinary men and women who push and push from the outside and then ultimately the changes are adopted by people in power."
He said he thinks most people would be more interested in history if it were presented in a way that didn't glorify people, but instead brought out the human aspects.
"How can one compare oneself to Dr. King? It's impossible," he said. "But if you talk about what his struggles were, and what most people around him struggled with on a more personal level, I think that's more interesting."
Ali is a graduate of Columbia University and was formerly a visiting professor at Vanderbilt University and a library scholar at Harvard University. He is currently an associate professor in the African-American Studies program at the University of North Carolina at Greensboro.
The program was made possible through the North Carolina Humanities Council through the Road Scholars Bureau. To find out more, visit www.nchumanities.org.