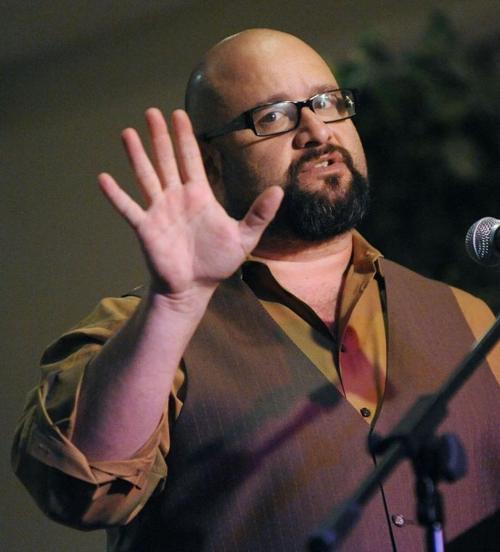 BRISTOL — Controversial professor and evangelical minister Ergun Caner was unapologetic Friday, defending his record while criticizing Islam, his critics and the media.
Caner, the former dean of the Liberty Baptist Theological Seminary in Lynchburg, spoke to a crowd of about 500 at Bristol's 12th annual prayer breakfast at the Holiday Inn Hotel & Suites.
Earlier this year, a controversy erupted in the media and on the Internet concerning some of Caner's claims about being a teenage Muslim who was trained as a terrorist, and comments he made during speaking engagements.
"We saw it (controversy) coming. My brothers and I have been dealing with it for years. This just happened to bounce big, and I paid no attention. News means little to me, and the Web is — well, bloggers for the most part — are just frustrated people in their basements," Caner said after the program.
Born in Sweden to Turkish parents and raised as a Sunni Muslim, Caner converted to Christianity after his family moved to Ohio.
He said Muslims who renounce their faith are considered "murtad" or deviated from Islam and subject to attacks — verbal or physical — by other Muslims.
"You learn to live with adversity. You learn through adversity. And it takes more than edited videos to knock me down," Caner said.
While he continues to teach at Liberty, in June the university decided not to renew Caner's contract as dean after a special committee of college trustees found discrepancies regarding his background.
"Dr. Caner has cooperated with the board committee and has apologized for the discrepancies and misstatements that led to this review," according to a college statement.
"The school said, 'What do you want to do?' And I said, 'Fine, investigate me.' But the controversy alone, you pay the price for the controversy. You pay the price for the attention and the bad publicity," Caner said. "Every pastor in America, ask them if you can go through 200-odd hours of your sermons. Would they find where you said your kids' names wrong or dates wrong? Yeah, of course. You just smile and move on."
During his remarks to the group, Caner criticized Islamic teaching where good deeds are weighed against bad.
"The Quran says if you have one more good thing than bad, then you go to paradise. That's it. And the only thing that erases bad scales is jihad. The only person assured, in Islam, to die and go to the hundreds of years of paradise is the martyr. It's the only assurance, which is why there's no shortage of my people getting on planes and buses. It's the only absolute that you know," Caner said.
He also recounted his teenage conversion to Christianity through the efforts of a teenage friend and a Baptist minister.
The Rev. "Clarence Miller explained to me, in a way a high school kid could understand, that Jesus Christ died on the cross and shed his blood for me — so my blood was unnecessary. If I may say it this way, Jesus strapped himself to a cross, so I wouldn't have to strap a bomb to myself. His blood was sufficient," Caner told his audience Friday.
Caner, who has written 17 books, including four about Islam, claims "3 of 4" Muslims in America are "running from Islam."
"Our problem is the 1 out of 4," Caner said. "They don't understand religious freedom. They don't understand freedom of speech. They say, 'Stop saying we're violent or we'll kill you.' Really? Did you just hear yourself say that?"
Event Chairman Sid Oakley said he learned much from meeting Caner.
"Ergun has taught me not to be afraid of Muslims. I didn't understand," Oakley said. "To go and do something that gets you disowned by your father is pretty big."
Steering committee member Bobby Griffin called Caner one of the most "unusual" speakers in the event's history, but praised the strength of his message.