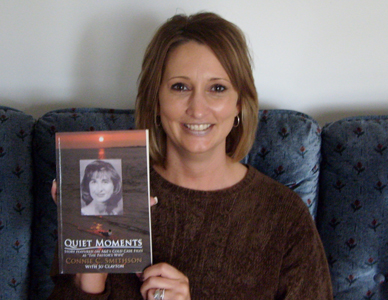 It was the face of an associate pastor, a religious man. Soft, pudgy, smooth shaven, it was a face that held a deadly secret, but not for long.
"When we saw the scratch marks on his face, we knew he was guilty," Connie Smithson said of Eugene Rick Pulley, former associate pastor of the River of Life Church in Danville.
Smithson, 39, now a Child Protective Services (CPS) social worker in Currituck County, N.C., has waited eight years to publish the story of her aunt Patty Jo Pulley's murder.
The trial is long over and Pulley's husband, Eugene Rick Pulley, is serving life without parole. But the road to justice was a long and winding one for the family. And now Smithson says she's finally able to share the details of the story the media didn't have.
As the niece of Patty Jo Pulley, Smithson and family members feared the worst when she went missing on May 14, 1999.
Pulley's truck was found near Milton, N.C., but her body wasn't located for four more years. And if the county hadn't decided to tear down the Hyco Creek Bridge in rural Caswell County, she might never have been found.
A contractor, observing the condition of the bridge, spotted Patty Jo's remains. In time, police were able to connect Patty Jo's husband Rick with the crime. He was convicted of first-degree murder and sentenced to life without parole in 2004.
"I followed (the case) and started writing the book shortly after she went missing. I don't remember exactly when I started it, but it's taken me eight years to finish it. I had to wait for her to be found. I had to wait for the trial and the outcome of that. Finally, it's been published," she said.
Smithson's book talks about her aunt — who she was, where she came from and a bit about her life.
It takes the same dark turns and terrifying twists that Smithson and her family took as they wrestled with the question of whether Rick Pulley had indeed killed his wife.
"It's (a book) about her life behind closed doors, what she was going through and how we never knew about it," Smithson said of the violence.
The title of the book, "Quiet Moments," was actually the title of a poem Patty Jo wrote while she was in high school in 1976.
"Quiet moments made me think about the time Patty Jo spent alone with him and him beating her and the time she spent alone in prayer because she was a devout Christian. And about how quiet it must have been under that bridge for her body to be lying there in nature for four years," she said.
Smithson said the book was written to make the public and domestic violence workers aware of the importance of recognizing and confronting domestic violence.
"My goal is to get at least five of these books into domestic violence agencies throughout the entire United States," she said. "When we're sitting down and counseling these women and talking to them, they're not listening, and they walk right back into it. But if they take this true story and read about it, maybe it will open their eyes to what their family will go through if it happens to them."
Hopefully, the book will serve as a wake-up call to families as well, Smithson said.
Too often, people don't recognize the signs of domestic violence.
Smithson said her family later found out that Rick Pulley had been abusing Patty Jo for more than 19 years, while the couple was still in college, and that's the saddest part, she added.
"I've thought that. I asked myself if I had known the signs of domestic violence at the time, if it would have made a difference," Smithson said.
"We weren't around them that much though. If I had been around them more I would have picked up on it," she said of the abuse. "And having the training I have now under my belt, I definitely would have picked up on it."