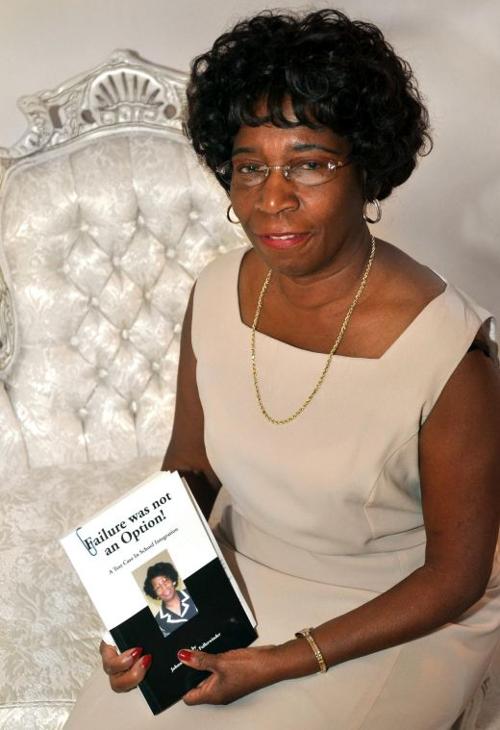 If you go
• "Failure was not an Option! A Test Case in School Integration"
• Johnnie Fullerwinder book signing today, noon to 3 p.m.
• Danville Science Center, 677 Craghead St.

Most people can relate to sheer panic and terror experienced in that all-too-common nightmare that you've arrived at school on exam day — and you haven't read the book. Everyone is ready but you.
Johnnie Fullerwinder can not only relate — she lived it. Well, sort of.
Fullerwinder arrived at George Washington High School in 1966 for her first day as a teacher there, realiz-ing she was the first — and only — black teacher in the entire school.
"Is this reality or am I dreaming?" Fullerwinder wrote in her recently-completed self-published book detailing the experience. "Did someone forget to mention this to me? Was something said in the job interview that I missed?"
Expecting to be placed at the all-black Langston High School, Fullerwinder was more than surprised to discover her teaching assignment. But she didn't realize the extent of the situation until that first day, when she saw no other black teachers.
In her book, which is written almost like a reflective diary of that year's events, Fullerwinder's utter determina-tion to succeed despite the challenges she faced every day is evident. She writes not from a position of anger or resentment, but rather one of resolve and purpose in overcoming even the most intimidating of predicaments.
"Don't be quick to develop an 'I can't do it' attitude," Fullerwinder said in a recent interview. "I think determination, courage and, above all, knowledge can help a person to overcome difficult situations."
Whether it was not knowing if she was allowed to use the regular women's bathroom — rather than one marked "col-ored" — or if she could eat with everyone else in the cafeteria, Fullerwinder embraced the precarious circumstances and hid her fear behind her desire for success and acceptance.
"During these times," she wrote, "it became painfully clear that acceptance does not automatically come with physical admission to a build-ing."
Fullerwinder's students re-sented her, disregarded her and defied her. They made bogus complaints to the principal and to their parents, she said. Other teachers ignored her presence. But to Fullerwinder, she was simply a science teacher with students to teach.
Through maintaining strict control of her class, Fullerwinder gradually gained acceptance, but not without great challenges.
After that unsteady first year, Fullerwinder spent the next 16 teaching science at GW before becoming assistant principal at Gibson Middle School. She then became assistant principal at GW and ultimately retired as the divi-sion supervisor of math and science for K-12 after 37 years in the district.
"When people of very different backgrounds are brought together for frequent interactions," she said, "they can eventually transcend major differences and develop very positive relationships."
Fullerwinder decided to write her story after encouragement from former students. Her book, "Failure was not an Option! A Test Case in School Integration," provides telling, candid insights into the resistance to integration within Danville schools.
Copies are available at a book signing today at the Danville Science Center, a facility which Fullerwinder, who served as president of its board of directors in 2005, helped make a reality.
"That was a different period and place in Danville's history," she said. "Things were altogether different then and I want people to understand that despite some of the harsh challenges that I had to undergo, Danville was able to work beyond those."