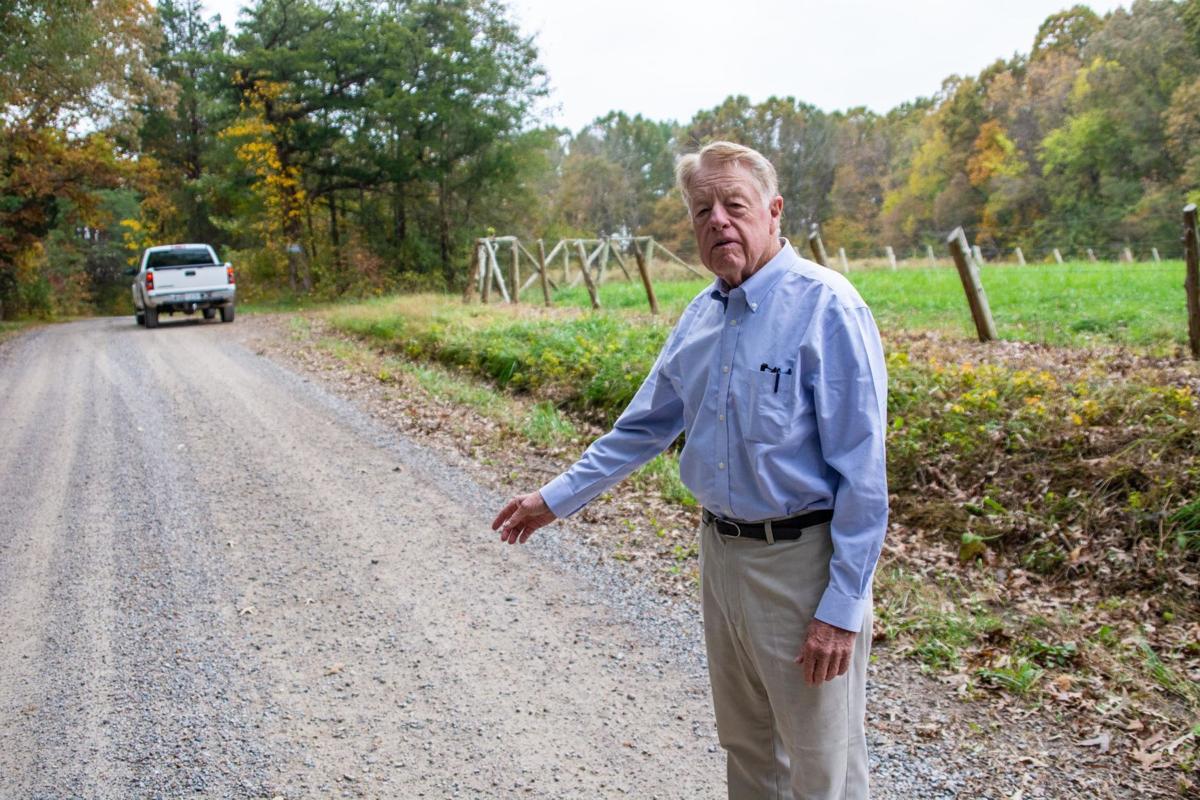 The prospect of uranium mining occurring at Coles Hill in Chatham, the largest known uranium deposit in the country, took another blow recently when a Wise County Circuit Court judge ruled against Virginia Uranium, Inc.
In his ruling, Judge Chadwick Dotson described the lawsuit, which had originally been filed in 2015 before finally going to a multi-day trial earlier this month, as "one last effort" by Virginia Uranium and other companies to utilize their property.
In a case involving Virginia Uranium, the United States Supreme Court issued a ruling last year that upheld the ability of Virginia or any other state to ban uranium drilling even though the federal Atomic Energy Act allows it with significant regulation. This lawsuit went with a completely different approach: a takings claim. The plaintiffs argued the government unconstitutionally took their private property without a compelling government interest, and the action they did take was overbearing.
Dotson conceded the point that significant economic damage did occur through the state's moratorium on uranium mining, which has been in place on a temporary basis since 1983, but he concluded "the greater harm would be against the people" if it were to be lifted now.
"Even the highest rights cannot be used in a vacuum; we are not solitary creatures. Our actions impact those around us, and sometimes those actions must be hemmed in so as to protect others," he wrote in his ruling Thursday afternoon.
John Oldendorf, one of the attorneys representing Virginia Uranium, declined to comment for this story. Walter Coles Sr., chairman and CEO of Virginia Uranium and manager of Coles Hill, LLC, declined to answer any specific questions, but did say that "the only thing we're doing right now is reviewing the judge's ruling. [We] have not decided how we'll move forward and what the next steps might be."
A moratorium on uranium mining in Virginia was first passed for a year in 1982 before being enacted on a temporary, yet indefinite, basis while lawmakers looked to learn more about the economic benefits and potential environmental impacts. Numerous lobbying efforts, legislative actions and lawsuits from Virginia Uranium Inc., Coles Hill, LLC, and Bowen Minerals, LLC at Coles Hill have been unsuccessful in overturning it.
Coles Sr. and Henry Bowen collectively own Coles Hill.
Those who oppose the practice of uranium mining largely do so for environmental concerns regarding the safe storage of tailings, which are the radioactive waste from the milling of uranium.
"There really can be no argument that a moratorium on uranium mining, which is an inherently dangerous activity with potentially dangerous indirect effects, achieves the Commonwealth's rightful duty to protect the public from injury and to protect the health, safety, and welfare of the citizenry," Dotson wrote in his opinion.
Based on evidence presented at the trial, Dotson said there are no uranium mining operations in comparable wet climates or with similar population densities that could be looked to as an example. Due to the high water table and possibility of weather events causing radioactive waste to seep into the water, the safe storage of the tailings "could not be guaranteed," Dotson wrote.
Proponents of uranium mining argue it would be a boon for the economy. An assessment in 2012 found nearly 120 million tons of uranium ore are in the land under Coles Hill. From that, roughly 132 million pounds of actual uranium can be extracted — which would be worth an estimated $427 million if no moratorium were in place. The moratorium means "the mineral state is worth exponentially less," Dotson wrote.
However, others argue uranium mining would actually hurt other businesses and result in a net negative effect on the economy. The Danville Pittsylvania Chamber of Commerce, the Danville Industrial Development Authority, and the River District Association in Danville all signed a brief filed by University of Virginia Professor Cale Jaffe in the Supreme Court case in favor of maintaining the moratorium.
In his ruling, Dotson also conceded "the moratorium does no more than duplicate the result that could be achieved under Virginia nuisance law," which involves any condition that endangers the general public.
"That means that even absent a moratorium in the Virginia code, impacted citizens, whether they be neighbors or downstream communities, could go to court [against the operation]," Jaffe said.
When this case was originally filed in Wise County Circuit Court in 2015, there were two possible outcomes if the court concluded the takings claim was valid: an injunction that would change the regulation, or up to $483 million in compensation to make up for the lost economic benefits. The prospect of compensation was taken off the table in 2016 because of the statute of limitations.
Va. Attorney General Mark Herring, who has repeatedly defended the ban, issued a statement celebrating the ruling.
"Today's ruling once again affirms that Virginia is well within its right to regulate mining activities in the Commonwealth," Herring said in a statement. "I'm pleased we were able to yet again successfully defend Virginia's environment and uranium mining moratorium in court."
The business news you need
With a weekly newsletter looking back at local history.