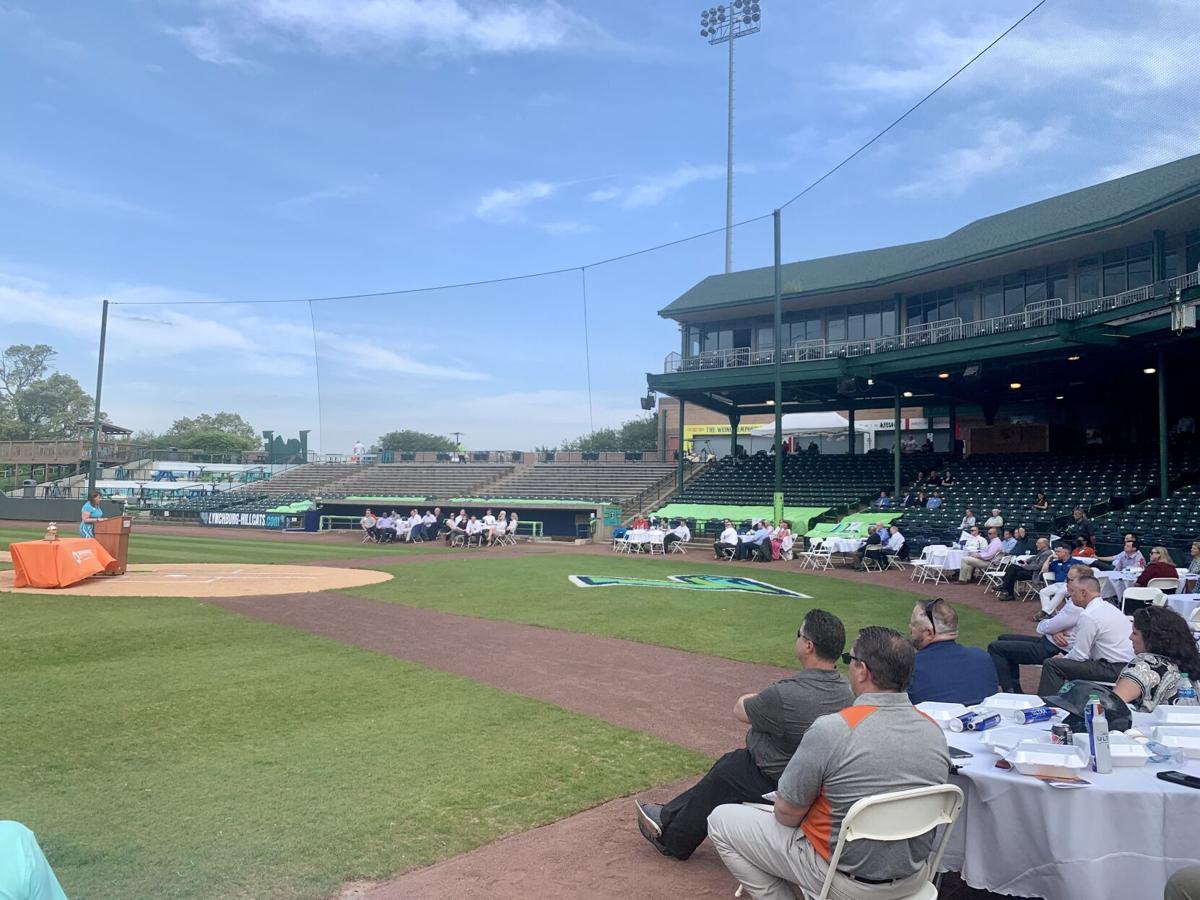 The Lynchburg Regional Business Alliance shook up tradition when it decided to hold its annual meeting Wednesday evening outdoors at the Lynchburg Hillcats field at City Stadium.
Instead of guests showing up in business suits and ties, about 275 members of the Alliance rolled in with casual golf tees and khakis to celebrate in-person networking with cold beers and hot dogs.
The Alliance has 730 members. Christine Kennedy, chief operating officer of the Alliance, said the event has averaged 250 to 325 participants each year for the past five years.
"This is the first major event since COVID, so our numbers were a clear demonstration of the business community's desire to reengage after a year of lockdown from the pandemic," she said. "We couldn't be more thrilled to see so many of our members connecting in person again."
Alliance guests and leaders spoke from a podium on the playing field to present awards and make remarks about the past year and hopes for the upcoming one.
Ryan McEntire, past chairperson of the 2020 board of directors for the Alliance, said his vision last year was to ignite a passion for encouraging the next generation to get involved.
"Involvement took on a whole new meaning in 2020 as we adapted to virtual meetings and finding new ways to connect," he said.
He said 2020 did, in fact, see increased engagement from the area's young professional population, noting it could have been because of an increased digital presence.
The Alliance became one of many communication vehicles of policies and local updates regarding the COVID-19 pandemic, he said. Examples of this include executing the 2020 Wage and Benefits survey for employers, securing more than $600,000 for regional economic development projects and industrial site improvements for industrial parks.
Denise Woernle, chairperson of the 2021 board of directors for the Alliance, was unable to attend the event but Luke Towles, chairperson-elect, gave a few remarks on her behalf.
He said Woernle was confident and ready to help guide and direct the third year of the Alliance's strategic plan.
"Obviously a lot of those plans have been changed or redirected or modified because of COVID but the Alliance remains committed to seeing economic growth and pursuing that growth through its programmed work," Towles said.
Towles said members would receive a copy of the Alliance's business plan Wednesday evening which highlights some of its goals, such as hosting events where members can connect and conduct business development; hearing from local, state and national speakers on relevant topics, as well as continuing to put the region on the map with global site selectors and business development specialists so the area can add jobs.
He said the organization is represented 80% by small businesses, which are the backbone of the community and the economy.
"And, certainly, they're the ones that dealt with a lot of change ... in 2020," he said on behalf of Woernle. "So we want to continue to focus our attention and efforts on how we can develop, grow, start and resource, small business in this community. Here in Lynchburg, we just have a special ecosystem where people help each other in support one another, and in difficult times we look to see how we can be of help."
Each year, the Alliance presents awards to business and community members who have gone above and beyond in providing services to the area.
This year, the F.M. "Dink" Cloyd Award was presented to Todd Hall, president of First National Bank, for his service to the Alliance and volunteer work.
The George Taylor Stewart III Award was given to Dr. Kerry Gately, health director for the Central Virginia Health District, for his leadership efforts during the COVID-19 pandemic.
Jessica Kercher, owner of Simply Vanilla Gourmet Cheesecakes, took home the Young Professional to Watch Award; Matt Klein, with Campbell Insurance, was given the Ambassador of the Year Award; and Allison Stronza, executive director of CASA of Central Virginia, was given the Leadership Lynchburg Servant Leader Award.
Megan Lucas, CEO of the Alliance, closed the meeting by giving the 2021 vision for the organization.
"In 2021, and over the next 18 months, you can expect the Alliance to advance entrepreneurship by addressing the funding gaps through things like venture capital and angel investing to help fill critical jobs."
She said the Alliance will be resurrecting key workforce and educational events post-COVID that include virtual components and technology that helped get students and their parents to see the realities of where the future jobs are.
"You'll see us advance the work we started in 2020 on the industrial sites and buildings, so we can attract jobs and capital investment for the entire region, which sets up infrastructure in the region for decades to come," she said. "We'll be leveraging your collective economic development investment to achieve greater global reach for greater local impact. We'll work together with our elected officials, so that we can be the region's best business advocates by empowering people and organizations to their full potential."
Without a strong regional economy, she said there is no community.
"Nobody has ever led through a global pandemic, national civil rights and political upheaval at the same time," she said. "We are all beginners at this, and we've learned grown and proven that we are unstoppable."
"You'll see us advance the work we started in 2020 on the industrial sites and buildings, so we can attract jobs and capital investment for the entire region, which sets up infrastructure in the region for decades to come."

— Megan Lucas, CEO of the Lynchburg Regional Business Alliance