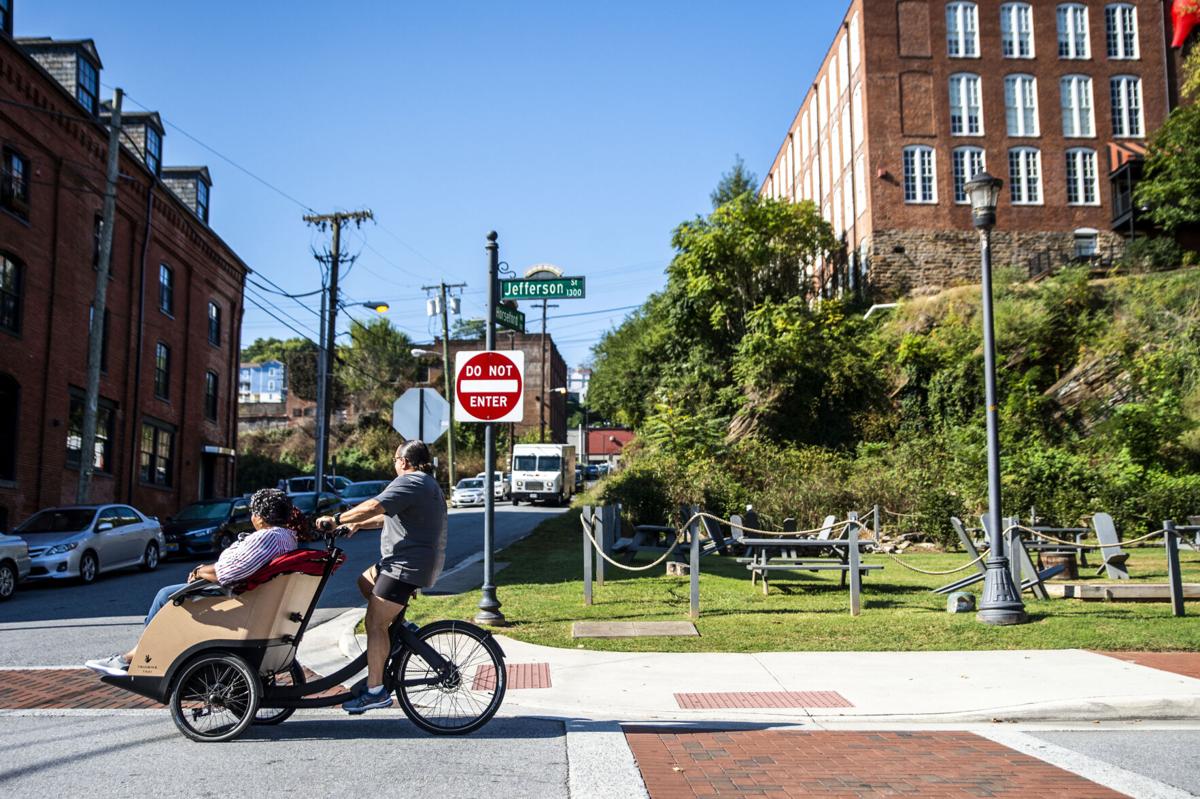 A new nonprofit is organizing free trishaw rides to the 50-plus community so they can engage in the outdoors and witness the revitalization of downtown Lynchburg.
According to the organization's website, Cycling Without Age originally began in Denmark in 2012 after founder Ole Kassow "noticed how seniors in Copenhagen were somewhat neglected, and he set out to refresh their youth with gentle bicycle rides. So, he developed a special 21st-century 'trishaw,' built with safety and security in mind ..."
A bicycle pilot is right behind the passengers, engaging in conversation.
Lynchburg's chapter has one trishaw — a special bicycle that allows a volunteer peddler to transport one or two people in the front seat of the bike. Volunteers sign up to "pilot" the passengers and are trained to incorporate the program's principles, which, according to the organization's website, are "generosity, storytelling, without age, slowness, relationships."
Jimmy Roux, president of the Lynchburg Cycling Without Age board, said the nonprofit, which was founded in April, runs off donations and hopes to purchase another trishaw — a $12,000 expenditure — as well as a mobile unit
to give those who cannot get downtown a chance to ride wherever they are, such as Westminster Canterbury.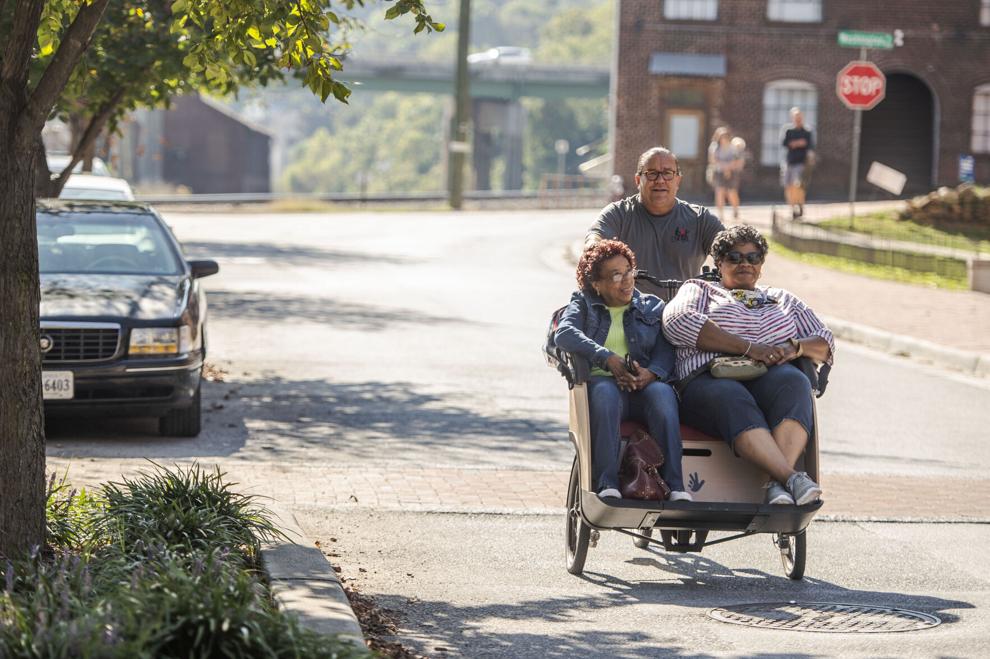 A few years ago, Roux began biking to work two to three days per week to be more sustainable.
"I was looking on YouTube on all these commuting things and this TED talk comes up, and I was fascinated by [Kassow] and was like, this is a great idea, somebody should do this here in Lynchburg, so I told everybody they should do it. Nobody took me up on it, so my wife and I decided we were going to do it."
The Lynchburg chapter of Cycling Without Age began giving rides about a month ago and can take two people at a time, leaving from Bikes Unlimited on Jefferson Street and rides for about 30 minutes up and back from the Blackwater Creek towards Percival's Island and Hollins Mill.
"We're giving free rides and people go to our website [so] they can sign up for the free rides," Roux said. "We're focusing on people who have been maybe locked up in the pandemic and haven't been able to get out. We want them to get back out there and feel the wind in their hair."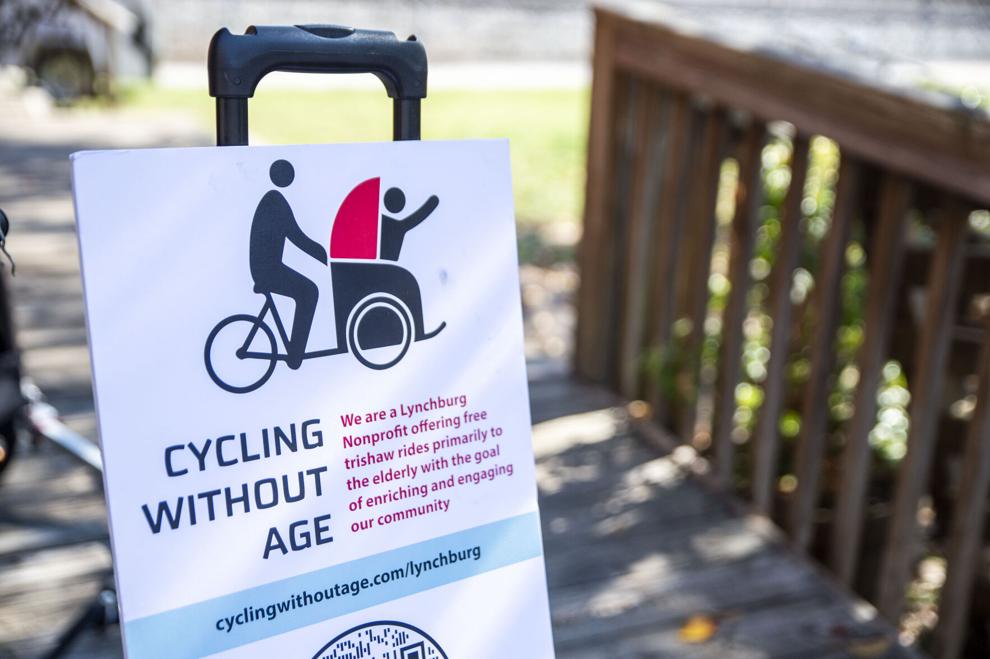 Roux is passionate about exercise and relationships.
"So you get to bike, get some exercise, get to be outdoors and you get to learn about other people and their story. And that's part of our thing, finding out about them, taking an interest in them and getting them engaged and everybody loves biking, everybody's got a story about biking when they were growing up."
The nonprofit has trained "pilots," or cyclists. The board is made up of 10 people, most of whom have been trained as pilots, Roux said.
Mike Coco, a pilot for the nonprofit and professor of mathematics at University of Lynchburg, has been an active cyclist since 1997 and said he enjoys helping others get involved with biking.
He said this is one way for people to get to see parts of the city they may otherwise be unable to.
"Cycling gives you a lot of freedom, and in most cities you can go pretty much anywhere you want," he said. "In Lynchburg, other than a few roads, you can get virtually anywhere. It's really easy to get out into the mountains and explore. You can find a lot of peace and quiet time and you can enjoy it as a group or in a competition."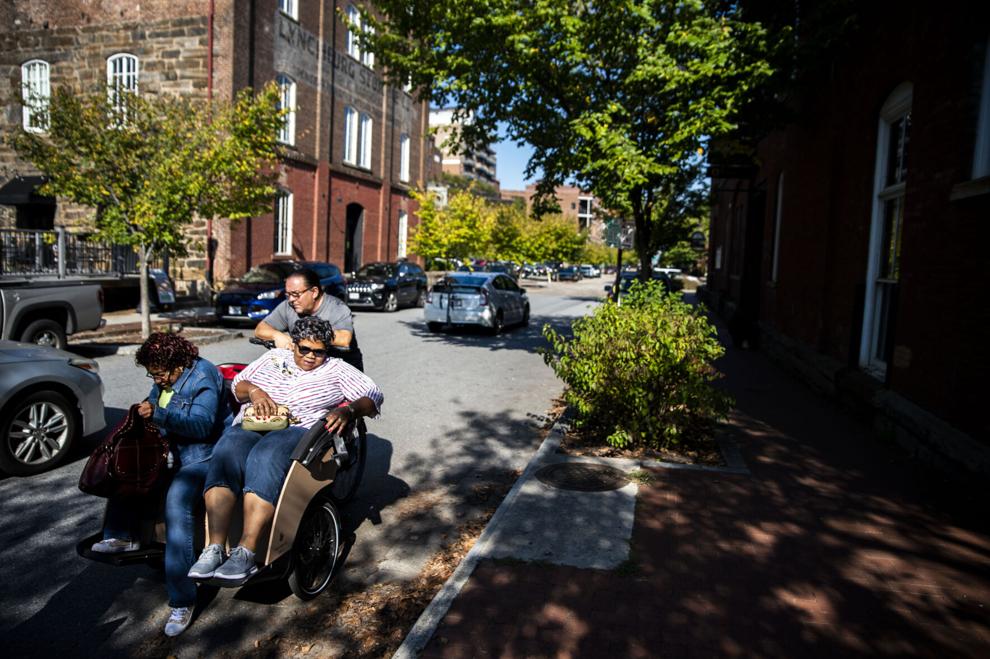 He said he hopes the riders enjoy experiencing downtown as well as parts of nature and just simply being outside.
"I hope they get to experience something that they might not have felt since they were a little kid and the joy of moving through the air and being outside. I think it's pretty amazing," he said.
He said the program hopes to increase the number of rides over time as people become more aware of it.
"We get a lot of compliments. People see us out there and they're excited to see a different style of bike," he said. "People are enjoying themselves on the trail, so I think it's going to be really well received."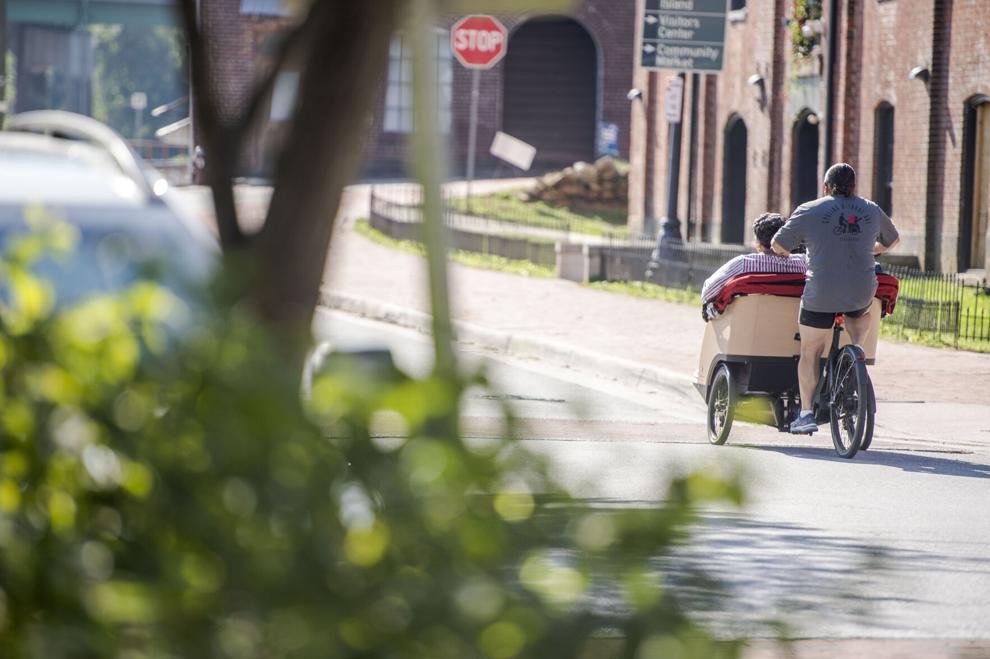 Ray Buchanan, founder of Rise Against Hunger and former University of Lynchburg professor, has worked with Roux for years both within his own nonprofit and at the university.
After Buchanan had unexpected open-heart surgery in June and spent a month in the hospital, Roux invited him to take a ride on the trishaw about a month ago.
"Getting back to normal was really a stretch, but I was so excited for this experience because I'm an avid outdoorsman, hunter, hiker and camper and it was the first time I had a chance to get out for any extended length of time," Buchanan said. "I was surprised at how much fun it was."
The ride was easy and smooth, he said, and was perfect for older folks or those who recently have recovered from surgery like himself.
"And being able to go on the Blackwater trail, it was just [a] perfect chance to be outdoors," he said. "It really is something that sets Lynchburg apart now. I mean for us to have an organization that allows people to get outside when they have been cooped up, or for people in retirement homes or for people that want to be outside and don't have the opportunity, it's something that sets us apart now. I'm just totally psyched about the program. It's something that we need in Lynchburg."
"Cycling gives you a lot of freedom, and in most cities you can go pretty much anywhere you want."

— Mike Coco, pilot for the nonprofit Cycling Without Age