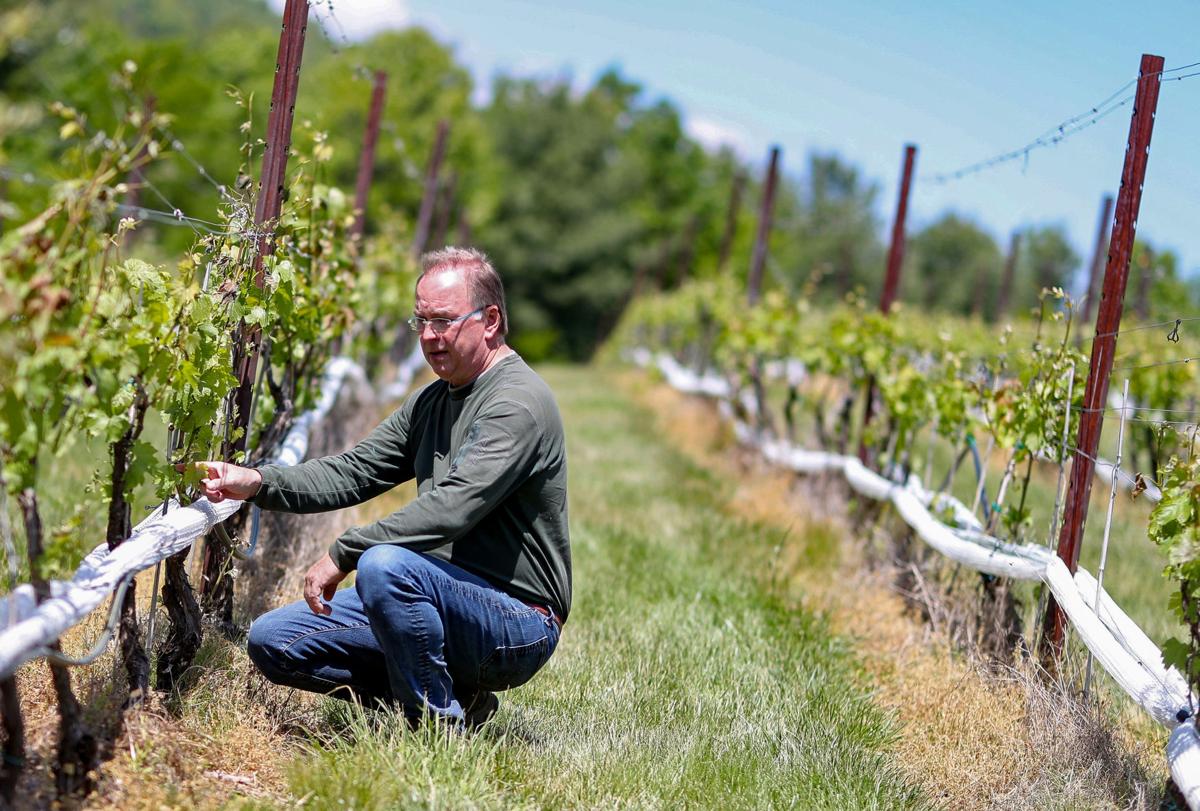 Some hired helicopters to beat down warmer air, others fanned their grapes with turbines and still others lit candles to keep the cold away from Central Virginia vineyards as a bit of polar vortex swept into the region over the weekend and lingered into Tuesday morning.
The arctic cold dropped temperatures into the 20s for the Mother's Day weekend, with some frost hitting Monday and Tuesday mornings as well.
The cold didn't just frost winemakers' grapes, it also froze their fruit.
"This is what you'd call a killing frost," said Bruce Deal, of Cunningham Creek Winery, in Fluvanna County. "We've lost just about everything."
"We got fried pretty hard," said Jake Busching, winemaker with Hark Vineyards in Albemarle County. "Frost is one thing, but when you get under certain temperatures, it's not just frosting the grapes, it's freezing them from the inside out. It's no longer frost, it's just damn cold."
"We've had seven frost events in a month," said Stephen Barnard, winemaker at Keswick Vineyards, in Keswick. "There's not a lot of fruit out there that didn't get damaged. It's not just us, it's throughout the region."
The polar vortex pushed a package of cold air down into the U.S. last week when it bumped against a low pressure front over Greenland. That forced cold weather south, brought snow flurries from Michigan to Manhattan on Saturday, dropped 10 inches of snow to northern New England and dipped area lows below freezing for a couple of days.
The cold snap came on the heels of a late April frost. With a warmer winter than usual causing grapevines to bud early and the grapes to begin growing, the sudden cold killed off some fruit before it could mature.
"A lot of the time an early bud break will get you a good start and you will have a great year, but this year the early bud break thing didn't bring us anything but a pain in the butt," Busching mused.
"It's a very rare occurrence," said Aaron Hark, owner of Hark Vineyard. "Most of the crop was already out so we're looking at anywhere from 20% to 80% damage. We don't know for sure."
For Cunningham Creek, and many local vineyards, the weekend frost was the last straw.
"We had a frost back around April 18 and that killed the fruit that was coming out at the time," Deal said. "Our secondary growth was coming out when the weekend frost hit and that pretty much killed everything."
"We really won't know what happened to the fruit for a little while," said Barry Moss, of Moss Vineyards in Nortonsville. "It looks like we'll able to get through it, but everyone has been hit."
Usually frost strikes crops planted at lower elevations as cold air sinks into valleys. Warmer air clings to hillsides, protecting some crops, but above a certain elevation the air again becomes cold.
To help combat frosts, vineyard managers, winemakers and owners use a variety of methods including helicopters and large turbines that mix warmer air with the cold to keep temperatures higher and surrounding air warmer. Research at several universities shows even a degree or two in temperature difference can mean crop survival.
That's because the buds and shoots of grapevines contain water and burst cell walls when frozen. Just a few critically cold minutes can damage or destroy an entire crop.
Area wineries have seen between five and seven days in the past month where employees have stalked the vines, measuring temperatures and fending off the cold.
"We had a range of five degrees at times, with some areas of the vineyard measuring 25.6 degrees and others 28 degrees," Busching said. "We had our wind machines running so it helped the warmer air recirculate, but when it's that cold, it's still cold. I didn't see any frost out there, but I saw freeze damage."
In Nortonsville, Moss lit candles against the cold, about 100 candles the size of gallon milk jugs, to be exact.
"I was up all night monitoring the temperatures and policing the grounds and around 3:30 a.m. I heard the fans and helicopters in the distance at the neighboring wineries," Moss recalled. "The temperature dropped and I lit the candles at the lower end of the vineyard. It looked amazing."
Vineyards are real estate and that means location is important. Soils, be they rocky or rich, add flavor to wine. Wind, humidity and other climatic features combine to give grapes a flavor dynamic that can differ from similar crops a mountaintop or a mile away.
Known as terroir, it is the reason many regions have their own viticultural area, such as the Monticello American Viticultural Area that includes most of Central Virginia.
The elevation at which grapes are grown is also believed to influence flavor. It definitely can influence the impact of a frost on grapes.
For Moss, the vineyard's location on the side of a mountain helped much of the crop survive the freeze.
"It can make all the difference. The cold air pockets tend to sink into the valleys while warmer air stays a little higher in elevation. If you go too high, then the air turns cold again," he said. "I lit the candles in the lower part of the vineyard and I hope that made a difference. They're effective, but they're expensive. Not as expensive as losing a whole crop, though."
For Hark, whose vineyards are between 510 feet and 600 feet in elevation, the weather hit the crop hard.
"We'll know more later. We still have wine that is in the bottle and getting ready to sell so when we open back up, we're good as the wines mature," he said. "The problem is two years down the road."
At about 450 feet, the cold was also hard on Keswick's fruit.
"We had high hopes for 2020, but Mother Nature has flexed her muscles," said Keswick's Barnard. "We're trying to find a silver lining. We're still hoping for a good crop. It's not just us, though. It looks pretty rough out there."
Deal said the second frost may hurt next year's harvest for his vines and others in the region.
"A grape bud has this year's and part of next year's harvest in it so, when it dies, it impacts next year as well," he said. "When you're a farmer, you don't need to go to Las Vegas."
The business news you need
With a weekly newsletter looking back at local history.