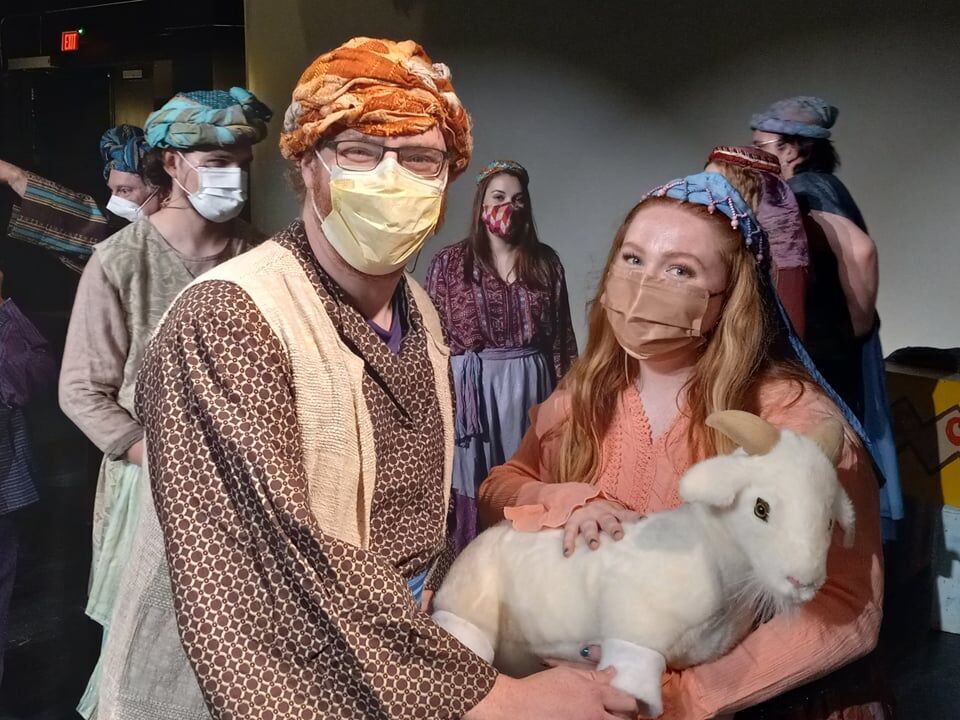 There's no doubt that the Wayne Theatre's cast for "Joseph and the Amazing Technicolor Dreamcoat" is colorful.
Arguably as colorful as the show's namesake garment.
Beginning Sept. 9, the Wayne will host multiple shows a week of "Joseph and the Amazing Technicolor Dreamcoat" through Oct. 3, but not in downtown Waynesboro.
Instead, shows will be played at a newly built outdoor stage at the Wintergreen Resort in Nellysford.
Between the show and having to ride a ski lift down to the outdoor stage, director Lesley Larsen promises a "delightfully magical experience" for the audience.
"We are in a unique position in that we're rehearsing a show that will not be performed where we rehearsed," Larsen said. "We're rehearsing on-stage in the Wayne facilities and then in a couple of weeks, we'll be taking the show to a ski slope at Wintergreen. We've picked a perfect spot [and] oriented the stage so that the view is absolutely tremendous and breathtaking."
Larsen said she was working with the Wayne when the theater was approached by Wintergreen management. This started a conversation regarding a partnership to address what Wintergreen felt like was a "void" in theater and entertainment on the mountain.
"As we all got together and had these conversations, we got to tour Wintergreen and look for potential sites of where theater could happen," Larsen said. "That got our wheels turning."
"Joseph" will be the first outdoor production by the Wayne at Wintergreen, but for Larsen, her history with the show goes back decades far before the Wayne and the resort began talking.
"I am the one, alongside the executive director and music director, who chose this show," Larsen said. "'Joseph' is a show that I always have loved. My parents when I was in high school took me up to DC to see a tour production of it. It's just one of those shows that I feel like I've been hearing since I was a small child."
Larsen still has not outgrown the show from when she was young, and for the many kids making up the children's choir in the Wayne production, they now have the chance to love the show just as she did when she was their age.
The children will give the show's narrator and Joseph someone to talk and sing to during the show.
"It's really quite beautiful," Larsen said. "You'll hear their angelic voices ringing out as you take the ski lift down the mountain."
To cast member Emma Cooley, who plays the role of Mrs. Potiphar and is in the ensemble, the kids aren't the only ones having a great time getting the show together.
She said their director is a key reason why.
"We're having a ball," said Cooley, adding the cast puts "play" in the play. "We take our job seriously, but we are playing on the stage. Leslie is so great at allowing us to do that in rehearsal and allowing us to truly be collaborators and work as a team, which is super lovely."
Everyone feels like kids at heart while working together at rehearsal, she said.
The same couldn't be said in 2020, when theaters and actors struggled due to COVID-19.
"It's kind of surreal," Cooley said. "Last year, it was really difficult to see the hope and the light at the end of the tunnel because we didn't know how long this pandemic was going to last. We didn't know when we were going to be allowed to do theater in-person again."
Even veteran actors such as Rob Mish, who plays Jacob in the show, felt the impact last year.
"When Leslie called me about this, it was such a relief," Mish said. "Everybody that has been involved in this business is anxious to getting back to doing live stuff. It was [like] mana from Heaven."
Luckily for the two cast members, and the rest of their colleagues on stage, the Wayne has been able to move forward through the pandemic.
"It's just been a blast," Cooley said. "I'm always looking forward to coming here for rehearsal every single day. It's just a lovely job."
When talking about the music, she was all smiles, saying she can't wait for crowds to hear songs from the classic soundtrack such as "Jacob and Sons" and "Go, Go, Go Joseph," which she added features amazing choreography from the cast.
Mish also shares in the excitement that the young cast holds, describing their energy as "electric."
"I think it's going to be amazing," Mish said. "The way the voices blend and how precise they are, this is a group of people who not only have that Broadway sound but can blend that with a choral sound, which a lot of this musical is. You have to have the choir sound, but you also need character in there, and they are all over that."
Of course, all of this energy hasn't been lost on the show's director either.
To Larsen, the cast has been working together "splendidly."
"It's such a beautiful feeling when you're bringing in professionals or people who have been working in theater for a long time," Larsen said. "This is their passion. I feel like rehearsals have been just a beautiful collaborative experience."
Alongside a beautiful night in the mountains at Wintergreen and the eccentric cast, Larsen said those in attendance will also experience some twists with the traditional "Joseph" show, as well.
One of which will be seen with the role of Pharaoh, whom she teased is "not your grandma's" Pharaoh from back in the 1960s, but instead hails from the "totally rad" 1990s.
As for other twists and key moments in the story, those interested will just have to head down to Wintergreen to see what the Wayne is creating inside.
Larsen and her cast are excited for fans of the Wayne, "Joseph," and theater to see for themselves.
"I would expect to laugh a lot," said Larsen, smiling. "It's ridiculous in some parts, it is heartfelt in several moments. I, myself, get choked up at certain parts, especially the combination of the children's choir blending with these adult voices. It's super powerful and inspiring, especially the way the children look up to these adult actors. You can see stars in their eyes."
In the book of Genesis, Joseph endured many hardships, but never lost his faith. He dreamed on.
For those who experienced a tough 2020, the "Joseph" cast is looking to encourage their audience to do the same.
"It's got a little hint of magic and [is] just a good time, which is obviously what we all need right now," Larsen said. "We need the good times, we need to laugh, we need to be reminded of dreams."
For all interested, tickets are currently available for pre-sale.
Admission prices start at $57, while students can buy a ticket for a special rate of $47.
The curtains will open in just a matter of weeks and the cast and crew are ready to shine in Wintergreen.
"As you are riding the ski lift down and then riding it up, the whole point is that you will be lifted," Larsen said. "The experience will lift you up and will change you. Even for a short amount of time, just [to] lighten your heart is exactly what we want."