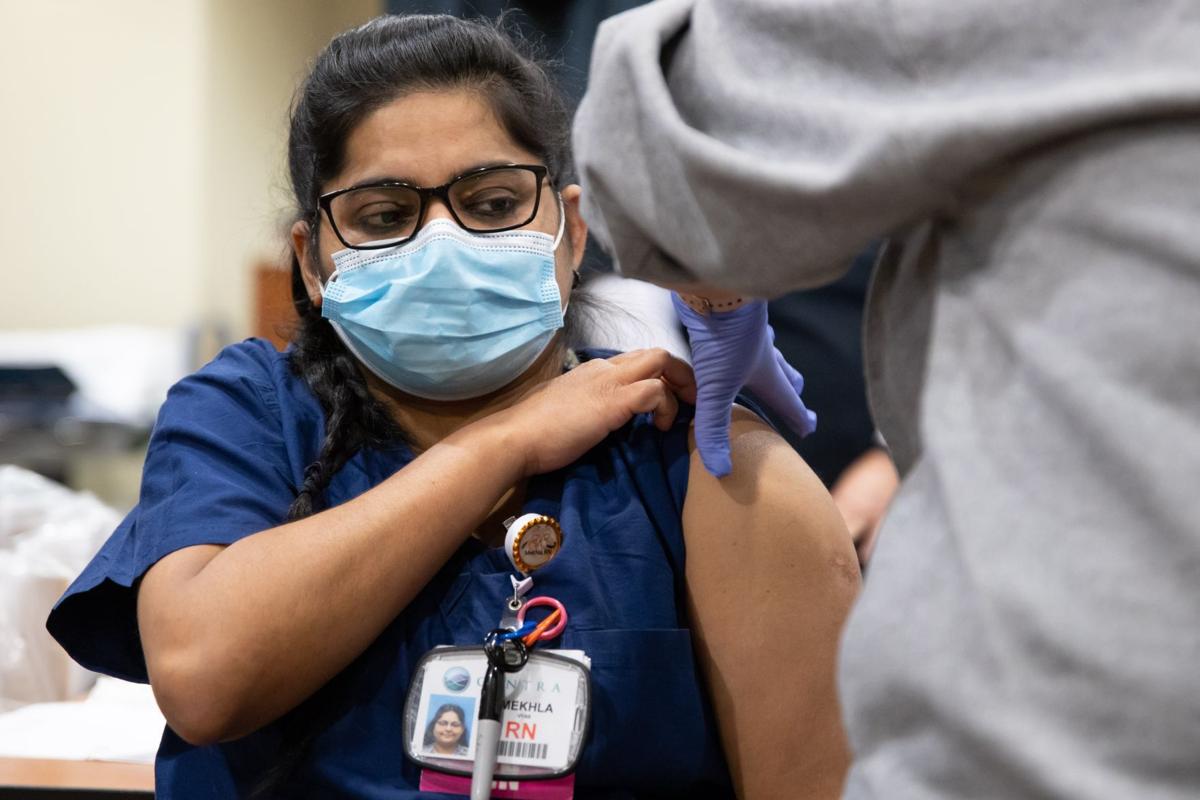 One day after Virginia hit a record high for new cases of COVID-19, the Blue Ridge Health District transitioned Monday into its next phase for vaccinations which "dramatically" increases access to the shots, according to an official with the district.
But skyrocketing demand in the face of limited supply means not everybody identified in phase 1B will be able to receive immunization right away.
Ryan McKay, COVID-19 Incident Commander with Blue Ridge, said ramping up access to the vaccine does not necessarily equate to those doses being available.
"It's really impacted our ability to help people understand just because we're in 1B doesn't meant the vaccine is available for all of 1B at this point," McKay said.
An announcement from the health district states phase 1B is the second group eligible to receive the vaccine.
It includes but is not limited to police, fire and hazmat personnel, those living and working in correctional facilities, homeless shelters and migrant labor camps, teachers, those ages 65 and older or people between the ages of 16 and 64 with underlying health conditions.
According to McKay, BRHD, which includes Nelson County, still is finishing vaccinations for populations identified in phase 1A as well.
So far, McKay said more than 560 people have received vaccine doses in the county, but only a fraction of individuals have received both doses.
Initially, the health district has a goal of administering 1,000 doses per day and continuing to expand from there, but the district currently is being held back not only by limited supply but also a limited number of qualified vaccinators.
McKay said the vaccine rollout has been relatively smooth so far in Nelson except for the high demand.
"The demand is high and we can't keep up with the calls and emails that are coming in to schedule appointments and we can't schedule enough appointments for people who are asking for it," McKay said, adding between phases 1A and 1B millions of Virginians are now eligible.
As more vaccinators become qualified, the health district can partner with area pharmacists or EMS providers, for example, to hold clinics. McKay noted a lag in getting personnel certified to administer shots because not all training materials were made available by the Virginia Department of Health until late December.
And ramping up vaccinations also means that, at least in Nelson County, health officials will need to secure a space large enough to accommodate the health district's needs and is available when needed, McKay said.
BRHD held its first vaccination clinic in Nelson County last week. McKay said the county should start seeing weekly clinics in the following weeks in addition to the more permanent clinic that has been set up in Charlottesville.
McKay said Nelson County's relatively low case count compared to the rest of the Blue Ridge Health District — with 516 cases, 23 hospitalizations and four deaths as of Jan. 19 — is not factored into the frequency of how often clinics will be held in the county.
"We want to make this as equitable as possible. It's easy to sort of think of us as Charlottesville-centric, but we want to make sure access [to the vaccine] in the rural areas is just as equitable," McKay said.
Despite increasing vaccinations and a condition McKay described as "COVID fatigue," he emphasized the need for continued safety measures that the community has practiced for months. He added with a new variant of the coronavirus that has the ability to spread more quickly, officials "anticipate cases to drastically increase if [people] don't stay safe."
"While the vaccine provides hope on the horizon, it will still be months before the vaccine is widely available publicly," BRHD Director Denise Bonds said in an announcement from the health district. "It's important to remember we are still very much in the trenches of this pandemic and we must continue to adhere to COVID-19 prevention practices."