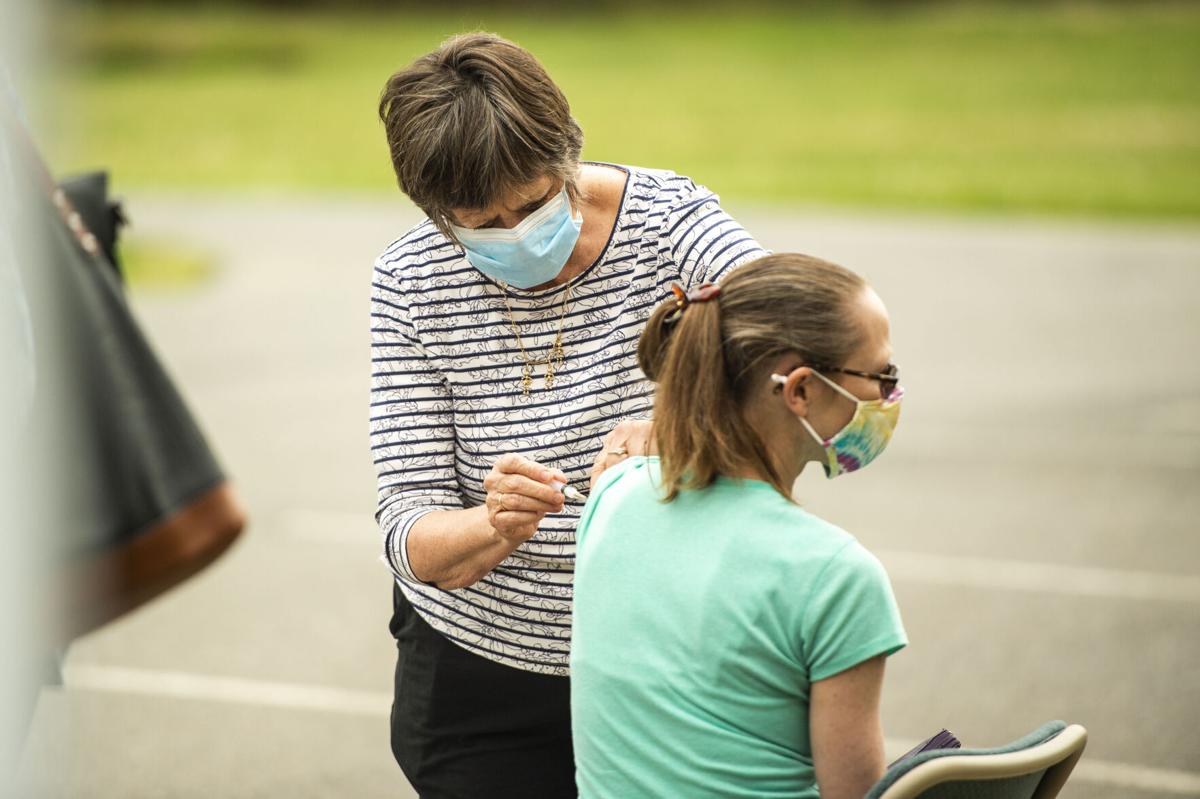 Half of all Nelson residents have received at least one dose of a COVID-19 vaccine, according to the latest data from the Virginia Department of Health.
Nelson is among localities in the state carrying the highest percentage of partly vaccinated individuals when compared to that locality's population, and it falls on the higher end when compared to the rest of the Blue Ridge Health District, which covers Charlottesville and Albemarle, Fluvanna, Louisa and Green counties.
Data shows roughly 44% of the state has been vaccinated with at least one dose, but the central and northern regions of the commonwealth account for most of those immunizations.
As of April 30, the county reported 7,463 individuals, or about 50%, had received at least one dose of the vaccine, with 5,807 individuals being fully vaccinated, data from the health department shows.
"I'm pretty proud of the Nelson folks and everybody that has worked to help get us there. If you look at a map of Virginia and you click on the more urban areas … you'll see that the numbers in Nelson are absolutely impressive, they are on par with anybody else," Chief of Wintergreen Fire and Rescue Curtis Sheets said.
In addition to clinics being held by the Virginia Department of Health and Blue Ridge Health District, the Wintergreen department has held weekly clinics in Nellysford, acting as a "force multiplier" to the vaccine rollout in the county.
This past week, Sheets said those clinics have administered some 900 doses.
Public Information Officer with the BRHD Jason Elliott said he was "very excited to see those numbers creeping up," adding he credited Nelson's and other BRHD localities' high vaccination rates with community partnerships.
"I do think that here … one of the keys to being able to vaccinate our community has been our partnerships we've had," Elliott said. "We have had such a great community approach to vaccinating."
Since the onset of the pandemic, there have been 885 confirmed cases of COVID-19, 39 hospitalizations and 12 fatalities. Nelson, with a population of just less than 15,000, reports the lowest pandemic statistics within the health district.
From a public safety standpoint, Sheets said "you really can't quantify" the value of having half a population immunized from the highly contagious virus, but said it could translate to ease of mind during medical transports.
Sheets said the department is looking to take steps away from the weekly clinics, noting it has become "really tough to build the list" of appointments the past couple weeks.
"This was our primary task as long as it was needed and now it doesn't feel as needed, so it's time for us to shift gears," Sheets said.
In neighboring Amherst County, which resides in the Central Virginia Health District, roughly 36% of individuals — or 11,348 people — received at least one dose and 8,941 people are fully vaccinated as of April 30, the Virginia Department of Health reports.
County Administrator Steve Carter in an April 28 email said despite it being an individual decision, he encouraged everyone who currently is able to get vaccinated to do so.
Referencing available information from the Centers for Disease Control and Prevention, VDH and other federal and state agencies, he said the risk of side effects from being vaccinated are "significantly" less than the risks of contracted the virus.
"Each person should take time to read information on the vaccines that is readily available ..." Carter said. "I can attest from my own perspective, if the vaccine can prevent me from contracting the virus again, even if future inoculation for the virus is necessary, I will definitely do so each and every time."
Nelson's milestone comes more than a week after The Associated Press reported that half of U.S. adults had received at least one shot.
The Blue Ridge Health District currently is in phase 2 of its vaccine rollout, making any person 16 or older eligible to receive the vaccine. The health district made the transition from phase 1c, which it had entered roughly one week prior, in mid-April.
BRHD also resumed using the one-dose Johnson & Johnson vaccine this week.
Health officials have encouraged individuals to pre-register and make vaccine appointments regardless of what phase they may fall in.
A disclaimer on the VDH website states and immunizations administered as part of a federal program or partnership are not included in state totals.
Elliott said the health district will continue to hold weekly vaccination clinics throughout its footprint.
"We've got 50% more so as much as it is great to celebrate we still have a lot of work ahead," Elliott said.