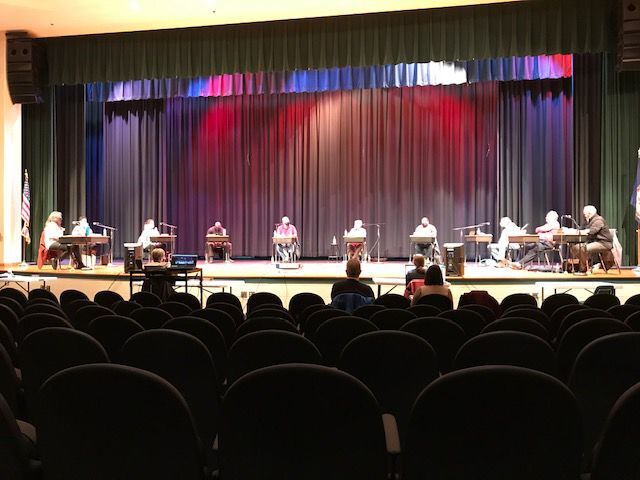 Nelson County and school officials discussed a combined approached to tackling the community's future challenges together during the Feb. 2 meeting.
Increased communication as well as addressing long-term challenges facing both the county and the school system dominated a majority of the dialogue amid the first joint meeting between the current iterations of the county's board of supervisors and school board.
The two boards came to a consensus to form a joint capital improvement subcommittee — made up of two members of each board — that could tackle planning objectives and committed to increasing communication between the two boards in the form of two-on-two meetings.
Board members also supported more joint meetings in the future, taking place either two or three times per year.
"I think we are way more symbiotic than we really realize," West District school board member Shannon Powell said. "We do want what's best for the kids and what's best for the county."
Board members spoke of several "interconnected" challenges, ranging from limited housing options, a declining and aging population, needing additional infrastructure and several long-term problems in regards to the county's school system.
While addressing the county's lacking population growth, which was measured at about 15,000 according to 2019 Census data, was one possible solution to answer declining enrollment, West District Supervisor David Parr said family growth also puts pressure on the county's existing infrastructure.
"It's like spinning plates of trying to balance everything at one time," Parr said.
As the ten board members took turns stating their future priorities, several school board members mentioned the hopeful completion of capital improvement projects.
Additionally, Nelson County Public Schools is facing falling enrollment and is requiring more local dollars to balance its budget.
"We need to understand that right now we've got $800,000 we've got to figure out, that's today," Parr said. "We also have, 20 years from now, we've got 1,507 [students] that we have to address."
A draft comprehensive CIP plan for the division lists about 30 projects totaling $8.6 million, many of which, according to board members, have been on that list for several years. Projects include safety issues, immediate concerns, recurring maintenance and career and technical education.
"This list has been the same since I've been on the board," South District school board member Ceasar Perkins, who joined the board in 2015, said. "Some of these things are need some of these things are safety issues. We're not trying to create anything but a safe environment for the schools. We're trying to be competitive with our salaries all those things."
North District Supervisor Tommy Harvey said funding for capital projects would be unlikely against the division's inflating operational budget. He also noted he was not in favor of growth to answer the county's problems.
"Until we can get this school operating budget under control you can forget about all these capital plans and all this other stuff," Harvey said. "The people of the county can only afford so much."
School Board Chair George Cheape said the board was doing everything it could to be fiscally conservative. Currently, schools are looking at a deficit of $881,000 heading into fiscal year 2022.
He added the state's funding for Nelson County Public Schools has dropped significantly while the county's portion of the budget has risen about $5 million from 2007.
Board of Supervisors Vice Chair Jesse Rutherford urged county officials to more aggressively tackle problems facing the county.
"We as a board of supervisors and school board have to start getting aggressive," Rutherford said. "We have to start looking at these things not just as inconveniences but crises."
According to the Virginia Department of Education, fall enrollment in Nelson schools since the 2015-16 school year has plummeted 452 students, or about 23%.
Against the backdrop of stagnant to declining population growth in the county, there has been a steady decline of students since 2015 when enrollment was listed at 1,959. In the upcoming school year, NCPS is anticipating an enrollment of 1,507.
The county's composite index — a locality's ability to pay for its share of education — is projected to be 56%, up roughly 3% from this fiscal year. As the county pays more money, less is funded by the state.
Rutherford took aim at state legislators for a system that has mostly left the burden of education funding to Nelson.
"The commonwealth has failed you and they failed us," Rutherford said. "They've made it to where a struggling community like ours have to figure out a composite index of .56, a number that not many counties have to deal with and [it's] created a warzone between the school board and board of supervisors."
Despite the challenges brought up during the meeting and the unknowns immediately facing schools because of the pandemic, both boards were optimistic the joint meeting would set a tone in how the county go about solving its problems.
"I think that we all are trying as hard as we possibly can to make schools the best we can possibly have and I think that comes from the heart and not the wallet a lot of the time," Margaret Clair, the school board's vice chair, said.