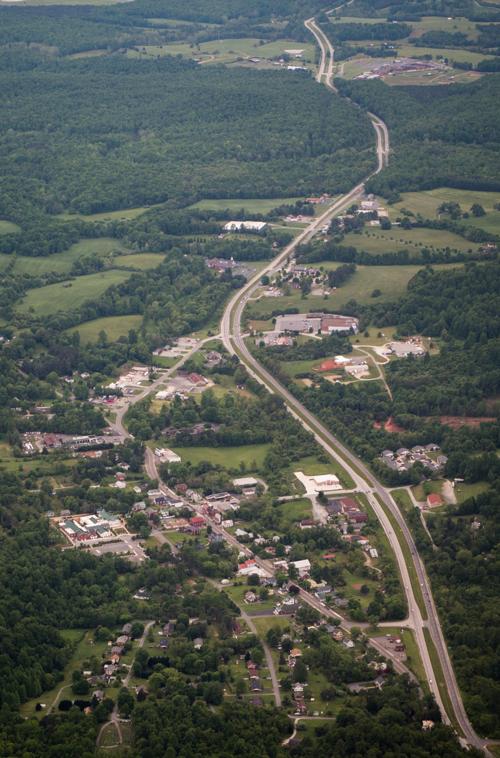 After much discussion, the Nelson County Board of Supervisors has voted unanimously to move forward with a site assessment for property in Lovingston that would help gauge potential for a possible business park.
Timmons Group, a Richmond-based firm, would perform the site evaluation for the land near the Nelson County high school and middle school complex the county is considering purchasing. The cost of the evaluation is $63,200, according to county documents.
County Administrator Steve Carter, during the board's July 13 meeting, discussed pros and cons of a pursuing a business park to bring economic activity to U.S. 29 Business, noting the county's success for attracting successful business activity along the Virginia 151 corridor. Carter said two parcels comprising about 1,000 acres could foster economic development opportunities.
"The county would then be in a much, much more competitive position than we are today with attracting business and industry into the county," Carter said.
Carter said he regularly hears at gatherings of regional officials that the lack of large business parks hinders industry from coming in and Nelson rarely is on the list of prospective business looking for such sites.
"I think it's fair to proceed," Vice Chair Jesse Rutherford said of having an assessment done on the two parcels. "We're still in the study phase."
A few supervisors said they can't imagine large industry would come to Nelson and discussed concerns of preserving the county's rural makeup. The potential venture of developing such a park was referred to during the board's discussion as a risk.
"Even though you build it there's no guarantee you're going to get a return on investment any time soon," Carter told supervisors. "But it would enhance the county's ability, at least I think so, to attract business and industry, new jobs for the county ... it's a question if you want to be competitive or not."
Carter said having a business park available doesn't have to mean a large-scale manufacturer providing hundreds of jobs will come in.
"If the county develops the park and owns the park, we would decide who goes into the park," Carter said, noting the board's local control in preserving the rural nature Nelson is known for.
Rutherford said the term business park may not be as intense as one could think, adding it could attract users as simple as a software developer of 10 employees or a think tank group.
"I do not foresee a future for Nelson where there's a major industry," Rutherford said, adding the county's population of roughly 15,000 doesn't factor well into such plans.
Chair Ernie Reed said the county's comprehensive plan for growth and development is critical and gives officials an opportunity to see what the public's vision is with such a possible venture. The board has made no final decisions with a business park and may use the land, if purchased at all, for other purposes, officials noted.
A site evaluation helps determine if the property is suitable for development, Carter said.
"The businesses want a site to be ready," Carter said. "They don't want to come in, buy the land and develop it themselves. They want it ready to go."
Carter said the board could look at the property also as having mixed-use development potential with residential housing and other amenities, including a recreational facility.
"We do know this: we're lacking in young families," Rutherford said.
Carter said the county's population is projected to stay roughly the same over the next 20 to 30 years. Half of the county's workforce is employed outside the county, he added.
"And that's not a negative thing either," Supervisor Tommy Harvey said.
"Nelson County's struggle will always be topography," Rutherford said. "We're one of the most difficult counties to develop. It's a fact."
Supervisor David Parr said the board earlier this year agreed attracting business, building infrastructure and looking to bring in jobs and housing are priorities. He added the county has been looking the property for years.
"And we have a once-in-a-lifetime opportunity to act on it," Parr said. "I personally feel that if we don't do our due diligence as a board and pursue what the opportunities with the piece of property, we are letting down the board, the residents of Nelson County. We need more information to decide: do we want to pursue something or not?"