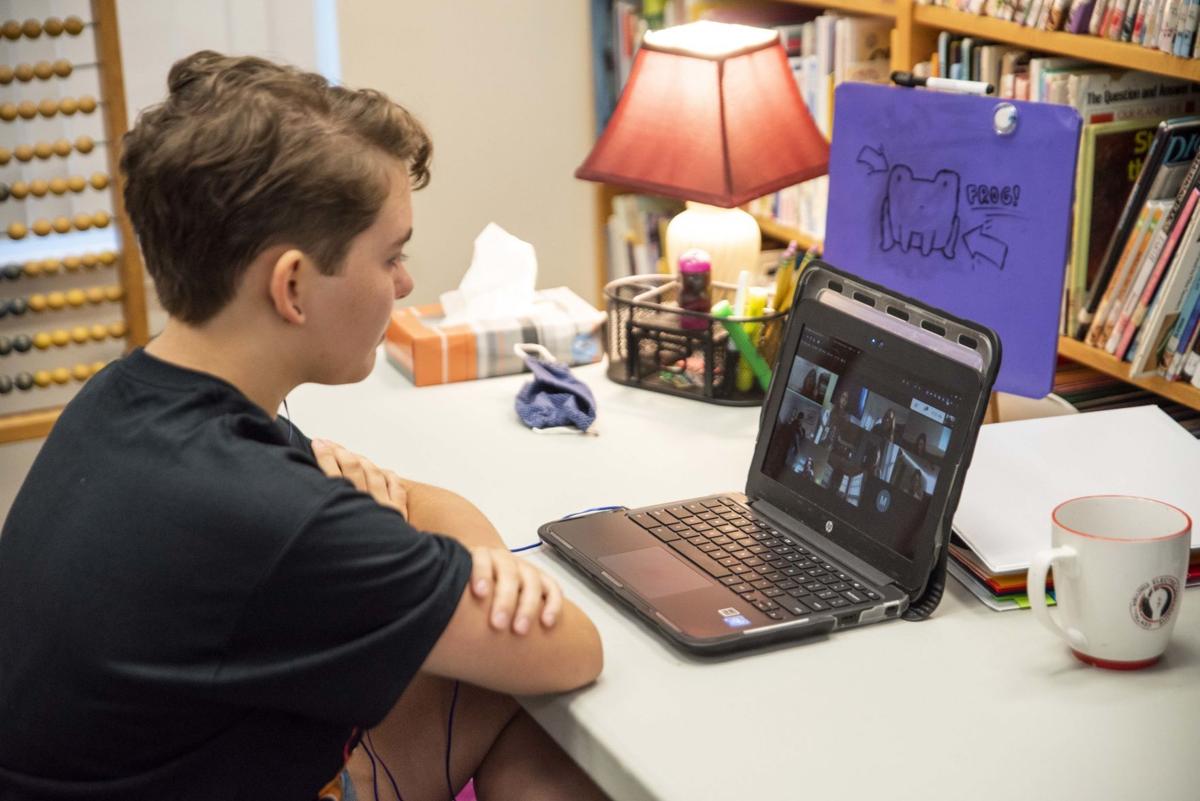 Division officials updated Nelson County School Board members on the successes and challenges resulting from the first weeks of the virtual learning format during the board's Sept. 10 meeting.
Data presented to board members Sept. 10 shows about 86% of Nelson County Public Schools students are participating in synchronous learning — live instruction — with the rest participating in entirely asynchronous learning — instruction not happening in real-time.
"I was really surprised that first week at just how many of our students were on board with it," Superintendent Martha Eagle said.
The update presented to the school board comes roughly three weeks after Nelson County Public Schools began the fall semester in an entirely virtual format Aug. 24. Among the challenges are continued struggles with internet connectivity for certain families and concerns regarding the number of elementary- aged children who are reading more than one and a half years below their grade level.
Nelson County Public Schools already has distributed 226 MiFi internet devices to students across the four schools with hundreds more to be distributed.
Director of Elementary Education Kim Candler told board members Sept. 10 that, based on available results of Phonological Awareness Literacy Screening (PALS) testing done at both elementary schools, the number of students not meeting benchmarks is "very concerning" compared to previous years, with the potential for those numbers to increase as more PALS results come in.
At the time of the meeting, Candler said there were 38 students at the second, third and some of the first grade levels at Tye River Elementary School who are a year and a half or more below grade level in reading. At Rockfish River Elementary School, that number is 21 students.
"Normally in a first grade classroom you may have four students that don't meet benchmark on PALS testing ... . This year when we tested we have some classrooms that have about 12 students in the classroom that didn't meet benchmarks," Candler said in lieu of being able to provide the board with exact numbers from last year.
In July, the school board approved a three-phase return-to-school plan, beginning the first nine weeks of the semester online before transitioning into a hybrid format based on health trends in the county.
"I stay concerned and worried about this because I think in education we had always been moving towards more in person, more hands on, and this is so not that," school board chair George Cheape said. "It's the same concern I had two months ago when we were talking about this and I'm even more concerned now."
The motion to return to school in a phased approach passed in a 4-1 vote, with Cheape being the only board member to vote no on the phased return. At the time, he said the reasoning behind his vote was he did not want to subject elementary-aged children to learning behind the curve as a result of 100% virtual learning.
In the hybrid format, students will be split into A or B cohorts and will attend classes in person on alternate days. The A cohort will attend in-person instruction Mondays and Tuesdays, and the B cohort will attend Wednesdays and Thursdays. Families still will have the option to remain 100% virtual as well.
While the board will consider bringing all grade levels back in October for the second nine weeks, Eagle expressed a desire to at least bring back K-2 students in a hybrid format to address gaps in learning, especially as it pertains to foundational learning and reading.
Ahead of the transition to the hybrid format, Eagle said staff members will travel to Louisa County to observe how that division has implemented its hybrid learning model.
As previously anticipated, one of the bigger problems seen in primary school is retaining attention and engagement, Candler said, an issue with students in various grade levels.
Rather than additional synchronous learning time to address these learning gaps, Candler said she believes it would be more beneficial to add support services for those tier three students who are struggling the most. She added this could take the form of individualized or small group instruction in the afternoon so as to not interfere with core learning that takes place in the morning.
Based on the limited number of support services providers in the county, staff is evaluating how exactly that support will be implemented.
At the secondary level, officials expressed concerns over the amount of asynchronous work students are having to complete in addition to synchronous learning.
"I guess it just depends on the maturity level of the student and their ability to attend, and we know that's just like throwing up a box of mixed candies because everybody has their limits and their strengths and their challenges where that's concerned," Director of Secondary Education Janell Stinnett said on students' attention and balancing workloads.
Despite those challenges, Eagle noted positives that have come out of the virtual learning format, including more community support in offering internet to families and more teacher creativity and connectivity with families.
"We're just connecting so much more with some of our families than we ever have before, truly, and home visits have been very, very beneficial for some of our families and our students," Eagle said.
Be the first to know
Get local news delivered to your inbox!