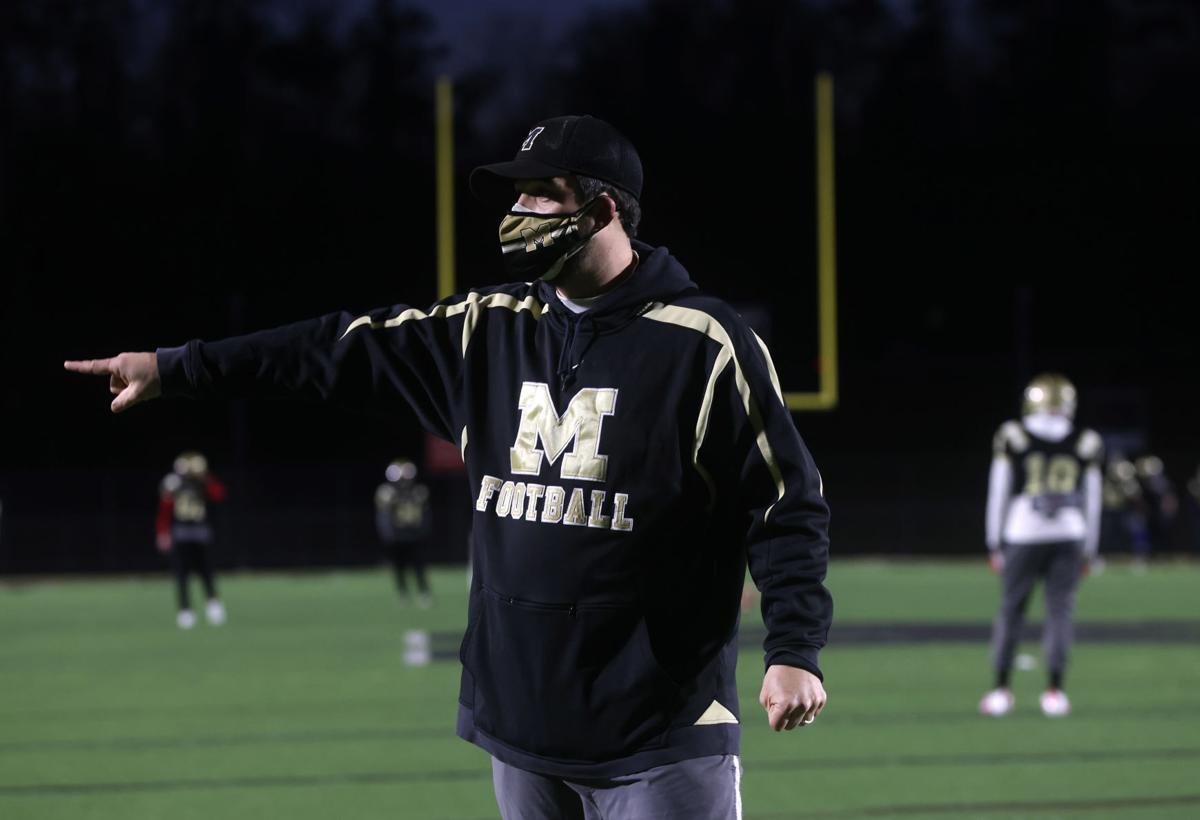 High school football excellence is not solely based on the results on Friday nights, but also from a year-round commitment through strength and conditioning, individual workouts and buying into roles set forth by coaches.
For three new coaches in Central Virginia, they faced the added challenge of trying to put their stamp on a program in the midst of a pandemic.
This fall was supposed to be a homecoming of sorts as Madison County's Larry Helmick, while Monticello's Matt Hicks and Nelson County's Darrin McKenzie took over programs that they previously represented.
"The excitement is real in Madison County," Helmick said. "We have been working hard since fall, so we are eager to get out on the field and compete. I think because it's been a year and a half since these athletes have been on the field, it has ramped up the excitement now that is finally here."
Helmick returned to the Mountaineers program after a successful stint as an assistant coach at perennial powerhouse Eastern View. He played four years at Madison County, including three under legendary coach Eddie Dean.
"I was eager and excited to get to know my athletes and see what they were capable of," Helmick said. "We started workouts in early August and had a great number of athletes consistently work hard until February."
The first-year coach worked quickly to put his stamp on the program, even during a pandemic.
"I wanted to get conditioning and lifting established so my athletes knew my expectation and how committed I was to them and this team," Helmick said. "Positives with the team so far are we have a great core who love to learn and work hard. We are still trying to fine tune the new scheme. These athletes have had four different coaches in the past five years, so it's important we get familiar with my system and the way things will work from here on."
One of the biggest adjustments for Helmick was teaching techniques virtually rather than a traditional hands-on approach.
"We have had to think outside the box and practice virtually, which I feel, in the long run, will benefit us," Helmick said. "Everyone learns in a different way, so watching film and walking over things virtually may benefit some of the athletes that can't quite get it out on the field, but now that they see it on a white board or a screen, it comes to them."
Hicks came home to Monticello after a four-year stint in charge of the Nelson County football program. He served five seasons as an assistant coach for the Mustangs and was on staff as the program earned three regional playoff berths.
"It's an incredibly exciting time," Hicks said. "There were several moments that made you question if this season would ever happen. Over this past week, I am meeting several of our players for the very first time. This game is a lot like life and relationships are an essential component of both. It's really great to get out and start building those relationships."
During the spring and summer, teams were not allowed to work out as a group due to COVID-19 restrictions. Hicks arranged weekly Zoom calls with his players that included topics beyond football.
"We focused on maintaining interest and engaging in conversations about the important things without players," he said. "With the uncertainty of the season and all the other things going on in the world, we did very little work on scheme and talk. We focused more on life, character and being a success. From a relationship side, I think we accomplished a great deal."
McKenzie took over the reins of the Nelson County program after serving as an assistant on Hicks' staff with the Governors. He said that familiarity with the program was beneficial to get his plan off the ground.
"When I took over, the plan was to just improve on the success we had over the last couple of years," he said. "I basically wanted to get more athletes in the program, so when we started our conditioning program for all athletes, that allowed coaches to work with other athletes and recruit them to try other sports. I think that is something that I would like to try to continue. Some things we need to improve on is stay focused and on task in all aspects of school."
After months of wondering if a season would even happen, the VHSL Executive Committee unveiled its Championship + 1 model, which pushed football and other fall sports back until late February to allow most teams an opportunity to have a season. That meant for additional prep time for each of the new coaches.
"The delayed season helped me get to know more students in my high school and get some interested in football," Helmick said. "Essentially, I've had six extra months to build relationships and get to know athletes that may not have played back in August. We've had six months to lift, condition and get to know one another."
Hicks chose to use the extra time not just for schemes and techniques but for bonding as well.
"All the obvious restrictions and players not even sure if they will have a season has made this an incredibly challenging start," he said. "I am just blessed to have great senior leadership and fantastic assistant coaches who have been there through every step of the process."
"This time has been a great time to reflect on what is truly important in life and in football," Hicks continued. "I think this time has led to some great thinking and idea sharing. I also think it has been great for the Jefferson District head coaches as a group. We started conversations when this all started and stay in touch daily as practices begin. We all want to compete and win on Fridays, but these coaches have been amazing in supporting and promoting the success of football in our area."
McKenzie said the additional time allowed him the opportunity to get more kids involved in the sport.
"In addition to more prep time, the delayed season has given us time to work with athletes from other sports," McKenzie said. "At the same time, it has been a challenge for some kids to get rides to get here with no activity bus, but it also helped to show who is really serious and dedicated to the program."
The teams returned to the practice field earlier this month and the response from the players has been overwhelming, despite the late start.
"I'm beyond excited about the start of football season," McKenzie said. "I don't think August or February matters at all, it's football. The push back has given me more time to figure out how I want to run things with my staff. I am enjoying it, but it is a learning experience and there are many things that I still need to do. I think the guys have been itching to get on the field and get back to working out and preparing for the season."
The high school football season in Central Virginia is set to kick off next week and the coaches are ecstatic about the opportunity to lead their teams in live games.
"We have a ton of football work ahead of us," Hicks said, "but with such great players and coaches, we are more than ready for the task ahead."
"I'm excited to see how we come together to compete in this very strange and abnormal season," McKenzie said. "I'm excited to be the captain of this ship, but I think once I get on the sidelines and the ball is kicked off, I think things will flow. It will be a good feeling to finally play some football."