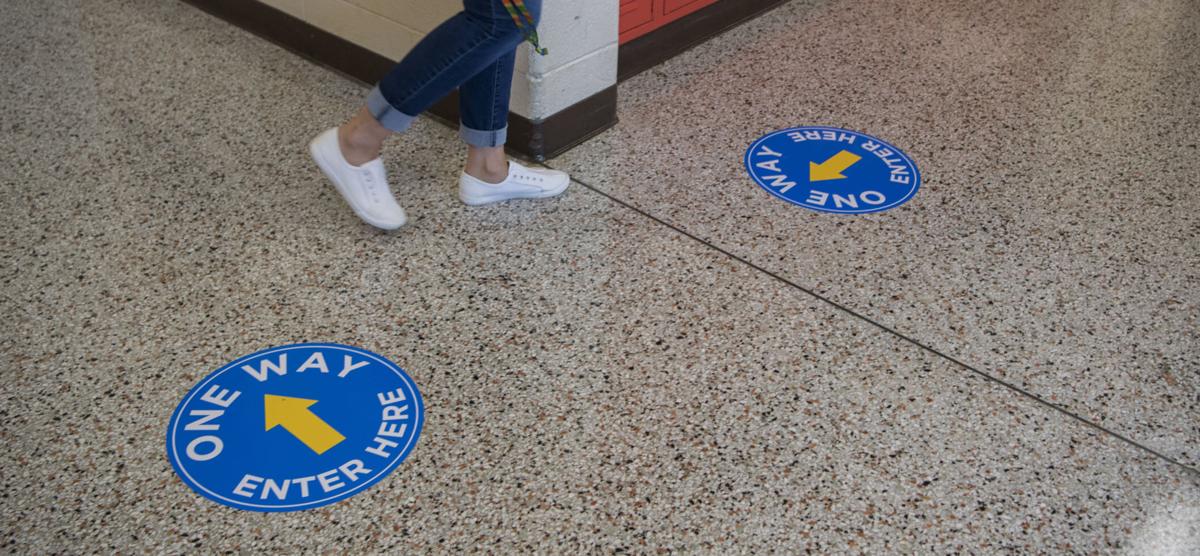 As Amherst County Public Schools has ramped up vaccinations among the majority of the division's just more than 700 employees, the number of positive cases in the schools is on the decline.
Assistant Superintendent William Wells said during the Amherst County School Board's Feb. 25 meeting the schools as of that day had four positive cases among staff and students and 48 quarantined, all but four of whom were those students. Heading into the winter break, the division had more than 15 positive cases and 400 quarantined.
"So we're moving in a much better direction and we're feeling good about where we are," Wells said.
Wells said as of Feb. 26 school officials anticipate having 324 staff members fully vaccinated. The division also is in the process of vaccinating more than 500 of its employees and is working with the Virginia Department of Health and Amherst County Public Safety on holding a community-based vaccination clinic at the county's high school.
"We have a trained staff," Wells said. "We know how to do it. We feel very confident in our ability to hold a clinic. We just need the doses …"
Superintendent Rob Arnold said COVID-19 case data in Amherst County as of Feb. 25 has not been tracking as low since early November. He told board members health mitigation data shows wearing face masks is effective and is leading school officials to consider easing its 6-foot social distancing rule so it can get more students into school buildings. By fall he said it is hopeful everyone who wants to come into school buildings for in-person learning can do so safely.
The schools' strategies of following social distancing and wearing masks have worked, he said. "We've had zero transmissions [of COVID inside school facilities] and that's why," Arnold said. "There are still going to be fears about this. But we want to start talking about it early so we can get feedback."
Melissa Mays, a county resident, urged the board during the public comments portion of the meeting to reestablish pre-pandemic norms as much as possible in helping students' academic, social and emotional needs.
"Going back to a full schedule for all students may bridge some of the gaps in the coming year," she said in an email read during the meeting.
Mays said some students fear wearing a face mask more than the pandemic itself and are becoming isolated and left behind. She also urged the board to make earlier decisions on when the start of the next school year and other important dates that families plan around.
"We need to know what to expect and when to expect it," Mays wrote. "Give us something to look forward to. Give us hope."
A draft of the schools' 2021-22 calendar set for a board vote in early March has scheduled Aug. 18 as the first day of school, but no final decisions have been made. The division also has opened up falls sports to spectators with a maximum of 250 people. Wells said the division thankfully made it through the winter sports season "pretty much unscathed for the most part."
Dana Norman, director of academics, said the division has done about 175 home visits for students learning from home to help meet their needs. Arnold said the schools have not told any students who wanted to come back into school buildings they couldn't.
This school year has featured a four-day week for in-person learning for elementary students and a hybrid of in-person learning and remote learning, two days each, for middle schools and the high schools.
"We're very hopeful next year brings five days a week," board member Christopher Terry said. "I don't think there's a person in this room that doesn't want to see the kids in the class five days a week. We hope that we can get there next year. We hope the governor allows it, the health situation allows it."
Board member David Cassise said the board is trying to have students in schools as much as possible.
"I will advocate for as much in-person [school] as the state will allow," he said.
Vice Chair Abby Thompson said she is glad to hear of the division working toward helping vaccinate residents as soon as possible if cleared by health officials.
"I hear every day how they're just waiting," Thompson said. "If we are able to do that I know the community members would be very, very grateful."