An Amherst County Sheriff's deputy was honored June 8 for her actions during a September 2017 traffic stop that resulted in her shooting a Monroe man in a scuffle where another officer was shot and injured.
Investigator Erin Napier, the officer honored with the Medal of Valor, said she was surprised and honored to receive the medal. During a late-night stop at the Monroe Post Office on Sept. 22, 2017, she shot Trevor Dawson Ewers in the shoulder when Ewers quickly pulled out a gun while being removed from the vehicle by former Sheriff's Lt. Jason Meador.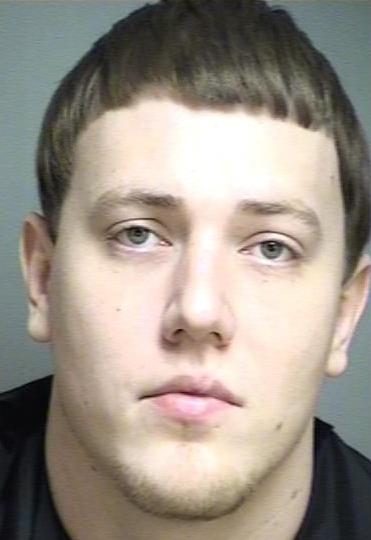 Ewers, who was intoxicated, stepped out of the vehicle and retrieved a handgun from his pocket, immediately causing a struggle with Meador, and the officer was shot. Meador recovered from the shot and his since left the department. Napier — whose surname at the time of the shooting was Karajankovich — and Meador both testified at Ewers' 2019 trial in Amherst Circuit Court about the negative physical and mental effects they suffered in the incident.
Ewers, 26, was sentenced to 108 years in December 2019 after a jury found him guilty of two counts of attempted capital murder of a law enforcement officer, one count of aggravated malicious wounding, using a firearm in commission of a felony and another firearm charge handled in a separate trial.
The Amherst County Sheriff's Office said shortly after the incident it had no previous record of an officer being shot in the line of duty.
The National Police Work Dog Association (NPWDA) and law enforcement personnel in Amherst honored Napier, now an investigator, during a brief event Tuesday. Captain Joe Renalds of the sheriff's office said it is the highest award the association gives and Napier was approved for it in 2019 but a ceremony was postponed because of the COVID-19 pandemic.
Renalds said Napier showed true courage that night and her actions resulted in the safety and welfare of her fellow officers.
"And for that we are grateful," Renalds said.
Ben Bennett, a senior master trainer for the NPWDA, said Napier was handling K-9s in her capacity as a deputy when the shooting occurred and honoring her is a personal pleasure.
"I knew her when she had two left feet and she turned into an excellent dog handler when she was working," in the K-19 unit, Bennett said.
NPWDA has nearly 4,000 members in 43 states and three countries outside the United States, according to Bennett. It has the one of the toughest certification processes in the law enforcement profession, he said.
"We are pretty well recognized around the globe," Bennett said.
Amherst Commonwealth's Attorney Lyle Carver, who was present at the June 8 event honoring Napier, said at trial Ewers did not want to return to jail that night and tried to shoot his way out. Matthew Pack, Ewers' attorney, argued the shooting was unintentional and officers overreacted. Ewers testified he didn't want to hurt anyone and described the incident as a "big misunderstanding."
Two years after the incident and the same month of his convictions, Ewers filed a lawsuit seeking $2 million in damages that alleges Napier used excessive force and claims the officers engaged in misconduct and gross negligence. The suit, which is in U.S. District Court in Lynchburg, also argues Ewers' constitutional rights were violated in the incident.
In a motion-to-dismiss response filed August 2020 in Amherst Circuit Court, prior to the litigation moving to federal court, an attorney representing the two officers and Sheriff E.W. Viar argues the officers' "heroic efforts" were reasonable and prevented Ewers from hurting anyone else. The motion states the officers and Viar are entitled to qualified immunity, a legal defense for law enforcement.
Bennett said the Medal of Valor recognition makes Napier a lifetime NPWDA member.
"I'm just very proud of her," Bennett said. "This is quite an honor. There's not a lot of people who receive this."