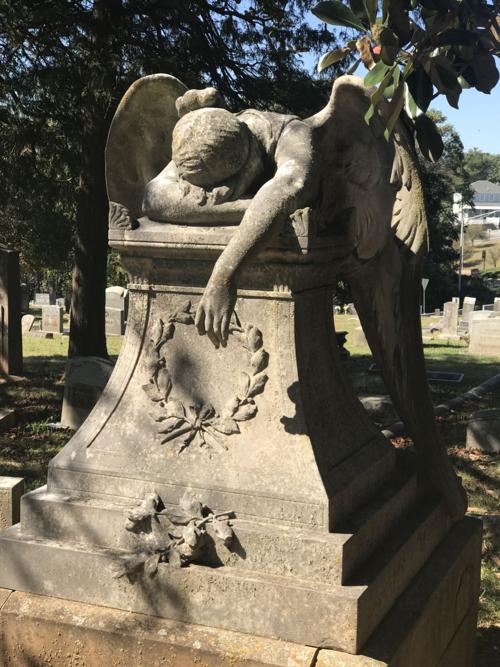 The Presbyterian Cemetery's Angel of Grief with its hidden face is a remarkable piece of workmanship, stunningly beautiful. The face may be hidden, but all of the facial features are intricately detailed. Melancholy weeps out. A Lynchburg treasure, this is the monument of Margaret "Maggie" Bryant Seay Scott (1847-1934) and husband Augustus "Winfield" Scott (1843- 1905).
From Wikipedia, the original Angel of Grief was the 1894 masterpiece of William Wetmore Story (1819 – 1895). Sculpted after the loss of his wife, Story wrote, "It represents the angel of Grief, in utter abandonment, throwing herself with drooping wings and hidden face over a funeral altar." Story and his wife are buried under his Angel of Grief statue in the Protestant Cemetery in Rome.
An 1896 issue of Cosmopolitan Magazine reported that, unlike the typical angelic grave art, "this dramatic life-size winged figure speaks more of the pain of those left behind" by appearing "collapsed, weeping and draped over the tomb."
Who were they? Winfield listed his occupation as farmer in the census and was a member of Lynchburg's Scott's Mill family. Maggie was the daughter of Lynchburg's Main St. druggist Dr. John Henry Seay (1815-1887).
Winfield was the son of Charles Scott (1816–1865) and Sarah Ann Adams (1818-1891). Charles was a railroad contractor; owned 1,000 acres on Cottontown Road in Strasburg, Virginia; Iron Works in Southwest Virginia; a flour mill in Lynchburg (where he settled); and acquired a nitrate plant at Saltville. Charles furnished the Confederate government with flour and nitrate from his mills. Charles and Sara Ann were buried in the Presbyterian Cemetery.
In 1860, Winfield was age 14 and the Scott family was living in Castle Craig. A farmer at age 26, Winfield and Maggie were married in Lynchburg on Oct. 11, 1871. In 1900 Winfield at age 56, Maggie at age 48, were living on a farm in Forest. After Winfield died in 1905, Maggie owned a house at 2204 Rivermont Ave. There she remained a widow until her death in 1934.
Winfield's younger brother was Robert C. Scott (1855-1926). His R.C. Scott & Co. incorporated to form Lynchburg Milling Co. in 1899, and Robert C. would serve as president.
Winfield's older brother was John James Scott, Sr. (1839-1888). It was probably John James Sr., but sources say in 1883 John James Jr. (1876-1936) formed an agreement to lease land on the Madison Heights side of the James River to construct a mill.
This Scott's mill was a corn mill powered by turbines instead of a waterwheel. Stories are told that the turbines would become completely wrapped up with river eels. Workmen would have to shut the mill down, go into the basement, and cut the eels out of the turbines. A nasty job.
Scott's Mill was destroyed by fire on the night of May 27, 1944. Rumors still circulate that the fire was deliberately set as this day coincided with the Madison Heights High School Graduation Ceremony. The Scott's Mill Dam is named after this corn mill.
Note: R.C. Scott & Co. also owned a flour mill on the Lynchburg side of the dam, under the Williams Viaduct.
Margaret "Maggie" Bryant Seay Scott's roots in America begin in Colonial Virginia which was inhabited by Native Americans. Goochland County was founded in 1728 and contained the modern counties of Amherst, Buckingham, Cumberland, Fluvanna, Goochland, Nelson, and Powhatan in their entireties plus portions of Albemarle, Appomattox, Bedford and Campbell.
Maggie was the 2nd great granddaughter of Abraham Seay II (1684-1764), a Huguenot immigrant who married Naomi Lovigne, sometimes written as Loving, (about 1715 — about 1780) of Powhatan County, in 1761. Naomi became quite unique historically in one way. Naomi was a Revolutionary War Patriot and one of the few women to have a Daughters of the American Revolution service record, i.e., Naomi "furnished gun" to the American Revolution.
On August 20, 1745, Abraham Seay II (1684-1764) received a crown grant of 385 acres in Goochland County located at Fork Union (in today's Fluvanna County) in the Fork of the James River, on both sides of Crooks Creek. The grant was made in the name of King George II of England and signed by William Gooch, Lieutenant-Governor and commander in chief of the Colony and Dominion of Virginia.
The royal land grant required that the 385 acre tract be occupied, cultivated, and improved ("3 acres of every 50 acres") within three years of 1745; otherwise, all land would revert back to the Crown.
This 385 acres fell within the ancestral Monacan Indian capital and village of Rassawek. Per The Bulletin of the Fluvanna County Historical Society, the earliest inhabitants of this section of Virginia in which Fork Union is located, about which we know anything at all, were the Monacan Indians.
Abraham was the first white resident of today's Fork Union. His first house, "Three Chimneys," was a combination house and tavern for travelers, especially those who used the stagecoach. The wide, double front doors faced the Richmond-Charlottesville Stagecoach Road now the River Road. The first house burned and a second house was built.
The community that grew up here became Point of Fork, today's Town of Columbia. Subsequently, the canal systems would connect Lynchburg and Charlottesville to Richmond via the James River and Rivanna River confluence at Point of Fork.
Abraham and Naomi are buried in a small family cemetery located in a field on the south side of Academy Road behind Fork Union Military Academy (FUMA).
FUMA was founded in October 1898. In 1900 and 1902, a descendent of Abraham and Naomi presented gifts of six and 11 acres of the original 385 acres granted by King George II of England in 1745, to the Academy. These 17 acres are now the central segment of the FUMA campus. Subsequently, FUMA has purchased most of the original 385 acres.
Maggie had two great-grand-uncles, sons of Abraham and Naomi, who served in the Revolutionary War. Lieutenant Abraham Seay III (1747-1829) married Elizabeth Tuggle in 1768 in Amherst and served in the Amherst Co. Militia, 1781 Siege of Yorktown.
Sergeant Austin Seay Sr. (1759- 1836) would serve in the Yorktown campaign under Brig. Gen. William Campbell (1745-1781) for whom Campbell Co. is named. The Yorktown campaign would culminate in the surrender of Lord Cornwallis's army, and end the war.
Maggie's great grand aunt Naomi "Amy" Seay (abt. 1741 — abt. 1806), daughter of Abraham and Naomi, married Captain John Loving Jr. on Feb. 10, 1761. John Jr. was Sheriff and Captain of the Amherst County Militia First Battalion and served in the Revolutionary War. Lovingston, the county seat of Nelson County, was named after this Loving family.
Maggie's grandparents were John Seay (1785–1839) who married Catherine Price on 17 Apr 1811. John was a druggist and two of their sons, Dr. William Burwell Seay (1814–1870) and Dr. John Henry Seay (1815–1887) would also be druggists. William relocated to several Southern states, served in the Civil War, and died in Mississippi.
Maggie's parents were Lynchburg druggist Dr. John Henry Seay (1815–1887), born in Fluvanna Co., who married Elvira Williams (1820–1897) on 19 Jan 1843 in the Town of Lynchburg (which incorporated as a city in 1852).
Dr. Seay was Master of the Lynchburg Marshall Lodge and present on October 26, 1846 at the Corner Stone Ceremony where the first stone was laid for the new Masonic building on the corner of Church and Ninth streets.
The title "Dr." was not awarded by a medical degree or certification, but by operating a drug store. The druggist dispensed remedies for many ailments to the common man. At that time in history, it was customary for medical doctors to make house calls to the wealthy and affluent.
Dr. Seay operated a drug store on Main Street. After Lee surrendered to Grant on April 9, 1865 at the Appomattox Court House, many sick and wounded soldiers passed through Lynchburg. The citizens of Lynchburg were in a state of gloom and darkness. About September 1865, there was a big fire on Main St. around Seventh. Dr. Seay's drug store and several other buildings burned. The people recognized the need for a fire department. The Independent Fire Company was immediately organized. The only apparatus they had was an old hand engine and some hose.
At his death on December 30, 1887, Dr. Seay was the oldest merchant of the city of Lynchburg. Dr. Seay and his wife, Elvira, are buried in the Presbyterian Cemetery.
Maggie was the third cousin once removed of Lynchburg Police Chief John Morris Seay (1851-1923). Working as a shoemaker, John became a Lynchburg police officer prior to 1886 and became chief of police sometime prior to 1908. John remained in that position until after January 1920.