State-and-regional
top story editor's pick
In the shadow of Ohio disaster, a look at history of hazmat derailments in Virginia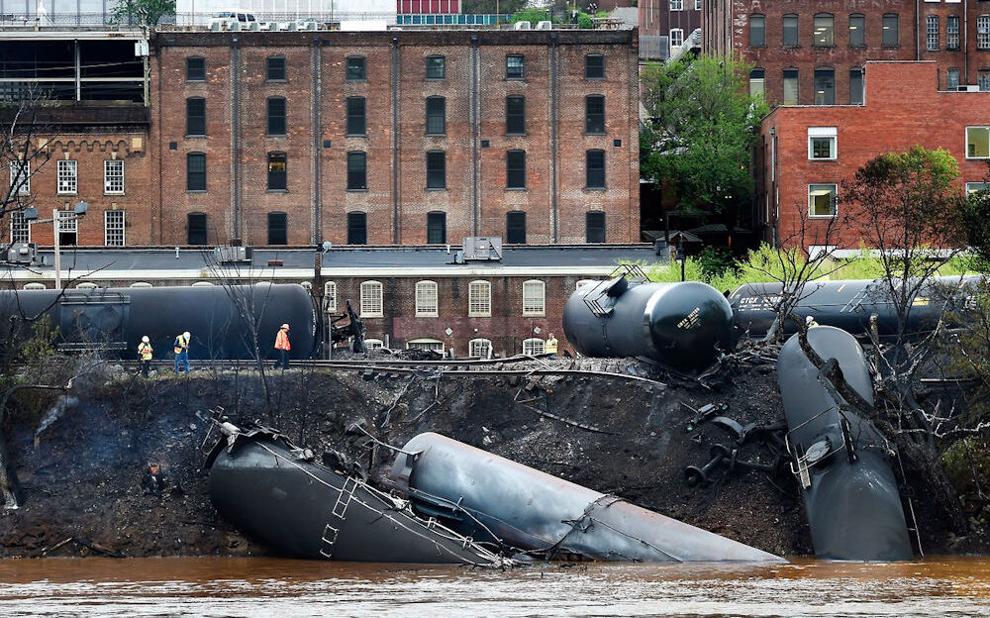 RICHMOND — It was just a fracture.
But within a day, that fracture gave way under the weight of an 104-car freight train pulling hundreds of thousands of gallons of oil.
The track buckled, the wheels came loose and, within minutes, 17 of the train's cars lay in the James River.
Shortly after, several cars exploded, lighting the river on fire. Had the cars not rolled into the river, the blast could have caught much of Lynchburg.
Instead, the freight cars lurched 30,000 gallons of crude oil into the James, which flows downstream to Richmond.
"We could have had a mass casualty event," said Danny Williams, battalion chief of the Lynchburg Fire Department. "God was on our side that day."
That was April 30, 2014.
But on Feb. 3, another derailed train, this time in East Palestine, Ohio, became the focal point of a national conversation around train safety as hazardous chemicals seeped into the air, water and soil.
Virginia has seen more than 200 derailments of passenger and freight trains, including on tracks that run straight through some of its busiest cities.
Few rise to the magnitude of the Lynchburg oil spill — a $1.2 million cleanup.
But the data suggests the close calls happen more often than one might think: In the past three years alone, 21 cars carrying hazmat material were "derailed or damaged," according to Federal Railway Administration data.
Only one incident resulted in hazmat chemicals being released from the train: a 2020 derailment of a Norfolk Southern train in the heart of downtown Roanoke.
In summer 2021, another CSX train with 52 hazmat material-carrying cars derailed in Richmond, on a track just yards behind the tomb of President James Monroe and along the James River. Eighteen cars jumped the tracks, according to a report from the FRA. CSX is the same company responsible for the train that derailed in Lynchburg.
Several other hazmat-laden trains derailed in Henrico County in 2017. And a Norfolk Southern train derailed in the woods outside Petersburg in 2018, dumping 1,100 gallons of glutaraldehyde, a sterilizing chemical harmful to humans.
Norfolk Southern is the train company involved in the February incident in East Palestine in which 38 railcars derailed, including 11 carrying hazardous materials that later ignited. A one-mile evacuation zone was set up around the site along the Pennsylvania-Ohio border.
The full environmental impact still is being gauged. The Ohio Department of Natural Resources estimates contaminants killed nearly 44,000 fish in waterways.
A preliminary National Transportation Safety Board report found that crew members had no indication the train was in trouble until an alarm indicating an overheated axle sounded just before it went off the tracks.
In response to the NTSB report, Norfolk Southern said it would "need to learn as much as we can from this event" and "develop practices and invest in technologies that could help prevent an incident like this in the future."
U.S. Transportation Secretary Pete Buttigieg, who visited the derailment site, warned Norfolk Southern to come through on its promises to clean up the site, and said he would "hold them accountable and the other railroad companies accountable for their safety record."
Trains seen as crucial economic tool
When derailments like these occur, a swarm of agencies descend upon the scene. Locally, one of those is Virginia's Department of Emergency Management. Tom Jordan, chief of the department's Hazards Branch, said derailments often are minor issues.
"Most are simple situations quickly handled by the affected railroad and their on-call response contractors," Jordan said.
State officials have labeled Virginia a train-loving state that can welcome the world through ports in Hampton Roads, and then send goods on their way across the country by rail.
Officials also view locomotives as a sustainable solution to pandemic-related logistics problems, such as trucker shortages and backed-up ports.
Last December, one of the state agencies in charge of Virginia's rails pitched a four-year plan to lay down more track, both for freight and passenger trains. The plan also says companies like CSX invest millions in keeping the track safe.
But there has been less action toward regulating the railroads. By and large, cleanups are left to the federal agencies, who have more enforcement muscle, and to the railroads themselves, who use their own cleanup crews in the aftermath of a spill.
This session, Newport News Democrat Del. Shelly Simonds pitched a bill with a number of safety regulations, including one that would cap the length of train cars. Longer train cars derail more easily.
"They are transporting dangerous and toxic chemicals on the rails, going through our towns and our cities every day. They must stop fighting us when it comes to safety," Simonds said.
However, the bill failed along party lines, in spite of testimony from a rail union and an organization that represents firefighters.
'At any given moment'
In Virginia, a number of train tracks run through main cities — Roanoke, Richmond and Lynchburg, to name a few. In Richmond, Main Street Station looms over Shockoe Bottom, where a derailing incident could have significant consequences for the city's downtown.
And several rail lines run along the James River, raising environmental concerns. In 2014, the Environmental Protection Agency worried oil from the Lynchburg fire would run downstream to Richmond. A later report by the Virginia Department of Environmental Quality said the threat to Richmond's water was minimal.
In a statement, a representative for CSX said the hazmat derailment rate has declined 55% since 2012, and that less than 1% of accidents result in a hazmat release.
"CSX invests heavily in railroad infrastructure maintenance, which is essential to reaching our goal of zero accidents and injuries and ensuring the continued reliability of the freight rail service that is important to the economy," said Sheriee Bowman, a spokesperson for the company. "While no accident is acceptable, CSX has led the industry with the fewest FRA reportable train accidents and the lowest average FRA reportable injury rate since 2019."
Later, a report from the NTSB found the 2014 derailment was preventable. NTSB inspectors found the company had known about the fracture a day prior, but had not scheduled a repair for several more days, which was within their guidelines, the Richmond Times-Dispatch reported in 2016.
Williams believes these companies do the best they can. But he still worries when he sees tank cars snaking into the city. The image of the plume of fire on the river is seared into his memory.
"It's something that can happen at any time, at any given moment," Williams said.