APPOMATTOX — A simple silhouette, belonging to a former slave named Fannie Berry, is among the recurring motifs in The American Civil War Museum at Appomattox's latest exhibit, "Enacting Freedom: Black Virginians in the Age of Emancipation."
Each silhouette contains a quote from Berry, a former slave from Appomattox County who was interviewed in 1937 as part of the New Deal's Works Progress Administration (WPA) initiative, which the exhibit reports produced more than 2,000 interviews with formerly enslaved people.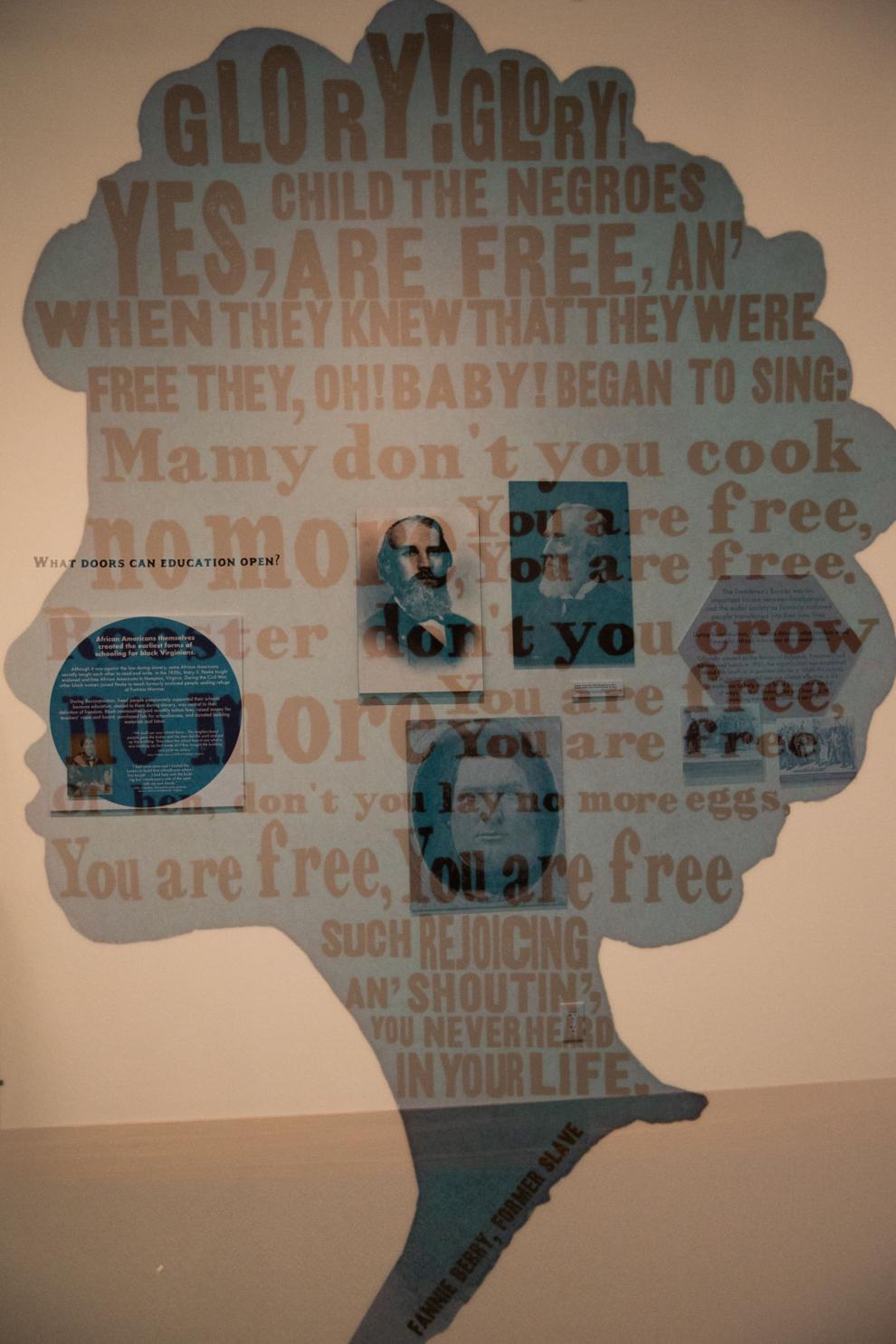 In one of the selected quotes, Berry talks about the abuses she suffered as a slave: "One tried to throw me, but he couldn't. We tussled and knocked over chairs and I scratched his face all to pieces; and there was no more bothering Fannie from him. … Us colored women had to go through a plenty, I tell you."
In another, she recounts the end of the war, as Union soldiers marched into town.
"A soldier came along and called to me, 'How far is it to the rebels?' Scared to death I was. I recollect getting behind the house and pointed in the direction. You see, if the rebels knew that I told the soldier, they would have killed me."
"[Her] quotes kind of guide you around the exhibit," said Paul Quigley, a professor of Civil War Studies at Virginia Tech, who led the team of students who curated the exhibit alongside museum staff.
"Those [WPA] interviews are great because they tend to span the pre-Civil War, wartime and post-Civil War time," Quigley said in an April phone interview. "They give you a sense of how people experienced the transition."
That transition is the main focus of the exhibit, which opened last month and remains up through next fall.
Quigley and his students spent nearly a year designing the exhibition to show how Virginia slaves experienced freedom after enslavement, as well as how those experiences connect to today.
"We wanted to do something that acknowledged [that] the content we were talking about from the Civil War reconstruction didn't just stop being relevant at the end of the 19th century, but it reverberated down through the 20th century and into our own time," Quigley said. "Flash forwards are one way to think about them. To school desegregation, for example."
The exhibition delves into six different themes — War & Violence, Education, Work & Labor, Family, Religion, and Civil Rights — that are illustrated by artifacts and images, panels that provide information and pose questions to visitors, and oral histories that can be watched or listened to on tablets set up in the gallery.
Some of the flash forwards mentioned by Quigley are featured in the civil rights section, which includes a timeline of quotes related to civil rights legislature and court decisions.
Gia Theocharidis, a senior at Virginia Tech, worked on the section, which deals with the African-American journey to gain rights in America "from the immediate days of emancipation all the way to beyond the civil rights movement of the 1960s," she said.
To research life immediately after emancipation, Theocharidis looked at records of the Freedmen's Bureau, which was established in 1865 to help the south's post-war recovery, assisting newly freed people in finding jobs, housing and medical services.
But, the exhibit notes, the bureau "had its limitations and was not always effective."
"I examined various declarations and orders that either stated the enforcement or restriction of rights for freed people," Theocharidis said. "… It is one thing to hear about it in history class, but to handle the damning documents and actually interact with the orders that told them how to be Americans is incredibly intense. It really gives you … a better perspective on how much restriction people had on just basic living and civil rights. So many things people take for granted today were once precious concepts worth risking your life for."
Stephanie Arduini, the American Civil War Museum's director of education and programs, said students highlighted stories and people from Central Virginia when they could — such as Hannah Reynolds, a slave who was the only known civilian casualty of the Battle of Appomattox Court House, and Charles Duiguid, a free black man who worked as a blacksmith in Appomattox during and after the war.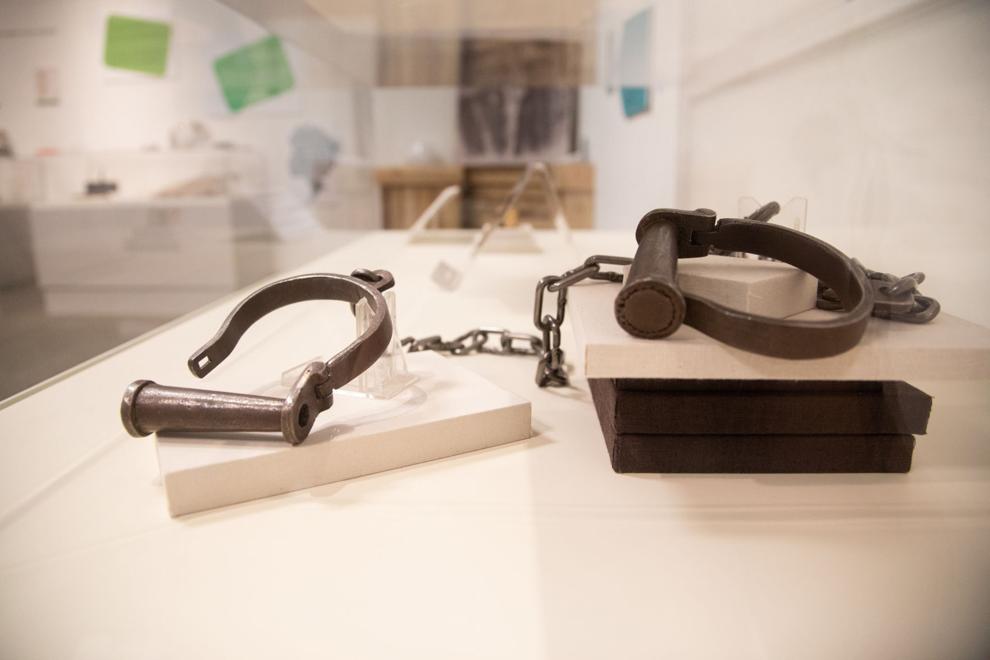 "The challenge is [that] artifacts relating to African-Americans during and after the Civil War are hard to come by," Arduini said. "… I think the power of what we don't know helps underscore the themes of the show."
In those instances, she said, students took objects that represented ideas and themes in the exhibit. An inkwell and pen used by the Confederate treasury is displayed in the education section, for example, to illustrate the idea of literacy, who was able to achieve it and how the power pivoted in the years after the war.
Silverware, a chipped mug and broken plate that belonged to a black family and were discovered at an archaeological site in Gloucester County are displayed in the section about families.
"For a section talking about everyday life and hopes and dreams," Arduini said, "that was perfect."
Other artifacts include school books from the 1860s and 1870s; a Confederate receipt issued to a slaveholder for the use of his enslaved person to work on the fortifications around Richmond; three photographs, rendered in 3-D, of the U.S. Army headquarters in City Point, Virginia, in 1864; and labor contracts between newly freed slaves and white landowners.
Finding a way to take the information gleaned from the labor contracts and other documents and present it to the public was a challenge, said Carolyn Buonforte, a sophomore at Virginia Tech who handled the exhibit's section on labor.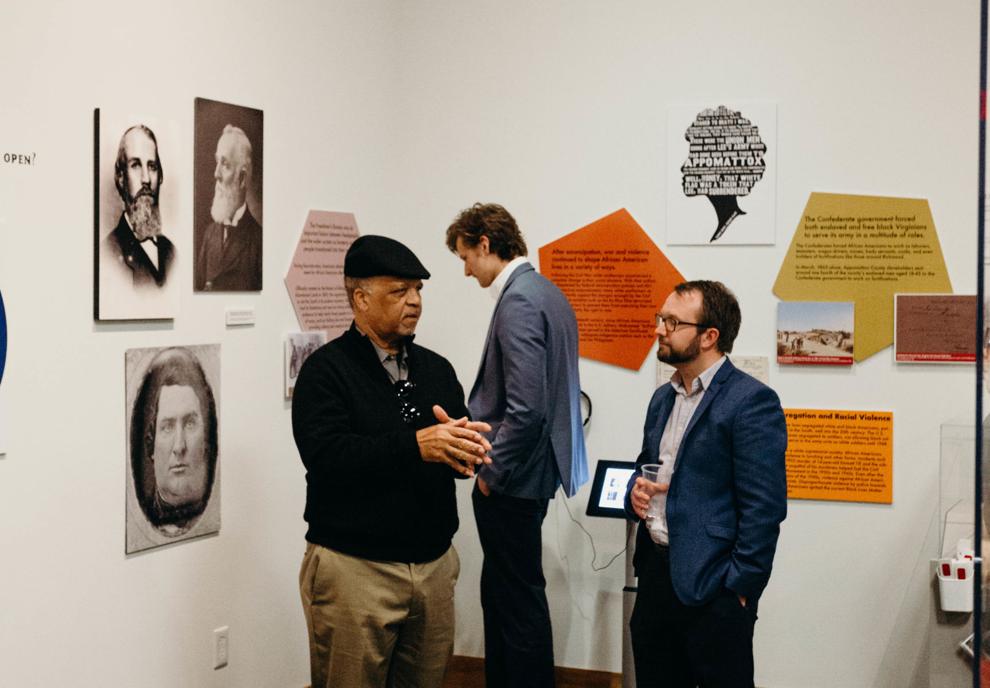 But after a team meeting, Quigley advised them to write "in a way that captures our audience's attention and maintains it for the duration," Buonforte said. "… This completely changed the way I approached the project. Instead of just reporting facts, I wrote in a way that told a story."
Buonforte and Theocharidis were among a group of five undergraduate and two graduate students Quigley said did most of the "heavy lifting to bring the content together," while a group of 17 additional students participated in other ways, mostly doing smaller research projects associated with classes they were taking. Another grad student came on board last spring and was tasked with developing curriculum materials for school visits.
Arduini said the students were "incredibly responsive and creative. This is a lot of work to do in a semester and a half."
The exhibit marks the second time the museum has brought in a group of students for this type of collaboration.
Last year, University of Lynchburg students curated "Local Stories, National Struggle: The Civil War in Appomattox and Lynchburg."
"The students, they are enjoying it, and we enjoy it from our perspective," Jeniffer Maloney, the American Civil War Museum's communications manager, said while the exhibition was being installed in April. "… It's young ideas, a fresh perspective. That's not something every college student gets to say: 'I helped curate an exhibit.'"
The exhibition opened in April during commemoration activities for Gen. Robert E. Lee's surrender in Appomattox, and a related lecture, given by the University of Alabama's Hilary Green about African-American education after the Civil War, will be held at the museum Thursday.
"This history really gets spotlighted every year," Arduini said, adding that the exhibit is a way to "build upon that history of Lee surrendering to Grant. … How that translates into what came next."