BEDFORD — For 20 years, Kiki Shumann's yearlong journey with grief was tucked away in shelves and drawers throughout her home.
After her mother passed away from a brain tumor in 2000 after a prolonged battle with brain cancer, Shumann — a native of New Jersey who moved to Mecklenburg County two years ago — coped with the loss through art, producing a series of 23 watercolor paintings, each with an accompanying poem, during the year that followed. 
"These images and words would just come to me during that time," Shumann said. "Sometimes they would just come to me during the day and others came from dreams that were so real to me that I would wake up with tears in my eyes.
"I'm not not sure where they all came from but I know it was a good place," she said. "Whenever you find a way to keep going after you lose someone, it is a gift."
Shumann kept her work private for almost two decades before sharing it with Patricia Held, an old friend from New Jersey who also now lives in Virginia. 
"I've known Patricia for years but never shared any of my work until recently," Shumann said. "I happened to mention to her one day that I dabbled in art and dug up some of my work from around the house."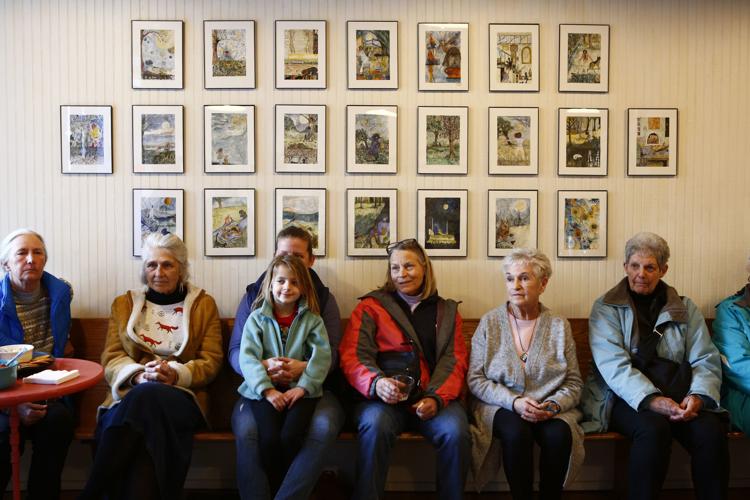 Held said as soon as she saw her friend's work, she knew it was "something extraordinary."
"Kiki told me she 'dabbled' in art but I had no idea," Held said. "I was blown away. She does a little more than dabble in my opinion."
After seeing Shumann's collection, Held took samples of her work to Patrick Ellis and Mitchell Bond — co-owners of Goose Creek Studio in Bedford — who agreed the collection needed to be shared. 
"The greatest thing about Goose Creek is that we don't have to go out looking for talent," Ellis said. "It always seems to find its way here."
Shumann's paintings and poetry are on display this month at the studio at 302 Court St. in Bedford. Ellis said the studio moved the opening of the show, which explores the themes of memory and loss, to last weekend because the work is "deeply personal."
"We usually do this during our Second Friday events," Ellis said. "However that sometimes gets so crowded that it's not a great opportunity for people to meet the artist. We wanted to do this in more of an intimate setting."
Ellis called the collection of paintings and poetry — which is titled "Nevermore" — an "absolute joy" to display.
"What Kiki brought us is not part of the marketplace," Ellis said. "This is personal. ... It is about healing, which is one of art's higher callings."
During the exhibit opening, Shumann discussed several of her poems and paintings, which chronicled her yearlong journey through the grieving process, from the first days following her mother's death to the day Schumann was able to accept the loss of her mother and move on.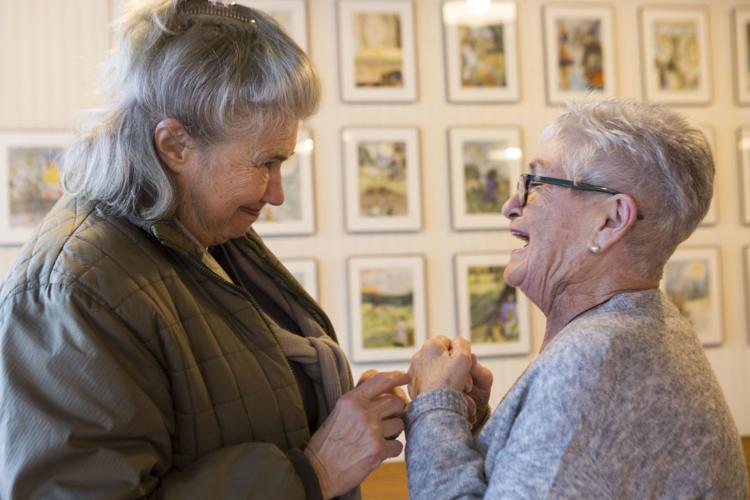 "When you lose someone, the world is never quite the same after," Shumann said. "However, you have to eventually be able to move on in a world that isn't the same as it was before. That is what this was about for me."
Shumann said Saturday was the first time she saw the collection placed together, after Ellis and Bond framed and put the pieces on display.
"I can't believe it's really my work," Shumann said laughing. "These guys did a wonderful job of putting this together."
Shumann said she is considering putting her poetry and paintings into a book for possible publication. Ally Turner of Bedford, who came to the studio Saturday, said "that needs to happen."
"I'm astonished," Turner said Saturday. "I need her to publish. She has a message that younger generations need to hear."
Turner — who said she struggled with the loss of her own mother — said Shumann's work "called out" to her.
"I really connected with this because I understand how it is hard to let go of someone," Turner said. "It really spoke to me on a deep, personal level."
Stay up-to-date on what's happening
Receive the latest in local entertainment news in your inbox weekly!