BEDFORD — Bobby Bays said he grew up knowing about the "Bedford Boys," the 35 men from Bedford who served during World War II, 19 of whom were killed during the first wave of the D-Day invasion of Normandy.
But, until recently, he never understood who the men were. 
"I have always heard of the Bedford Boys but they don't really teach us about them in history classes," said the 16-year-old Bays, who is portraying one of them, Bedford Hoback, in an upcoming production of "Tuesday Mourning."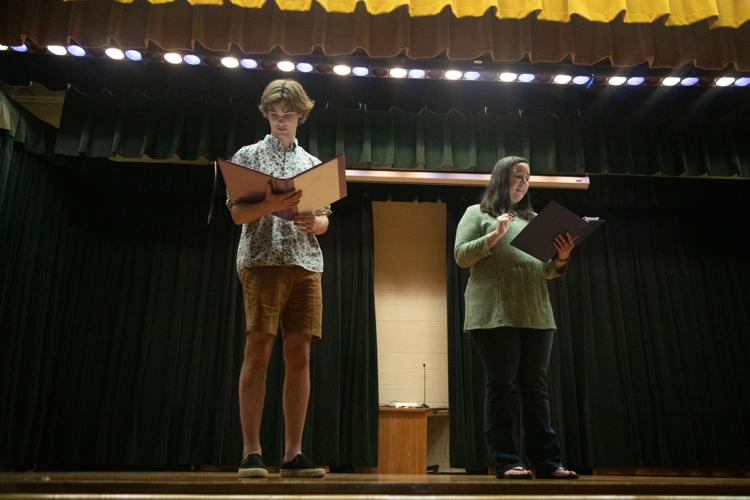 The play was written about the lives of the Bedford Boys and the impact their deaths had on the Town of Bedford, which suffered the largest D-Day losses per capita of any community in the United States.
"It has been really cool to see this play come to life and take the statistics of 'this number of people died that day' to 'these are the people that died that day,'" Bays said.
The play will be presented by Bedford-based Effulgent Productions from June 6 to 9 in Gibson Memorial Auditorium at the Bedford Science and Technology Center, 600 Edmund St.
"We are thrilled to be bringing 'Tuesday Mourning' back to Bedford," said Melissa Kennedy Grey, who is producing the show. "Especially since this will be the 75th anniversary of D-Day. The timing worked out perfect."
"Tuesday Mourning" was written by the late Duane Hahn, a Waynesboro resident who was part of the Waynesboro Players theater group for more than 40 years, after he read Alex Kershaw's book "The Bedford Boys."
The play focuses on six of the men from Bedford: Bedford and Raymond Hoback, Ray and Roy Stevens, John Schenk and Ray Nance, all of whom were part of Company A, 116th Regiment, 29th Infantry Division.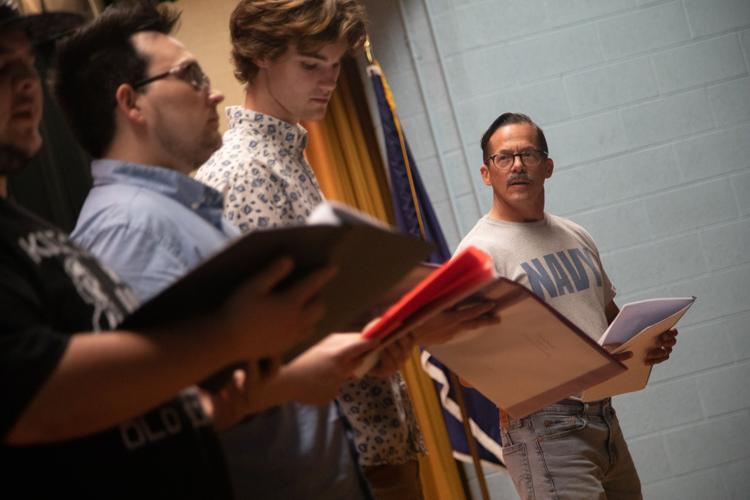 Both Hoback brothers, Ray Stevens and Schenk were killed during the D-Day landings.
The play shows the men before they entered the service and follows them overseas to what happened prior to the D-Day invasion.
The play also deals with the events of July 17, 1944 — more than five weeks after D-Day — when residents in Bedford received news that 19 of the 35 local men sent to fight were killed on the beaches of Normandy.
"It tells such a powerful story," Kennedy Grey said. "It is all told in first person so when you are seeing these actors onstage, you are meeting the Bedford Boys."
Although the play was performed in Bedford in 2011, several months after Hahn died, Kennedy Grey said it has not returned to the town since and has been out of production for several years.
Kennedy Grey said she obtained the rights to produce the play in Bedford about a year ago from Richard Adams, who composed the play's music.
"He [Adams] was thrilled that 'Tuesday Morning' was coming off of the shelf and was back in production," Kennedy Grey said. "He was very gracious and has been very supportive."
Forest resident John Holt, who is directing the production, said he has never been involved with a project that had such strong ties to the community.
"No pressure whatsoever," Holt said laughing. "This is a very moving play. This has been a project that Melissa has been putting in my ear for about a year, and I'm really proud to be a part of it, especially because of the connection to the town and the people here."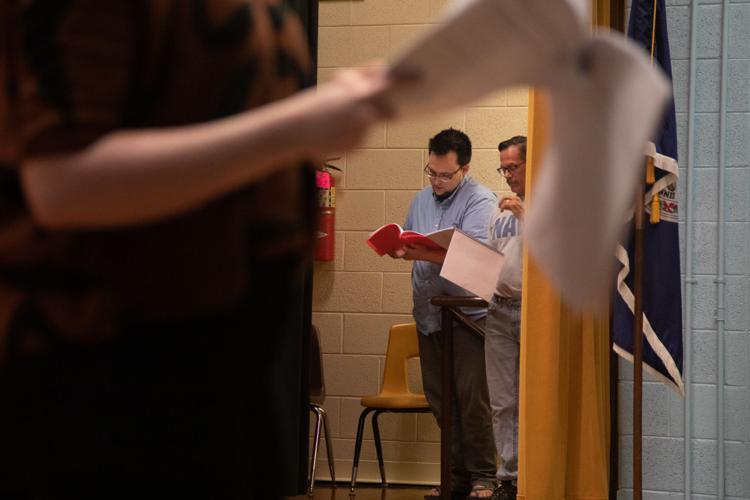 During a 2009 interview with the Bedford Bulletin, Hahn said he met with Bedford and Raymond Hoback's sister, Lucille Boggess, while writing the play.
"That was wonderful because she corrected me on some stuff," Hahn said. "We got a lot of wonderful help from the Bedford community."
Kennedy Grey said the play being performed in Bedford is more meaningful to her because some relatives of the Bedford Boys still are living in the area and could attend one of the performances.
"Many of the family members are still here with us today," she said. "This is like bringing these boys home again."
Kennedy Grey said the actors' reaction to the news that relatives may be in the audience has garnered mixed responses.
"They have been divided on that," Kennedy Grey said laughing. "Some have said that they want to know if family members are in attendance and others have said they absolutely don't want to know."
Bays said the thought of Lucille Boggess — who still resides in Bedford — attending a performance is "nerve-wracking."
"It kind of makes me nervous because I don't want to misrepresent her brother," Bays said. "I really want to honor his memory."
Mary Massie — who is portraying Elizabeth Teass, who worked at Green's Drugstore and received the Western Union telegrams about the D-Day casualties — agreed.
"I don't know if I could handle it if I knew they [relatives] were in the audience," Massie said. "It will be all I can do to keep it together as it is. It is such an emotional play and my part comes in when the families learn of the death of their loved ones. The first read-through was a challenge for the cast to get through because you really get into the stories of who these guys were."
"I can't imagine how terrifying it must have been for the Bedford Boys over there," Massie added. "And I can't imagine how devastating it must have been for the families when they learned of what happened."
Stay up-to-date on what's happening
Receive the latest in local entertainment news in your inbox weekly!