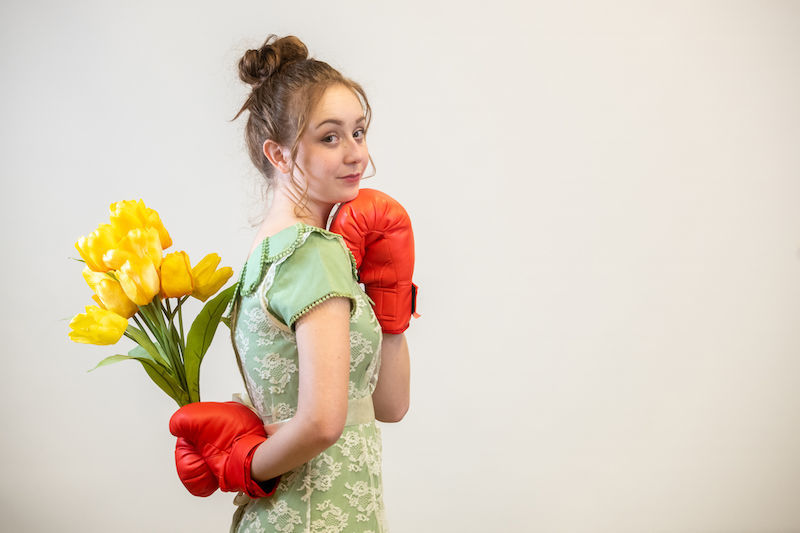 You've likely heard of "Pride and Prejudice," and maybe even the reimagining "Pride and Prejudice and Zombies."
But you've never seen Jane Austen's tale quite like it plays out in playwright Kate Hamill's stage adaptation of the novel, which will open in the University of Lynchburg's Dillard Theatre Thursday, says Jeff Wittman, director of Lynchburg's theater department.
"Hamill's work all [has] wonderful, funny, surprising things in it," he says. "... It's not going to be your stoic, regency, prim and proper [tale]."
Wittman pauses a beat, then continues. "I'm trying not to give away everything."
The original novel follows Elizabeth Bennett and her sisters as they navigate 19th century England social circles in search of wealthy husbands because none of them are eligible to inherit their father's property. Lizzy, though, isn't quite so willing to trade passion for practicality and, after a series of misunderstandings with the handsome (and rich) Mr. Darcy, finds love.
In Hamill's play — billed as a "merry, bold and boisterous homage" — Wittman says to expect some farcical elements, a lot of physicality and a commentary on the "absurdity of rituals and games we play in love," mixed in with some "important, real moments."
In the end, Wittman says, it's all about "having the courage to open ourselves up to the possibility of love."
Hamill, the Wall Street Journal's 2017 Playwright of the Year, also has adapted Austen's "Sense and Sensibility," Louisa May Alcott's "Little Women" and William Makepeace Thackeray's "Vanity Fair," among other classics.
A 2019 Boston Globe article, which also mentioned her "madcap adaptation" of "Sense and Sensibility," called Hamill "not a copy-and-paste sort of adapter. She brings a contemporary attitude to her 19th-century source material, leaning hard on humor — sometimes of the broad, physical variety — and composing much of the dialogue directly."
"The thing I like about the theater is that it can be irreverent, and [gives room to] put a new spin on the classics," she told the San Diego Union-Tribune in May. "I really want to do progressive, feminist adaptations of the classics. And particularly with 'Pride and Prejudice,' which has had many, many extremely straightforward adaptations, I really wanted people to be able to come at it with a new lens.
"I'm always trying to think about how a piece is relevant now, because I don't want the classics to be in some marble tomb. I kind of want to take them out and scribble and crayon on them — to let them run out and play in the sun, and see what they can be."
Her "Pride and Prejudice" premiered in 2017 at the Hudson Valley Shakespeare Festival and later made its way off-Broadway, earning an Off Broadway Alliance Award nomination for best unique theatrical experience. During the 2018-2019 season, it was one of the 10 most-produced plays nationally.
"Jane Austen's novels are wonderful. They've been made into very wonderful movies, BBC productions, Masterpiece Theatre," Wittman says. "Now to have this open up on the story ... [it's] a wonderful breath of fresh air."
Casey Gillis is the features editor at The News & Advance and editor of weekly entertainment publication The Burg. Reach her at (434) 385-5525.
Casey Gillis is the features editor at The News & Advance and editor of weekly entertainment publication The Burg. Reach her at (434) 385-5525.
Stay up-to-date on what's happening
Receive the latest in local entertainment news in your inbox weekly!