APPOMATTOX — The strains of Bonnie Tyler's anthemic rock ballad "Total Eclipse of the Heart" blare around the theater as Janice Myers stands before the famous "Stranger Things" alphabet wall, an extension cord grasped tightly in each hand.
Like a headliner at a rock concert, she raises the cords over her head and plugs them together in time with the song's instrumental break.
To the audience's surprise, it's not the lights on the wall that blaze to life but the strands of Christmas lights strung throughout the ceiling overhead.
A cheer rips through the crowd as the entire theater is suddenly bathed in a twinkling warmth.
It's so similar to the iconic sequence in episode three of the popular Netflix show's first season, and yet completely different at the same time.
That's the essence of Wolfbane Productions' "Stranger Sings: The Unauthorized Musical Parody" written by Hollywood screenwriter Cinco Paul.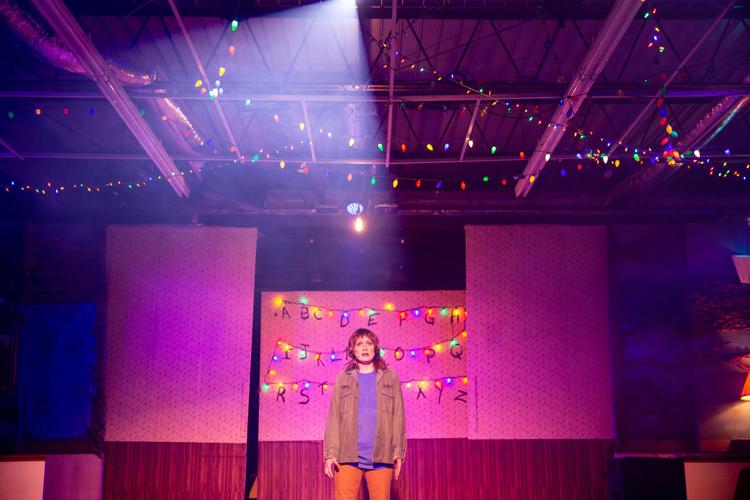 The show, which ran for four performances last week, was a historic moment for Virginia theater.
Not only did Wolfbane stage the world premiere of "Stranger Sings," Paul wrote the musical parody specifically for the Appomattox-based company.
"I still have that moment of, why us?" says founding Artistic Director Dustin Williams. "How did we get lucky to get this?"
A longtime theater enthusiast, Cinco Paul first met Dustin Williams when Wolfbane staged his musical "Bubble Boy" in the summer of 2016.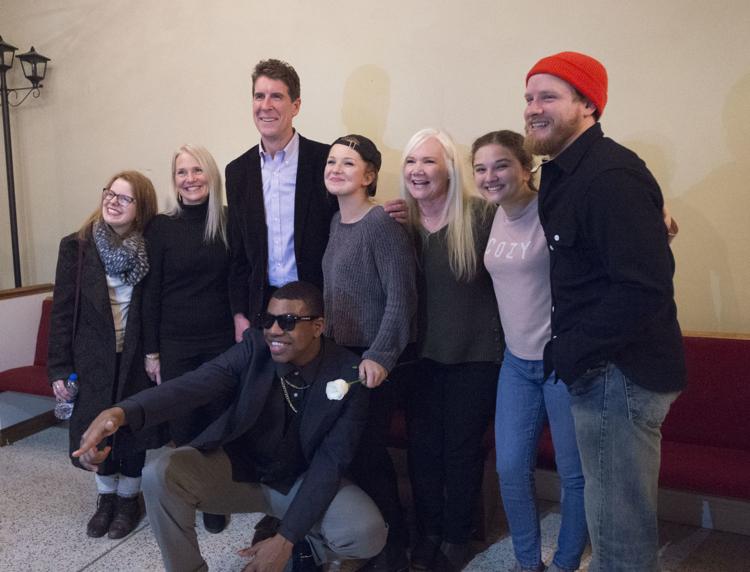 While not his most successful property — Paul is one half of the writing duo behind the billion-dollar "Despicable Me" franchise and the highly popular "Secret Life of Pets," after all — "Bubble Boy" always had a special place in Paul's heart.
Wolfbane's earnest take on the campy comedy musical, which was retooled from Paul and writing partner Ken Daurio's 2001 box office flop of the same name, captured the optimism of the original story while finding new, fresh moments.
"I just loved their spirit and everything they were trying to do here," the screenwriter said during an interview in Appomattox last week. "So, I wanted to do something else with them."
Paul was so impressed that a little over a year after the production, he reached out to Williams with a proposal.
He wanted to write a parody of the popular TV show "Stranger Things." If he wrote it for the Appomattox based-company, would they put it on?
"I was like, immediately, yes," Williams said.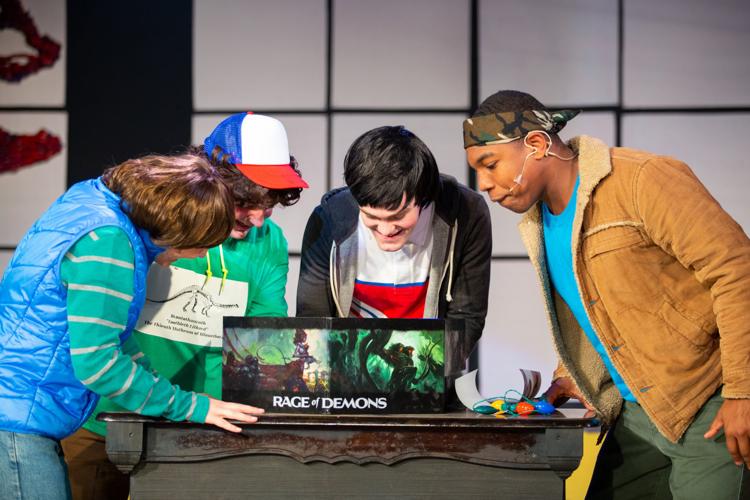 A love letter to paranormal thrillers of the 1980s, "Stranger Things" centers on the disappearance of Will Byers, a boy in the small town of Hawkins, Indiana. As Will's family and friends — his mother Joyce and older brother Jonathan; local police chief Hopper; and his three best friends, Mike, Dustin and Lucas — investigate his disappearance, they soon find themselves at the center of a battle against dark, supernatural forces and encounter a mysterious girl named Eleven, who becomes crucial to their journey. 
"I loved it," Paul said of the TV show, which premiered on Netflix in 2016. "I loved it so much, I was jealous of it and wished I'd written it."
By the time he sent Williams his proposal in late 2017, the show, then in its second season, had turned the pop culture landscape upside down with its blend of nostalgia and storytelling.
"[It was] '80s in a very real way," Williams said. "...  They did such a good job of nailing an authentic version of country '80s, not just like the city with the neon lights." 
While Paul's musical is totally unauthorized, parody is often protected under the fair use doctrine in copyright law.
"You just have to make sure it's very clear it's a parody, so that's why I put it in the title," said Paul, who also changed the names of all the characters and settings.
Hawkins became Dawkins. Eleven became Twelve while Joyce and Hopper became Janice and Chopper.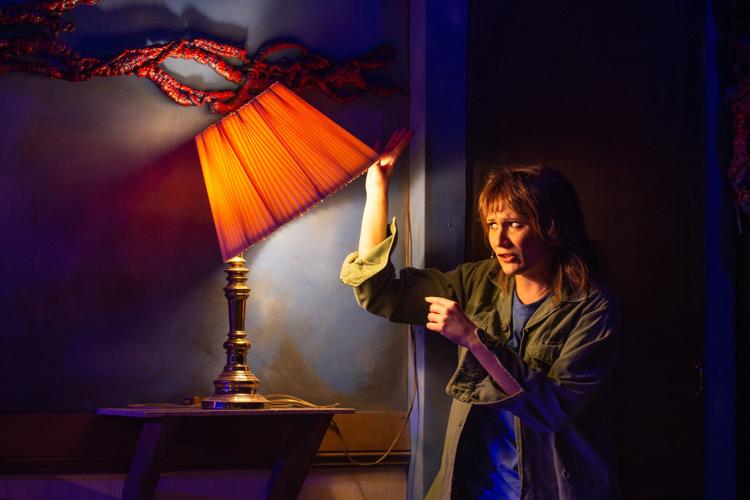 In true parody form, the musical pays homage to its source material in loving yet equally mocking way.
It points out the series' use of horror clichés as well as its gaping plot holes. It turns the campy elements in each actor's performance into caricatures (like the histrionic air Wynona Ryder brings to Joyce) and even comments on the cultural response to the TV show with two well-placed references to the fan campaign #JusticeForBarb.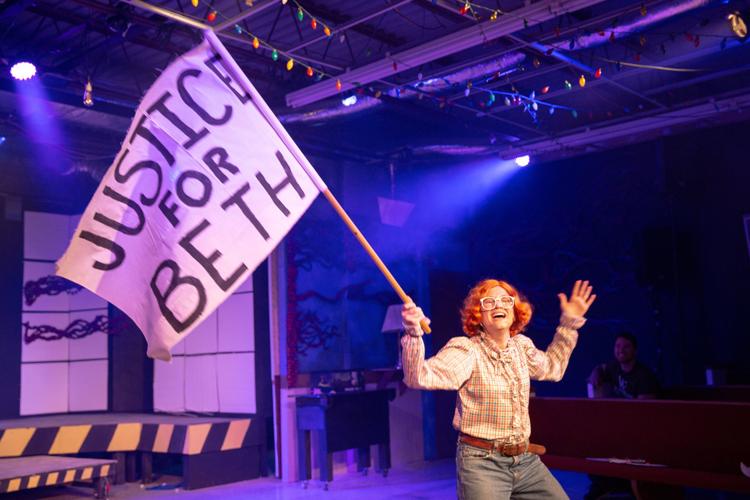 Despite Paul's love of the show, transforming "Stranger Things" into a musical was no easy task.
"It's eight-hour long episodes that I somehow have to squeeze into 90 minutes," he said.
Paul also added an extra challenge for himself when he decided to use only songs from 1983, the year the first season is set.
Surprisingly, many songs that made it into the Top 40 chart for that year, including Duran Duran's "Hungry Like the Wolf" and Thomas Dolby's hit single "She Blinded Me with Science," fit perfectly into the story.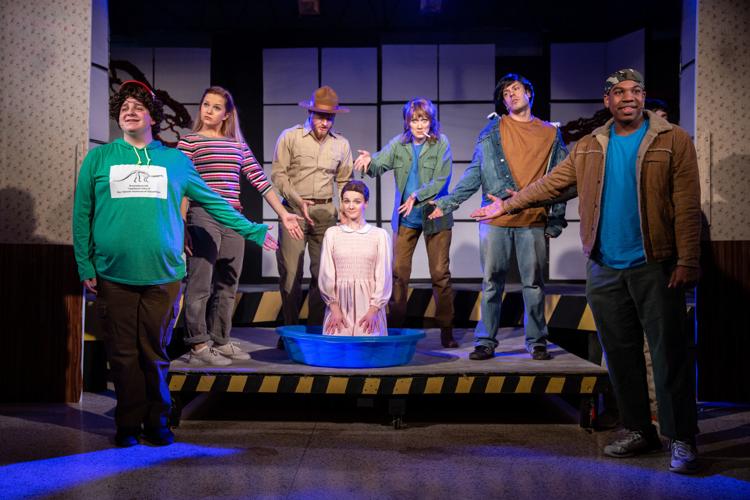 Paul started work on "Stanger Sings" in February of 2018, finishing it just a month later.
"It was sort of finding a little space to write it in between other stuff I had," he said. 
That other stuff included finishing the script for the highly anticipated "Despicable Me 4," as well as writing a show for Apple TV, which he says begins production next summer (contractually, he can't divulge any more about the project yet).
Paul ended up writing just two drafts of "Stranger Sings." The first focused solely on the beats of the show that were necessary to tell a cohesive story. The second draft punched up the jokes.
"You have to first establish the seriousness of it, establish the reality of it and make people think, 'OK, we're really in this,' and then the jokes play much better," he said. 
Knowing he was writing this show specifically for Wolfbane — which does not have a million-dollar budget but, as Paul says, has "unlimited imagination" — gave the screenwriter a certain freedom to go big.
He incorporated flashbacks, multiple settings, scenes filled with special effects and, of course, a demogorgon — the monster that stalks the characters — into his musical.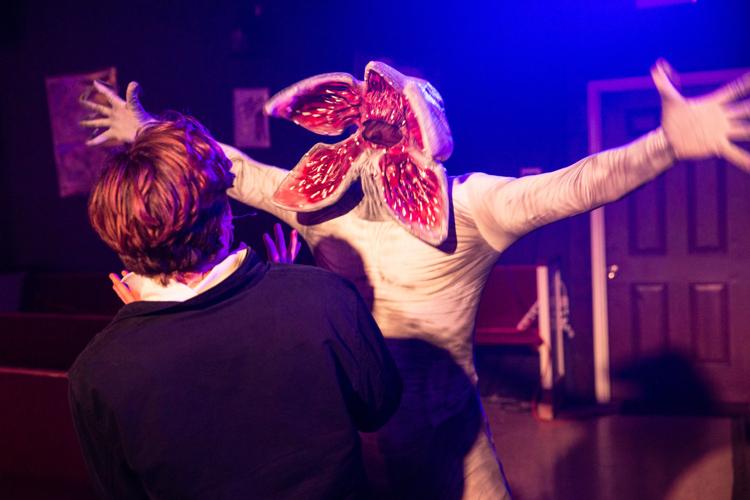 Paul continued to make tweaks leading up to the show's world premiere on Nov. 14.
Most of those changes were made in Appomattox, where Paul spent a week working with the cast and watching the majority of the show's four-night run.
"It's really incredible to see how something can just pop into his head," said Claire Harvey, a senior at E.C. Glass High School who plays Twelve, the musical's version of the telekinetic Eleven.
The first night Paul came to rehearsal was terrifying, Williams said.
The cast had only been working on the show for a week and Williams was still blocking everyone's movement. Some of the cast hadn't even acted together yet.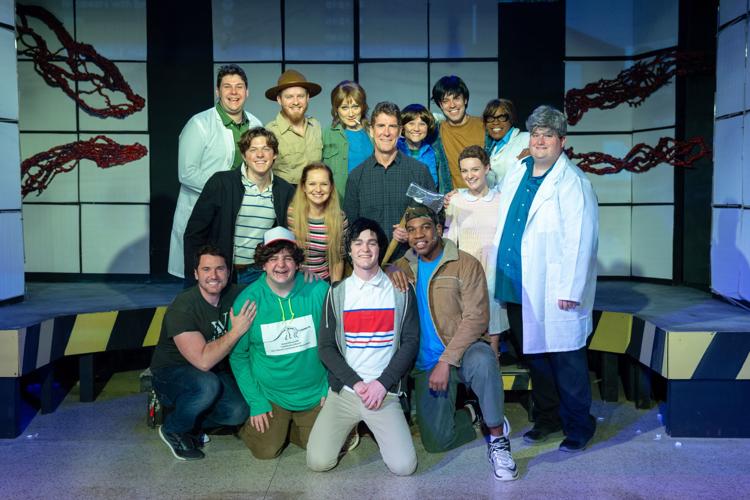 "He's just sitting there, and I'm like, 'Don't be that guy that stares at his face the whole time,'" Williams said. "But I was. I kept being like, 'Do you like it? Do you like it?'"
Paul wasn't actually there to critique Williams or the cast's performance. He wanted to get a feel for how his material read onstage, which is common when a new show is being staged for the first time.
"There's things that work well on the page but then don't work well on their feet," the screenwriter said.
Some of Paul's changes included adding breaks between lines so a joke would land better and putting buttons on the end of scenes that felt too heavy.
"It's also working with Dustin," Paul said. "He's had ideas, and so he'll bounce them off on me."
A certain level of collaboration between playwright and director is common with new works. While scripts come with some stage directions, playwrights put the emphasis on the words, leaving most of the staging up to the director. It's the opposite of a movie script, which focuses more on the action in a scene.
Almost all of the action that takes place in the "Total Eclipse of the Heart" sequence, including Janice plugging in the overhead lights, came from Williams.
"You get the Broadway script and it's got the stage manager's notes, and all this stuff in it," he said. "It's nice to be the ones that come up with that first blocking."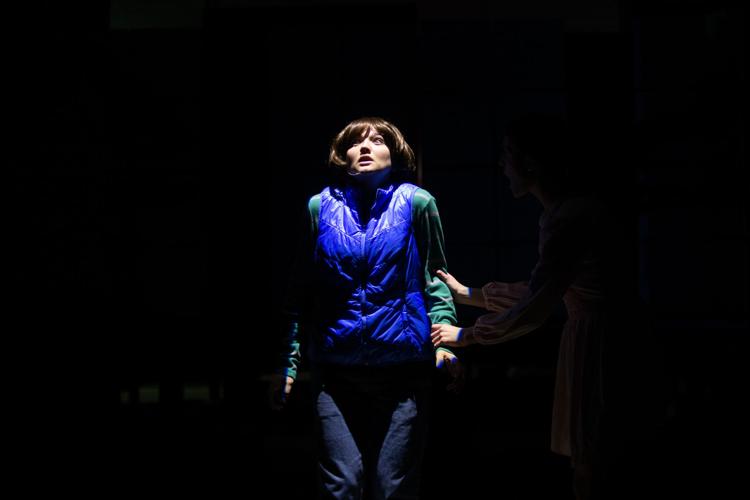 The same is true of the cast, who are originating these roles. There are no soundtracks to listen to or performances to watch on YouTube when it comes to "Stranger Sings."
"We are the original cast, and that's so amazing," said Jack Shonfelder, a senior at Jefferson Forest High School who played Stu Barrington, the substitute for heartthrob Steve Harrington. "That's something that I never thought I'd ever get to be a part of this early in my career."
Paul sits by himself as the crowd filters into the Wolf Den on opening night.
His spot among the crowd gives the screenwriter the perfect vantage point.
"This is the first test," he said. "Like what jokes work, what moments work. Are there places that are slow? I'm sure there are things to learn."
Every audience is different. A joke that earns guffaws one night might get only crickets the next, so while audience feedback can be essential, at some point, you have to trust your own gut, Paul said.
"Ultimately, I write what makes me laugh or write the things I want to see."
That doesn't mean he won't be waiting to see how long it takes to get that first laugh.
"I'll probably be watching the audience as much as I am the performers," Paul said. 
It takes less than 30 seconds for that first laugh to arrive. From the moment characters hit the stage, the cast has the crowd in the palm of its hand. They cheer at every dance move and prop gag and giggle at each line of innuendo and meta quip.
"It felt really great to walk out and literally hear the audience holler and scream," said Harvey, who earned raucous cheers the first time Twelve hit the stage. "I mean everyone loves 'Stranger Things,' but for this, it's crazy to be a character everyone already, automatically loves."
Getting to bring "Stranger Sings" to life has offered a new level of validation for Wolfbane, which is only 12 years old.
"Having somebody of his caliber and with the credits he has write something specifically for us is a huge deal," Williams said. "I don't think I've quite wrapped by mind around how unique and special that is, and I'm excited to see the repercussions it has for Wolfbane down the line."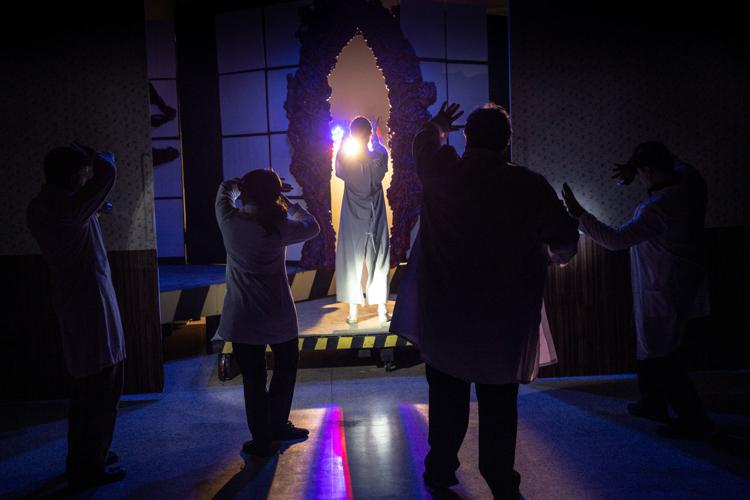 While Wolfbane has not announced any plans to stage the parody again, Williams seems open to the idea and was already pondering how "much bigger we can go" immediately following opening night. 
Not only does Paul hope Wolfbane stages the show again, the screenwriter said he too is seeing the possibilities in "Stranger Sings."
Although he wrote the show as a fun side project for a company he has come to love, Paul said he might approach his agent to see if something more can be done with the musical parody — whether that's an official script (with licensing) or a few more productions in various places around the country.
Until then, he's happy to ride the high that comes from a world premiere.
"This is exactly as good a feeling as it was sitting with an audience watching 'Despicable Me' when it first came out," Paul said. 
"It's that same feeling of, 'Oh, I wrote something that's making people laugh and smile' ... whether it's 100 [people] or 100,000 or a million."