ARRINGTON — On a hidden hilltop in Nelson County, four female eastern bongos may soon give birth.
While Arrington seems an unlikely place to raise critically-endangered species, the survival of several African antelope depends on work being done in the U.S.
There are only about 90 bongos left in their native Kenya, where they were hunted to near extinction for food. Because there are so few left in the wild, breeding programs outside the country are providing the only long-term hope for the species.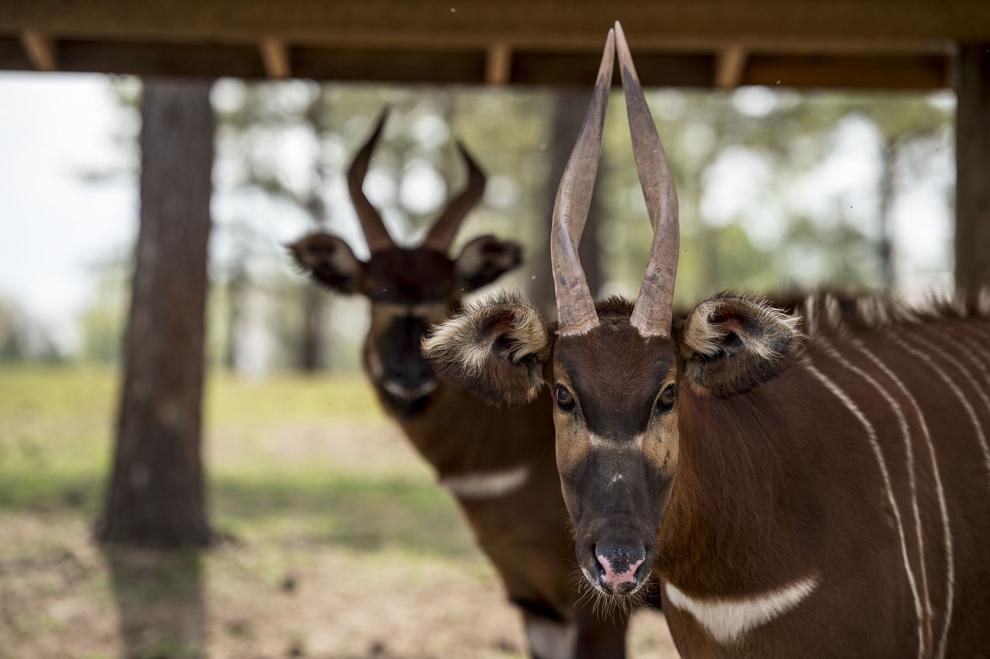 Some of that work is being done at the Wildlife Conservation Center in Arrington by Dave and Karen Holm.
"There are many, many endangered species," Dave said.
He and his wife are hoping to save some of the less well-known antelope.
They currently have eight bongos, including a calf born on their farm last fall. It is illegal to buy these animals from Africa so the Holms buy them from zoos and conservation centers in the U.S.
Once they have 20 females, they will have enough genetic diversity to maintain their herd and start sending offspring back to Kenya.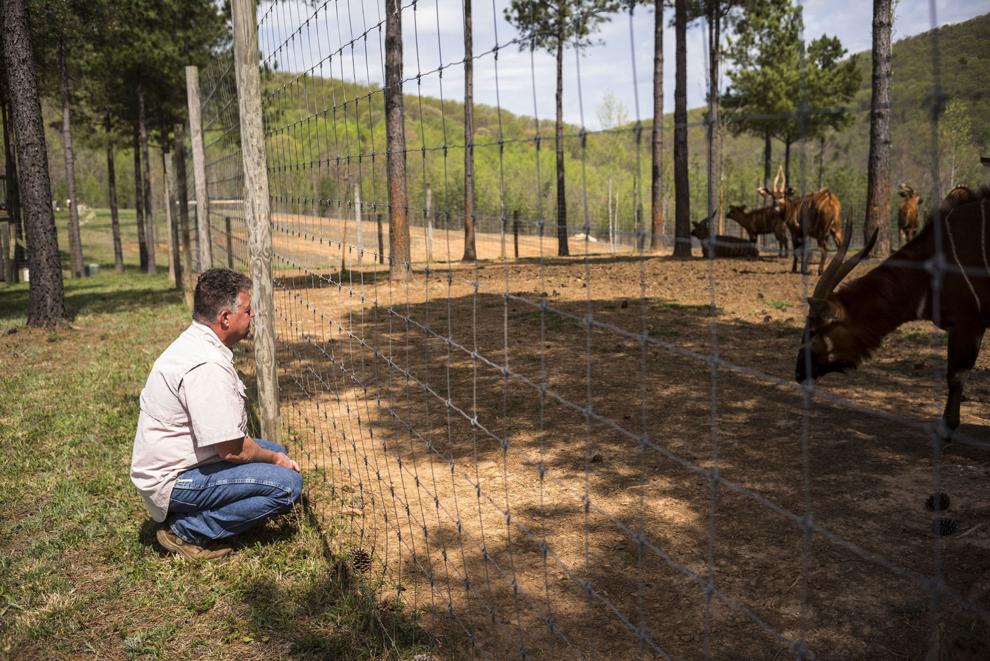 Despite their somewhat daunting long, curved horns, the white-striped caramel-colored bongos are gentle.
"They're a lot like cattle personality-wise," Dave said.
The Holms are concentrating on three antelope species initially. They also have three addax, smaller white antelope originally from the Sahara Desert, and will soon add scimitar-horned oryx to their herd.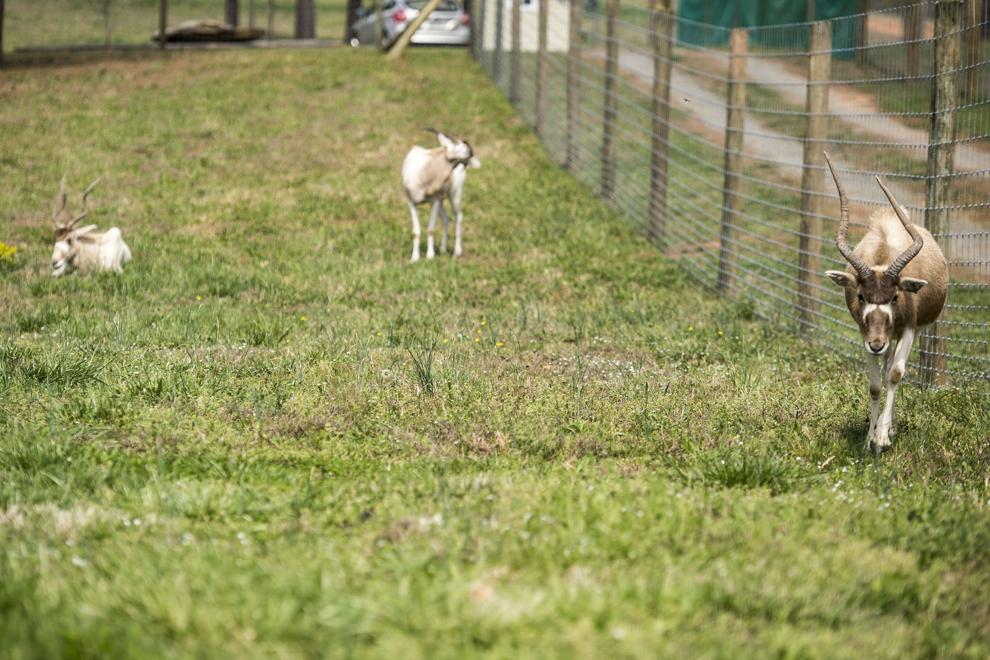 The scimitar-horned oryx has gone extinct in the wild, and just this year some animals have been reintroduced into Chad, Dave said.
Few people know that many African species are more numerous in this country, particularly in Texas, than they are on their native continent.
That is true, thanks in part, to the American Species Survival Plan, or SSP program, that was developed in 1981 by the Association of Zoos and Aquariums to help ensure the survival of selected species.
There are about 300 bongos in the U.S. registered under an SSP, Dave said, but getting good census numbers is difficult. Many African species are being raised on ranches in Texas, often funded by trophy hunting.
According to a 2012 story on CBS's "60 Minutes," the iconic Texas longhorn now shares its range with more than a quarter of a million animals from Asia, Africa and Europe. Today, Texas has more exotic wildlife than any other place on Earth.
The Texas phenomenon began more than half a century ago with surplus animals from zoos. What started as exotic hunting has evolved, somewhat paradoxically, into a major achievement in wildlife conservation.
Texans have helped bring back the scimitar horned oryx, the addax and the dama gazelle.
If all goes well, two of those three species will soon be breeding in Nelson County.
Karen Holm is a veterinarian who got interested in conservation medicine soon after finishing vet school in 2000.
She and Dave opened a veterinary clinic in the suburbs of Baltimore, Maryland. At the same time, Karen was doing volunteer work at the Smithsonian Conservation Biology Institute in Front Royal, Virginia, and at the Maryland Zoo in Baltimore.
After five years, the couple was looking for a slower pace and saw that a practice in Lovingston had come open after the death of the veterinarian. That man's daughter was also in vet school and hoped to inherit the clinic so the Holms agreed to operate the clinic for five years.
They weren't sure what would come next, but as Dave said, "We liked it so much here in Nelson County, we bought a tract of land."
Their dream of helping ensure the survival of African species took root, and while Dave started putting in fencing and barns, Karen did volunteer work with cheetahs in Namibia, rhinoceroses in South Africa and tigers and elephants in India.
The Holms hope to bring endangered Masai giraffe and white rhino to their farm in the next five years.
A year ago, their first animals arrived. Buying and caring for these animals is tremendously expensive, and the Holms depend on grants, fundraisers and donations.
At some point, they may be able to make some money selling excess males back to zoos, but in the short-term, there is no profit.
"It's a labor of love," Dave said. "It's a lot of tears and sweat."