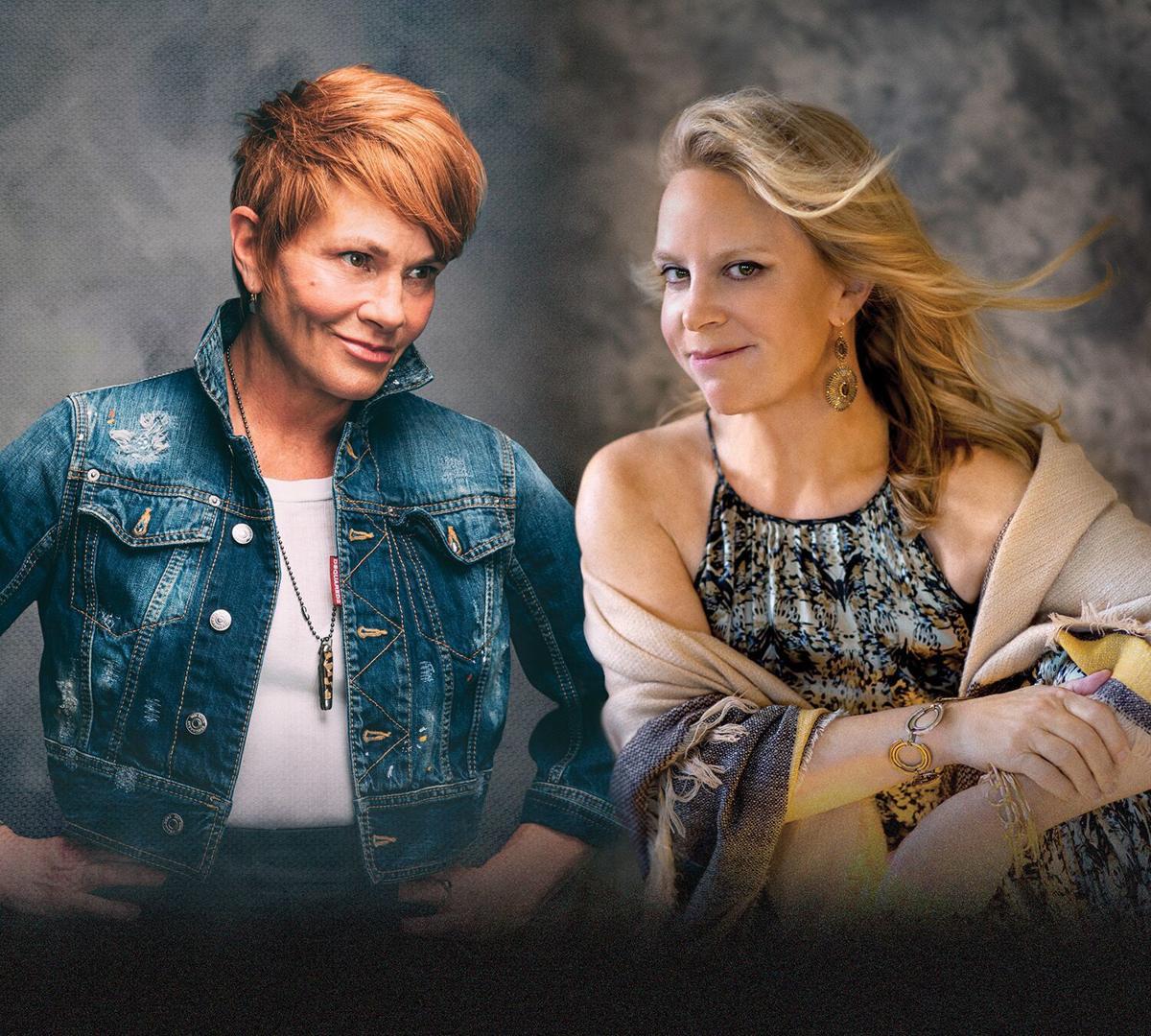 Singer-songwriter Mary Chapin Carpenter can't remember exactly when her friendship with fellow musician Shawn Colvin started, but she knows for sure that it has changed her life.
"It's something that is important in my life, and it's something I treasure," Carpenter said during a phone call last week.
Carpenter and Colvin's friendship will take center stage when they perform together at the Academy of Music Theatre on Monday. The show is part of the musicians' current co- headlining tour, their second in the more than 30 years they have been friends.
"They're each masters of their craft," said Dave Frey, whose company City Auditorium LLC has brought the musicians to the Academy. "They're great interpreters of their songs live, and they're just great performers."
Best known for her fourth album, "Come On Come On," which produced seven charting country singles, Carpenter has won five Grammy Awards and been named CMA's Female Vocalist Of the Year twice.
In addition to selling more than 14 million records, she has penned songs for artists including Joan Baez, Cyndi Lauper and Trisha Yearwood.
"Mary Chapin Carpenter was an unlikely country hitmaker, but her songs proved to be enormously popular with country fans," according to her bio in the Nashville Songwriters Hall of Fame, which she was inducted into in 2012.
Called a "contemporary folk hero" by NPR, Colvin has performed with legends like James Taylor, Emmylou Harris and Sting. She has won three Grammys and is a recipient of the Americana Music Association's Lifetime Achievement Trailblazer Award.
"She's simply one of the best singers I've ever heard — and a truly gifted and deep songwriter and guitarist," blues singer Bonnie Raitt said in her speech when she presented Colvin with the Trailblazer Award in 2016. "... She was groundbreaking when she emerged and continues to inspire me and the legions of fans and other singer-songwriters coming up in her wake."
When Carpenter and Colvin come to the Academy, they will share stories and perform material from each of their catalogs along with some of their favorite songs.
"To me, I would compare it to when Willie Nelson toured with Merle Haggard," said Frey, who saw Carpenter and Colvin perform together at the Paramount Theater in Charlottesville several years ago. "They're each stars in their own right. They each know how to sit back and be the sideman to the other one. And they each have a lot of songs that everybody knows very well."
The timing of Carpenter and Colvin's tour is rather perfect; both singer-songwriters have recently put out albums that celebrate their three decades in music.
Carpenter's "Sometimes Just the Sky," which was dropped last year, re-imagines songs from each of her previous records. Meanwhile, Colvin released a 30th anniversary acoustic version of her debut album "Steady On" in September.
Before she and Colvin take to the stage, Carpenter chatted about their current tour and enduring friendship.
"I just feel tremendously fortunate after all these years in the music business to have a friend like her," Carpenter said of Colvin. "And the fact that we can tour and make music together is just the icing on the cake."
When and how did your friendship with Shawn Colvin start?
"I don't remember exactly the year, but we have calculated that it's somewhere between 31 and 35 years ago that we met. She was playing a very esteemed club in the D.C. area called the Birchmere, so I went down there, and we were introduced, and we just became friends pretty instantaneously."
How would you describe this musical kinship you and Colvin share?
"We have been friends for more than 30 years. We talk a lot about this in the show, that one of the things that made us such fast friends is that we discovered, very quickly the way you do with someone, that we loved so many of the same songwriters and singers and artists and records. When you discover that in someone, it's so easy to be friends, you know what I mean? And so, it's just this beautiful, lovely friendship that we've had for such a long time. And the fact, also, that there's not that many people in my life that I'm close to that have the same kind of life that I have. She understands what it's like to be a touring artist and to live on a bus and to be a gypsy in that sense. And that's very comforting in a friend."
You and Shawn toured together in 2013. How is this tour different from that one?
"It's like a reunion. But it's one of those things where we're just picking up where we left off. We crack each other up, we tell a lot of jokes. There's nothing I love more in the world than harmonizing to her music and her singing, and we're just doing more of the same because we love to do it. It's like a treat. And Shawn has said this before, most of the time we're out there kind [of] doing our own shows, and it just feels like such a gift to have a pal along with you. You're not kind of all by yourself."
I imagine that friendship comes across onstage.
"Oh God, we get pretty crazy. Out of context, it doesn't really mean anything, but we make each other laugh pretty hard. And I sense that the audience is right along there with us. It's not like in-jokes or anything like that. We're all just hanging in there together."
You and Shawn have both released albums commemorating major moments in your careers. What is it like for you both to reach this milestone at the same time?
"It's profoundly profound [laughs]. In this day and age where careers last two minutes, and people's attention span[s are] shorter than [they've] ever been, it means so much to both of us — to us individually and together — that people are coming out to our shows. That we're still making records.
"I would say this to you whether I was on my own tour or touring with Shawn. It's the greatest. I just feel so fortunate to be able to have the career that I've had. And I'll be going into the studio in January to make a new record and can't wait. I'm as energized and as excited about the new songs that I'm writing as I've ever been, so it just feels wonderful."
If you had to pick one song to describe your friendship with Shawn — whether it is a song one of you has recorded or it's a song by a different artist altogether — what would that song be and why?
"It would be a song called 'That's the Way Love Goes.' [It's] a wonderful Lefty Frizzell song that many people have recorded, but we've been singing it together for as long as we've known one another. And it speaks to the wider world and the human beings that we all are, and our fallibility and our desire to be better people in our lives and in our hearts. But it also is about acceptance and the acceptance of being human, which means you're not perfect. It's like a perfect song."
Emma Schkloven covers arts and entertainment for The News & Advance. Reach her at (434) 385-5489, and follow her on Twitter and Instagram @byEmmaSchkloven.
Emma Schkloven covers arts and entertainment for The News & Advance. Reach her at (434) 385-5489, and follow her on Twitter and Instagram @byEmmaSchkloven.
Stay up-to-date on what's happening
Receive the latest in local entertainment news in your inbox weekly!