When you can finally tear your eyes away from the bright neon sign that reads "POW," with its two exclamation points, you'll feel it out of the corner of your eye.
A looming figure of intimidating menace standing stock still against the blur of movement and color, the pointed ears of its signature mask jutting up toward the sky.
"Xi'an-American Batman Warrior," artist Lizabeth Rossof's 500-pound sculpture of the Dark Knight carved in a similar likeness to China's ancient terracotta figures, just might take your breath away.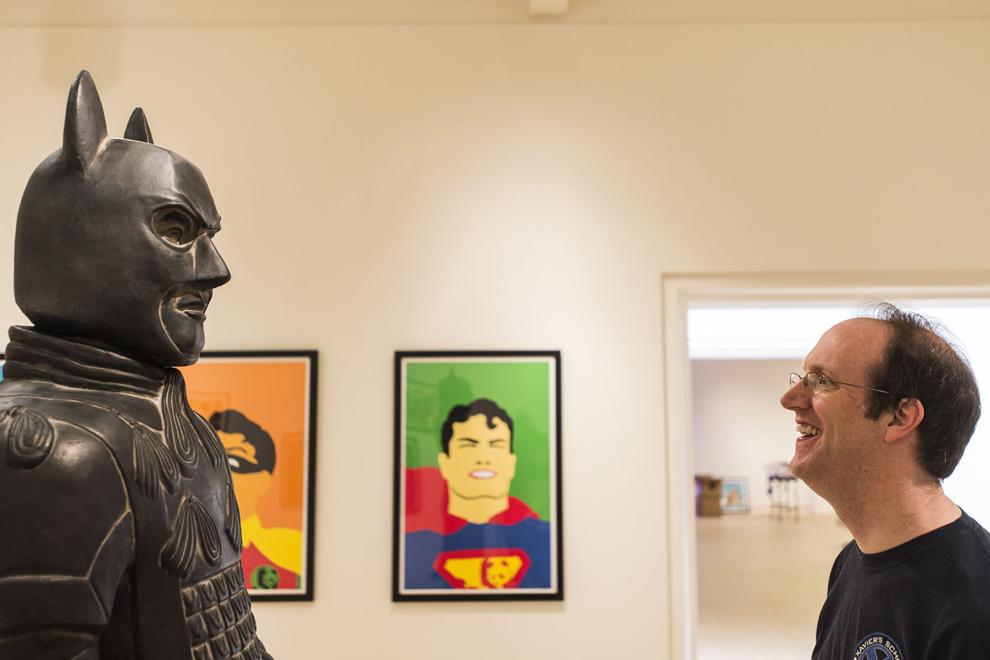 "The enormity of it kind of subdues you a little bit," Lynchburg College pop culture professor Mike Robinson says as he looks up into the face of the Caped Crusader.
The newest exhibition to visit Lynchburg College's Daura Gallery, "My Hero! Contemporary Art & Superhero Action" has leaped and bounded its way from its California home in the Lesher Center for the Arts' Bedford Gallery across the country for a three-and-a-half year national tour.
"This show is exploring this enigmatic or iconic world of superheroes, and the staying power of this extraordinary character," says Carrie Lederer, curator of exhibitions and programs for the Bedford Gallery. "I think all of us want to step into those boots and save the world. … ['My Hero!'] allows us to experience that power and also consider the lives beyond the day job of the superhero in a realistic way."
Superheroes burst onto the pages of comic books in the late '30s and early '40s, heralding what became known as the Golden Age of Comics, with the appearances of such iconic figures as Superman, Batman, Captain America and Wonder Woman.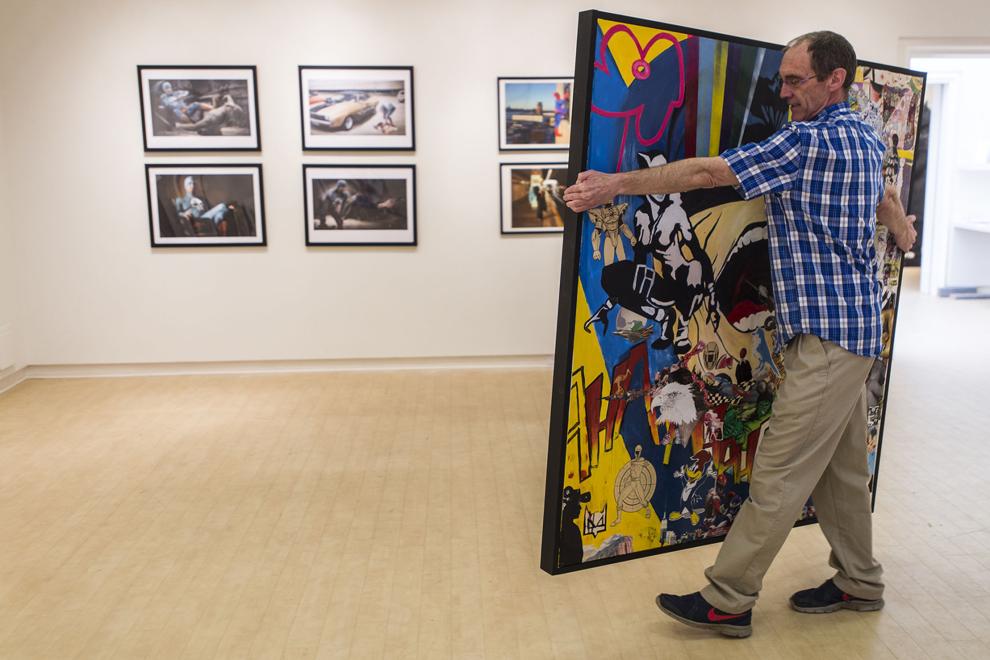 It would be at least 60 years before these characters began to make a universally cultural impact, starting with the film "X-Men" in 2000.
"I think post-9-11, we started really wanting a clearer morality. Superheroes live in a moral universe," says Robinson. "We know good, we know evil, and good almost always wins. … It makes us feel like the world is not such a random and cruel place."
When Robert Downey Jr. climbed inside a red and gold suit in 2008's "Iron Man," superheroes finally, truly entered the mainstream.
All of a sudden, comics were cool in a way they never had been before. Merchandise filled entire rows of shelves in toy stores and fans wearing Captain America baseball caps became the norm.
"This high visibility is bound to be reflected in the output of artists, whether celebratory, critical or a bit of both," says Essex artist Simon Monk, who contributed some of his work, from a series called "Secret Identity," to the exhibit.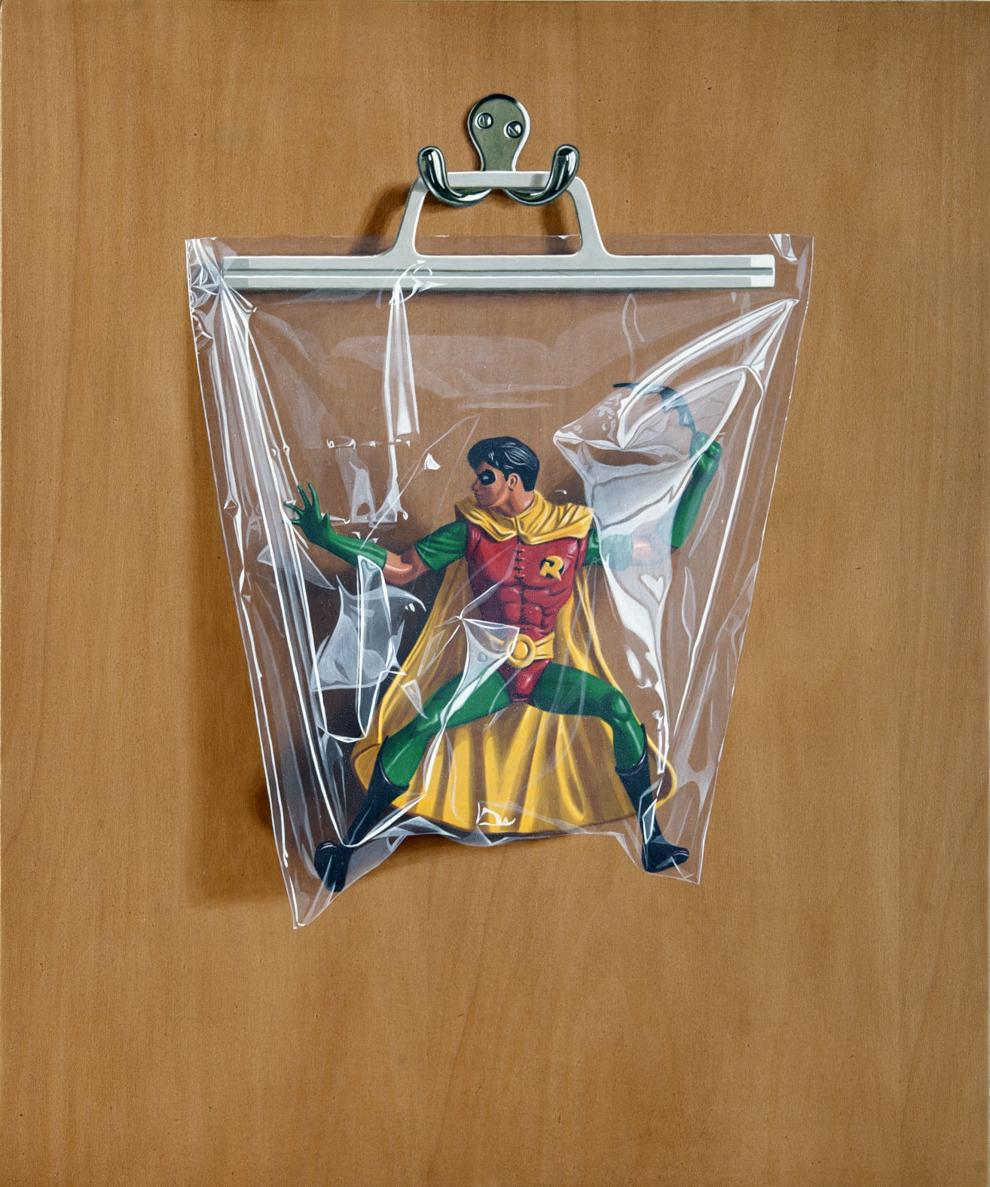 His incredibly detailed still-life paintings of action figures in plastic bags delve into the multiple levels of superhero identity and transparency while examining the duality of superheroes — their role as a powerful force of good and as entertainment-based commodities.
"The superhero myth is so potent and resilient it can morph and reinvent itself for new times and contexts," he says. "Think of Ben Affleck Batman and Lego Batman — totally different characters with radically differing intentions but both still Batman, co-existing simultaneously in the culture with no apparent confusion or problem. Classic superheroes such as this have paid their historical dues over the decades and now seem unassailably iconic — you can do pretty much whatever you want to Batman but there remains a kernel of Batman-ness that is perfect and eternal."
A long-time superhero fan, Lederer first considered the idea of creating an art show around them when she noticed their appearances in contemporary works of art from a variety of artists.
"I think the first one was Jason [Yarmosky's] piece where the superheroes were gathered around the card table, and they have obviously aged and were enjoying themselves and playing cards," she says.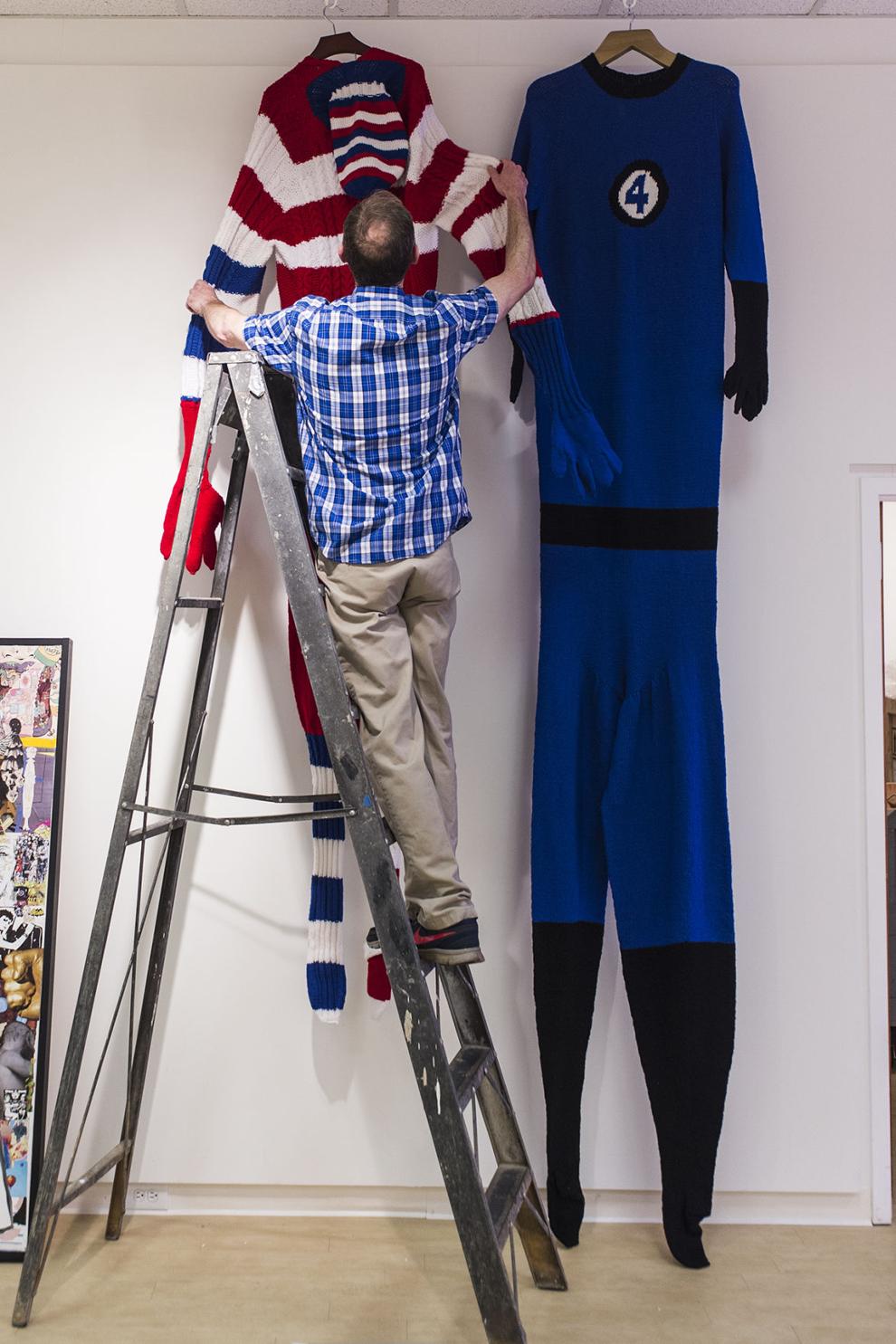 Planning for the show started in 2012 and when it opened last January in the Bedford Gallery, "My Hero!" featured a kinetic and vibrant display of art in such widespread mediums as knit work, sculpture, collage and photography.
Explosive patches of red, blue and yellow easily suck the viewer into the square panels of a comic book world while providing an equal measure of three dimensions.
"That's what superheroes are," says Robinson. "Just big blasts of color. We kind of forget color was unusual back in the day."
This vast array of works blasted out of the minds and collections of artists from across the U.S. as well as Canada, the United Kingdom, Europe and even New Zealand.
"The show could have been twice, maybe even three times in size, which tells me that our fascination with the astounding life of the superhero is woven into the fabric of our global culture," Lederer says.
Now on tour, the exhibition includes approximately 136 works from 45 artists.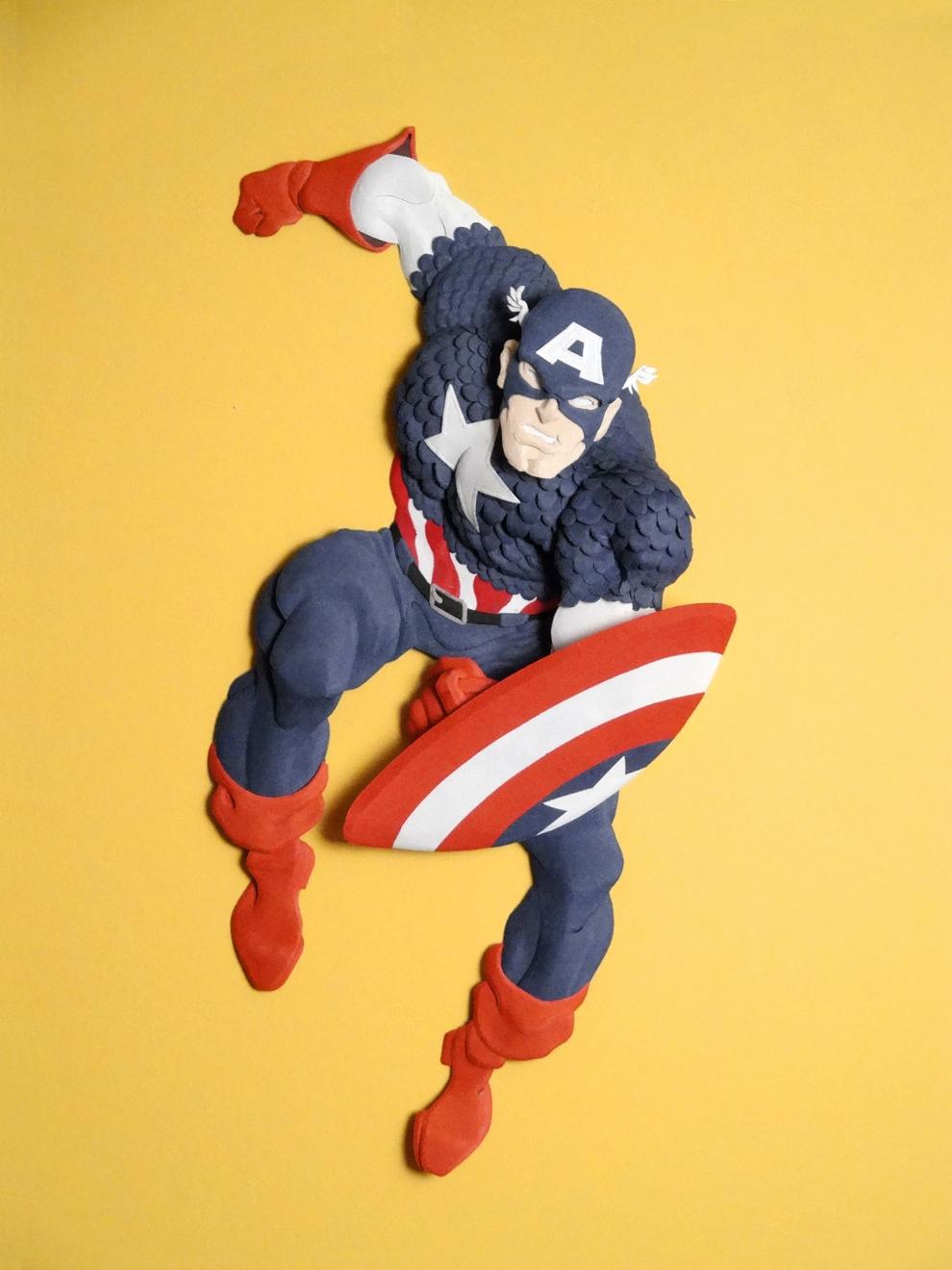 Some of the artists created portraits of superheroes in a variety of mediums, Lederer says, including Adam Lister's "hard-edged, geometric and pixilated" watercolor images and Cheong-ah Hwang's paper relief sculpture of Captain America that "bursts with energy as the character appears to climb right off the page, ready for battle."
Certain works deconstruct comic scenes, such as Marco D'Alfonso's "Spider-Man No More," which updates the famous panel from "Amazing Spider-Man #50" by having Peter Parker throw away not just his '60s Spidey suit as it originally appeared in the comic, but all the costumes he has amassed over his 50-year history, says Robinson.
Others went deeper into comic book lore, dissecting character motivation or representation and exploring how these characters fit into the modern world from personal, social and even political perspectives.
U.S.-based Mexican photographer Dulce Pinzon's series "The Real Story of the Superheroes" illustrates the heroics found in an overlooked immigrant population. Her satirical photos feature real people dressed as characters while completing ordinary jobs around the city.
"They talk about the lives we lead, the struggles that we have, the issues that we confront, but the images are made with a lot of humor and are thoughtful," Lederer says. "They are images people can relate to, as well."
Catwoman works as a nanny. The Hulk delivers groceries. Both, according to the artist's description, send money back to their families in Mexico.
In a similar vein, Winston Tseng challenges the whiteness of famous franchises by altering the ethnicity of DC favorites in his collection "International Superheroes."
A black Batman. A Latino Robin. An Indian Wonder Woman.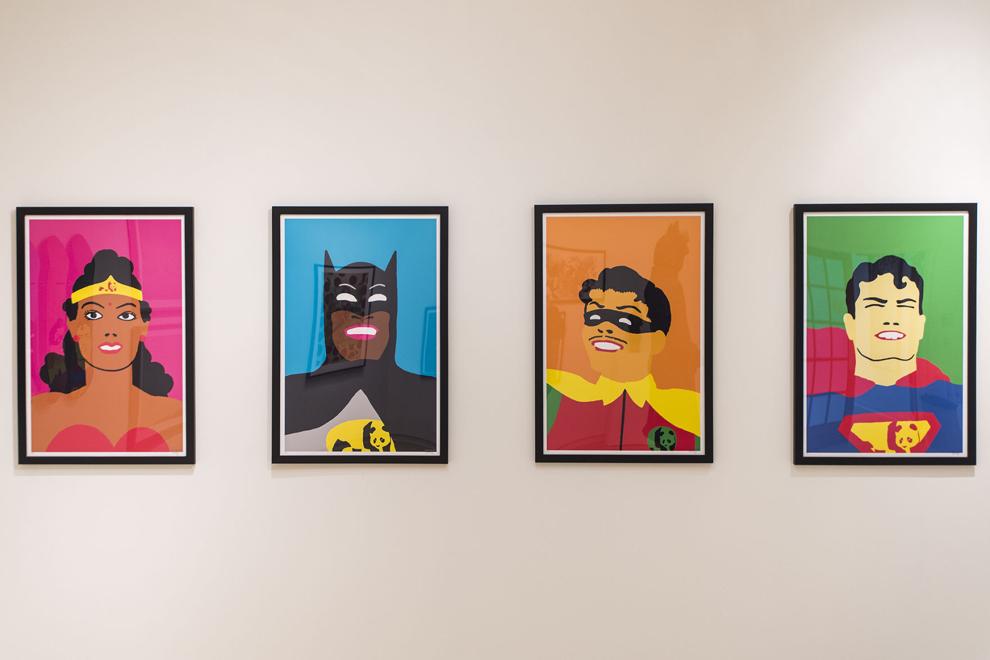 "Ultimately, the viewer's reaction and response is what I'm most intrigued by, and in some cases it's what I'm challenging," says Tseng, a New York-based graphic artist. "Do they embrace the idea that Superman could be Asian? I think the answer to questions like that reveal a lot about ourselves."
Swedish artist Andreas Englund examines the everyday exploits of an aging superhero as he fights against both the forces of evil and against the perils of shopping bags that inconveniently tear in the supermarket parking lot.
Behind a case of glass, Jeremy Fisher's sculpture of a skull trapped in a crumbling and torn Iron Man helmet, its paint chipped so the metal shows through, depicts the mortality that a hero faces every time he steps into battle.
In the next room, a cluster of acrylic paintings by Hannah Rothstein feature mugshots of these heroes stating the criminality of vigilantism — reckless endangerment, disorderly conduct and indecent exposure, to name a few.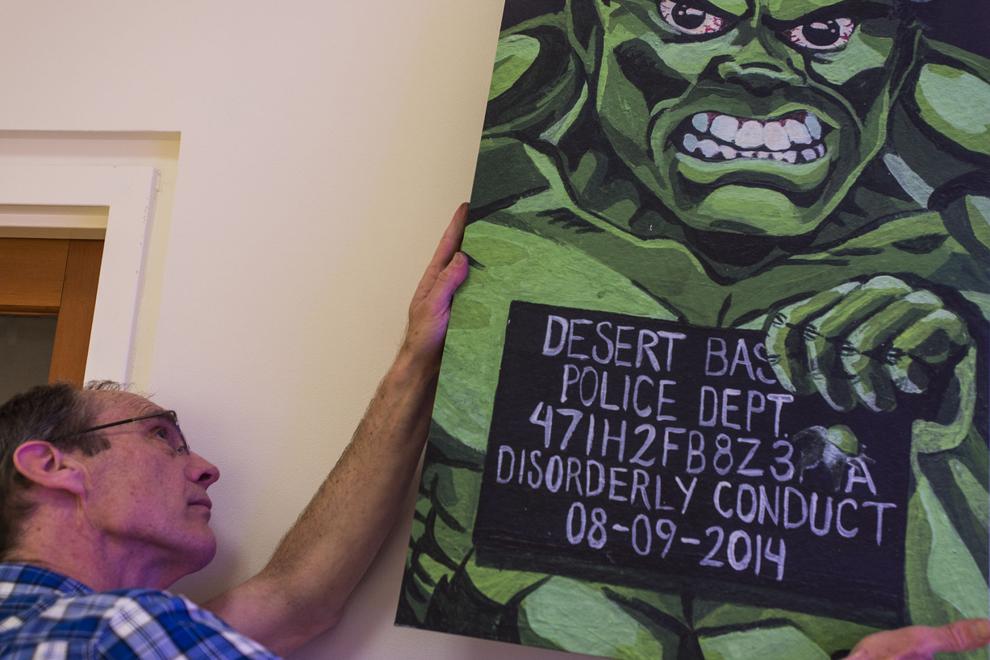 The 360-degree display from Canadian artist Sandra Chevrier highlights the stereotypic roles of the cheerleader, the seductress or the damsel in distress thrust upon women both in comics and in life.
And with franchises as popular as Marvel and DC, several artists, like Monk and California artist Matt Ritchie, explore commercialism.
The tiny, woodcut figures of The Avengers and Justice League in Ritchie's two "Super Bummed" works stand in a line, their shoulders slumped, arms dropped forward and faces hidden.
"A lot of these franchises are looking like they're losing an identity, pushed to the point of exhaustion," he says. "It seems so much comes out from each studio a year. I'm not saying it's bad or bad quality, it's just, it's a lot now. ... You almost start to take it for granted."
As you look around the gallery observing the art from different parts of the world, one message becomes clear.
Whether you admire them or hate them, whether you wait in line for the midnight premiere of the newest film or hope this is a fad that disappears soon, superheroes are certainly, constantly on the brain.
"I think that the variety of modes of expression and themes in the exhibit demonstrate just how prevalent and important the superhero genre has become," Robinson says. "Superheroes are everywhere. They are the basis for many of our cultural ideas… That is one the main reasons we should explore the superhero."