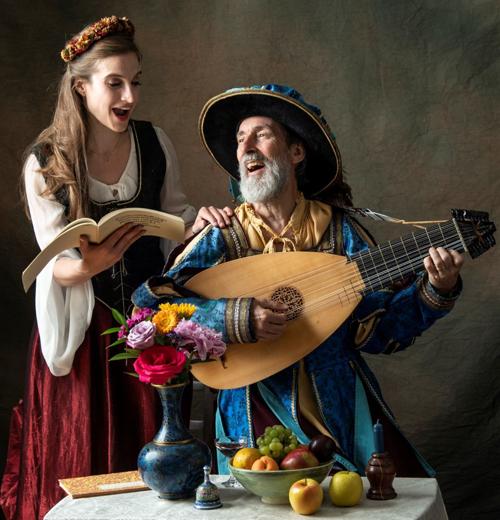 Renaissance-styled vocalist and lute player Garald Farnham has spent decades traveling the world performing like the French troubadours of old.
He's busked on street corners in Central Park and the walled medieval town of San Gimignano in Italy, serenaded crowds at Renaissance fairs and disco clubs and even entertained shoppers inside apartment stores.
"I take it very, very seriously," says the 71-year-old performer and founder of New York City-based early music ensemble Good Pennyworths. "It's not a past time; it's a life commitment. And I feel very strongly that today, even at my age, I don't stop."
Now Farnham and his Good Pennyworths return to Lynchburg for a performance at Holy Trinity Lutheran Church this Sunday as part of the church's Music and Fine Art Series.
"It was so very, very well done the last time," says J. William Greene, director of music at Holy Trinity. "... This time, it's a little bit more of a specialized program, as I say, concentrating on the Renaissance love songs, which is a whole category of music in and of itself."
Farnham first became interested in the lute while performing in an amusement park arena show in the 1970s.
"I was dressed as a [medieval singer] ... walking up and down the amusement lane singing songs," he says.
Around the same time, he fell in love with Shakespeare and the Renaissance era.
He eventually decided to combine his passions, focusing on Renaissance-era music.
"In Shakespeare's time, it was popular just like a popular song would be today," says Farnham. "And so, I like to think of it that way, that I'm playing the pop tunes from Shakespeare's time."
Farnham started performing on the streets, playing in various parts of Central Park and busking throughout Europe and the United Kingdom.
Adventures from his travels abroad include visiting Farnham Castle in Farnham, England (which he says he does not have a familial connection to, despite his surname), singing at the Grand Falconer's Medieval Festival in France and getting arrested for "willfully obstructing the highway" during a performance in Sheffield, England.
"When he appeared before the magistrates in the full splendor of his Elizabethan costume ... he was granted a conditional discharge," the Sheffield Morning Telegraph reported in 1979.
In 1986, Farnham formed his first group in New York City. The Potter's Field Renaissance Singers, as they were known, performed as part of Lincoln Center's 13th Out-of-Doors Festival, and the group was featured in The New York Times' pre-coverage of the event.
Three years later, the lute player created Good Pennyworths, formerly called Merry Minstrels. Throughout its heyday, the group performed at the Metropolitan Museum of Art, the World Trade Center and the New York Public Library.
Good Pennyworths, which has gone through several different incarnations over the decades, continues to tour and release music. Most recently, it played at the Boston Early Music Festival. Another of its concerts over the last few years was a 2013 performance at Holy Trinity. During that show, Good Pennyworths was a quartet. When it plays Sunday, it will be a duo.
Two voices (Farnham's and soprano Olivia Betzen's) accompanied by a lute is an ideal arrangement for the music they will be singing during the show in Lynchburg. Called "The Sweets of Love," the program focuses on love songs from the Renaissance era, including works by composers John Dowland and Thomas Morley with lyrics from such esteemed writers as Christopher Marlow and, of course, Shakespeare.
"We've chosen songs that we feel show positive aspects of love, some hurtful aspects in love," says Farnham, who named the program after a lute song by Ben Jonson. "Some things that are very sad and some that are very joyous, but concentrating on a program that shows many facets of love."
Like with every appearance — whether it is on the street corner, inside a church or up on a fancy stage — Farnham will appear in his full Renaissance-styled costume, complete with colored tunic, floppy, feathered hat and tights paired with boots.
"I always travel in costume when I perform," he says. "Therefore I'm more than just singing the repertoire, I'm living the repertoire."
The lutist's dedication to his craft only is part of what makes the upcoming performance so special, says Greene.
"It's just so different from anything else that we do in our concert series," he says. "... After all, how many times do you get to hear a lute played in public these days?"
Emma Schkloven covers arts and entertainment for The News & Advance. Reach her at (434) 385-5489, and follow her on Twitter and Instagram @byEmmaSchkloven.
Emma Schkloven covers arts and entertainment for The News & Advance. Reach her at (434) 385-5489, and follow her on Twitter and Instagram @byEmmaSchkloven.