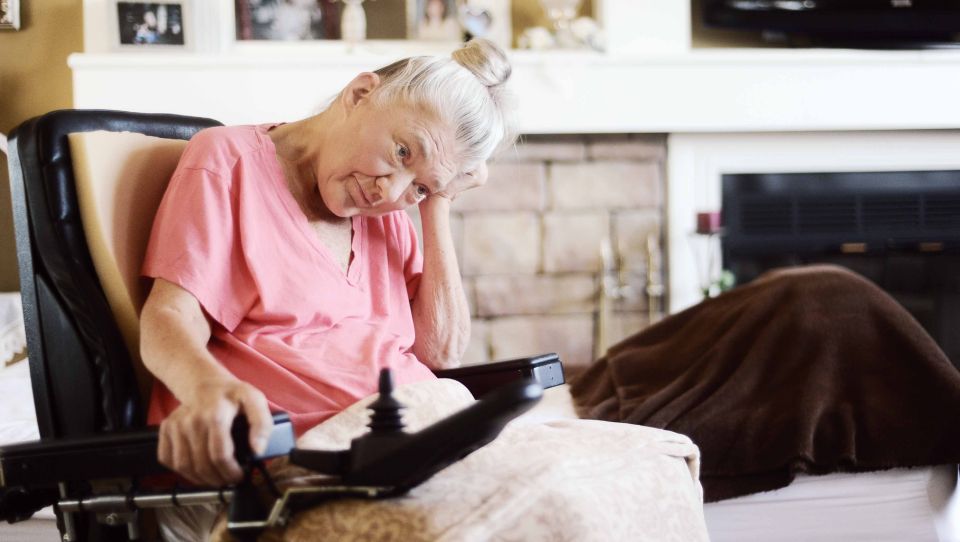 RINGGOLD— Janis Wilborne is taking her struggle with a debilitating, deadly disease and turning it into personal triumph.
Wilborne has Lou Gehrig's disease— amyotrophic lateral sclerosis (ALS)— and has written a book about her experience.
Her book, "American Dreams, Temporarily Lost (4 Crisis, What Do I Do?)," has four chapters, and Wilborne hopes it will provide an intimate and inspiring journey for readers.
"I just wanted to make it personal, just me and the reader," Wilborne said during an interview at her Ringgold home Friday. She hopes to get it published.
ALS is a progressive neurodegenerative disease that impacts nerve cells in the brain and spinal cord. Motor neurons that send impulses to muscle fibers resulting in muscle movement die, destroying the brain's ability to initiate and control that function, according to the ALS Association website.
Early symptoms of the disease include muscle weakness, especially those involving the arms, legs, speech, breathing and swallowing, according to the ALS Association website.
Muscles atrophy and later-stage patients may become paralyzed. About 5,600 people in the United States are diagnosed with ALS each year and the condition occurs in about two per 100,000 people, with as many as 30,000 Americans suffering from the disease at any given time, according to the ALS Association website.
The average life expectancy of an ALS patient is 2-5 years from the time of diagnosis, according to the ALS website. The disease can strike anyone.
Wilborne was diagnosed with ALS several months after experiencing symptoms including back trouble, difficulty walking and leg weakness that started in Nov. 2009. She was diagnosed in January 2010.
"At the time, I thought I had something wrong with my back, my legs," said Wilborne, who worked at Swedwood as a quality auditor until she was forced to retire due to her condition.
Wilborne lives at home in a wheelchair, under the care of her attentive, caring husband, two loyal caretakers and volunteers from Liberty Hospice in Danville.
Mindy Robertson, a volunteer with Liberty, wrote about 90 percent of Wilborne's book while Wilborne dictated.
Krista McBride also wrote a small portion of the book under Wilborne's dictation.
Wilborne pays for her care through Medicare, Medicaid, Social Security and long-termdisability income from Swedwood.
Before working at Swedwood, Wilborne worked at Star Paper Tube in Danville from 1988-2006.
She was studying to be a certified nursing assistant when Swedwood offered her a job in 2008.
During an interview at Wilborne's home, Brenda Witt, one of her caretakers, periodically brings her a cup of water. "Thank you," Wilborne says softly after sipping it through a straw.
Wilborne's illness manifests itself in unpleasant symptoms, including a sensation of movement under her skin.
"It's all over your body 24/7," she said. She has to take medication to keep calm and put herself to sleep at night. She has lost use of her legs, feet and can no longer use her hands for eating or writing. Her caregivers feed her and write for her.
She can feel the disease wreaking its destruction.
"It's kind of like a small earthquake building up," she said. "It's just the neurons being destroyed."
She has to wear an oxygen mask and be hooked to a machine so she can lie back to sleep at night. Her throat is starting to close.
"It's part of the disease," Wilborne said.
She has signed papers instructing medical staff "Do Not Resuscitate."
She doesn't want to linger hooked up to an oxygen tube. That's not living, she said.
The book is Wilborne's first, which she undertook after hospice nurses and volunteers asked her to consider the idea.
"I said, 'for what?'" Wilborne recalled.
However, "I just knew, spiritually, I was in the right place," she said.
They were amazed at her attitude, humor and laughter in the face of her illness, Wilborne said.
"I've gotten so attached to her," Robertson said.
"She is just so neat and she has the best attitude."
Wilborne draws and plays hide 'n'seek with her grandchildren— who live in England— over Skype, Robertson said. Wilborne has two children: Kristie Wilborne Pease, who lives in England, and Barry Wilborne, who lives in Callands. She has two grandsons, Jackson and Mason.
Even while she has to endure her disease, Wilborne tries to cheer others up, Robertson said.
"She is a caring and compassionate person," said Robertson, who visits Wilborne every weekend.
In her book, Wilborne wants to give the reader a true, one-on-one experience. It's a small book, said Wilborne, who is not sure how many pages it includes.
"But it holds a lot," she said.
Crane reports for the Danville Register & Bee.