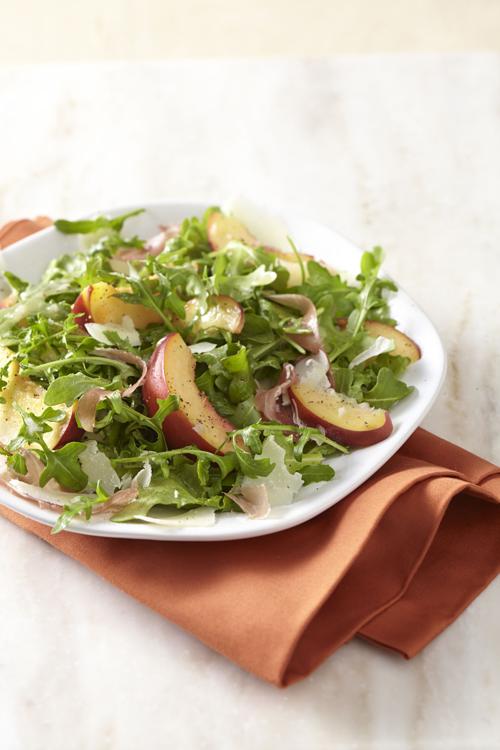 Sweet ripe nectarines pair with peppery arugula and a hit of salty Parmesan and prosciutto in this outstanding side salad.
Nectarine & Prosciutto Salad
Serves 4
Active Time: 20 minutes
Total Time: 20 minutes
2 tablespoons lemon juice
1 tablespoon finely chopped shallot
1 teaspoon Dijon mustard
1 teaspoon honey
1/8 teaspoon salt
3 tablespoons extra-virgin olive oil
8 cups arugula, trimmed if necessary
2 ripe nectarines, cut into wedges
1/2 cup shaved Parmesan cheese
3 paper-thin slices prosciutto (about 2 ounces), torn into 2-inch strips
Freshly ground pepper (optional)
1. Combine lemon juice, shallot, mustard, honey and salt in a large bowl.
2. Whisk in oil until combined.
3. Add arugula and toss to coat.
4. Divide among four plates and top with equal portions of nectarine, Parmesan and prosciutto. Serve with a grinding of pepper on top, if desired.
Tasty tip
Use a vegetable peeler to shave curls off a block of hard cheeses, like Parmigiano-Reggiano or Pecorino Romano cheese
Recipe nutrition per serving: 212 Calories, Total Fat: 15 g, Saturated Fat: 4 g, Cholesterol: 19 mg, Carbohydrates: 12 g, Fiber: 2 g, Total Sugars: 8 g, Added Sugars: 1 g, Protein: 9 g, Sodium: 611 mg, Potassium: 327 mg, Folate: 48 mcg, Calcium: 168 mg
Carbohydrate Serving: 1
(EatingWell is a magazine and website devoted to healthy eating as a way of life. Online at www.eatingwell.com.)
Satisfy your cravings
With our weekly newsletter packed with the latest in everything food.