Spring Greens is sponsored by F&L Market in Lynchburg, Virginia.
Back in the 1950s, my grandmother used artichokes as a kind of litmus test. When guests would come over for dinner, she'd steam an artichoke and see if they knew how to eat it– not terribly welcoming, I would say – but it's pretty telling about my grandmother's fascination with food as well as the relative rarity of freshly-steamed artichokes.
Many of us are familiar with artichoke hearts – think spinach and artichoke dip – but have you ever tackled a whole, fresh artichoke? If not, this is the recipe for you. And once you've tried a steamed artichoke, I bet that you, like me, will reach for them when they're in season – and their season is right in the heart of spring.
Choose artichokes that have tightly closed leaves, or petals (artichokes are members of the thistle family) and look hydrated, not dried out. Check their stems. If the stem is blackening, pick another.
When you get your prize home, give it a good rinse and then, using a serrated knife, slice off the tip of the stem and then cut off the top of the artichoke to about the tip of the third layer of leaves. Then, using kitchen scissors, snip off the tips of the leaves – they tend to have tiny spines that you don't want to eat.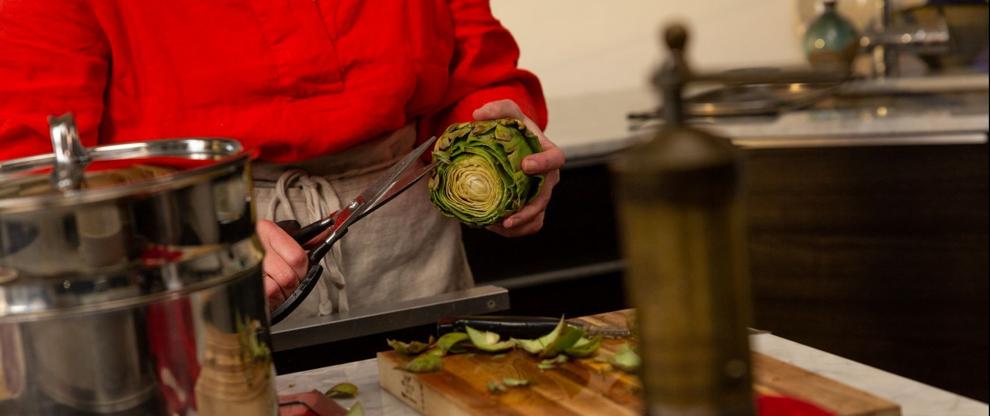 The simplest way to eat an artichoke – and honestly, my favorite way – is to steam it until tender, about 45 to 50 minutes, and then serve simply with butter and lemon or mayo that's seasoned with some salt and pepper.
If you want to wow your guests the way my grandmother did, make this stuffed version. It's dramatic and delicious. And not only is it easy to make, it's easy to eat too.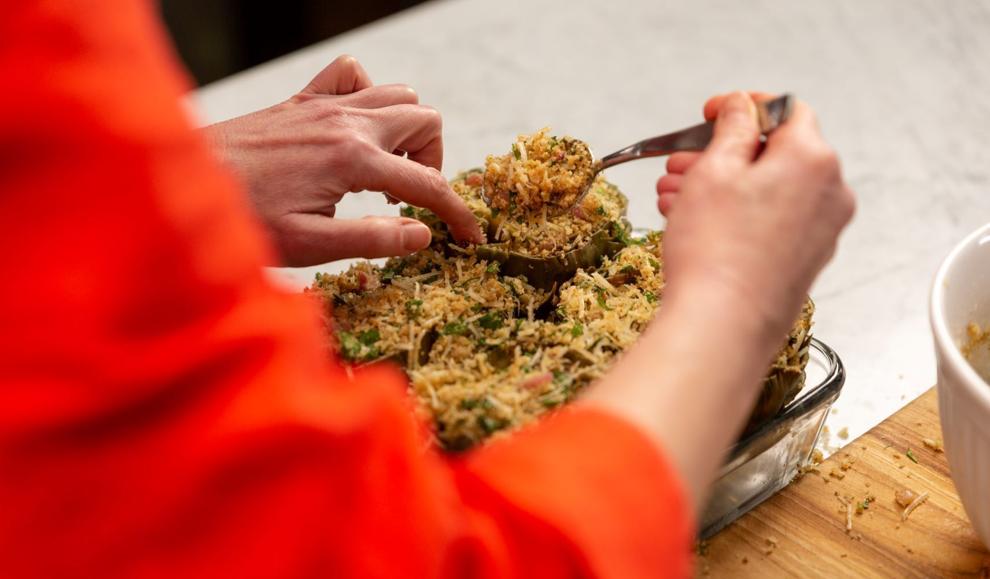 Garlicky Stuffed Artichokes
Recipe by Catherine Neville
3 lemons
4 globe artichokes
3 Tbsp butter
4 cloves garlic, minced
2 shallots, minced
2 cups breadcrumbs
1 cup grated Parmigiano-Reggiano
1 cup grated pecorino or fontina
¼ cup chopped fresh parsley
2 Tbsp chopped fresh basil
1 Tbsp chopped fresh oregano
salt and pepper to taste
olive oil
| Preparation | Preheat oven to 375 degrees. Fill a bowl with cold water and add a squeeze of lemon. Clean the artichokes by trimming the bottoms, cutting off the top and trimming the individual leaves. Then, scoop out the choke. This might take some doing. Using a large spoon, dig down into the bowl of the artichoke and get all the small, thin leaves. Discard them and then work on scooping out the fuzzy choke. Place cleaned artichoke in the lemon water so it doesn't brown. Continue with the other artichokes. Steam the artichokes for 20 to 30 minutes, until par-cooked. Meanwhile, make the stuffing.
In a small sauté pan, melt butter. Cook garlic and shallots until soft and fragrant, squeeze in the juice of 1 lemon and then place in a large bowl. Add breadcrumbs, both cheeses, parsley, basil and oregano and toss to combine, seasoning to taste with salt and pepper.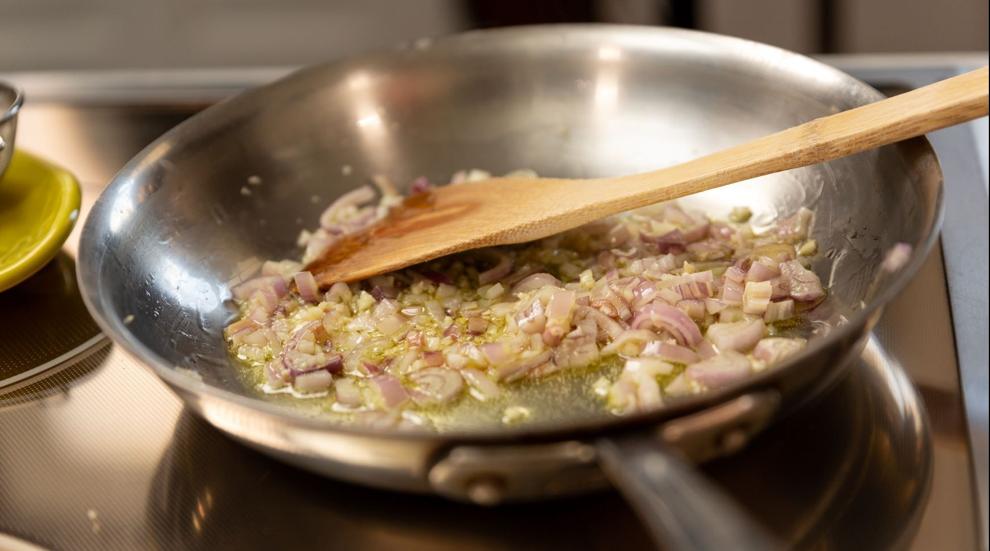 Arrange artichokes in a baking dish so they are able to stand up. Squeeze lemon juice over all of them. Fill the well in each artichoke with stuffing and add stuffing between each of the petals. Drizzle with a good amount of olive oil and place in the oven. Roast until breadcrumbs are golden and fragrant, about 30 minutes.