These wings were a hit when Chef Don Davis made them for the kitchen staff of Hotel Mead and Conference Center in Wisconsin Rapids, Wisconsin, where he is head chef and kitchen manager. "Everyone was going crazy for them," he recalls. He loves the "sweet, very deep flavor."
The tricky part is not overcooking the sauce. "The sugars make it more temperamental," Davis points out. His advice? "Keep it on low, keep it saucy," he says, meaning keep the sauce over low heat until you're ready to use it. If the sauce cooks too fast or gets too hot, "it'll seize up and get like candy on you," he warns. The sauce also needs to be used right away, otherwise it'll turn gooey.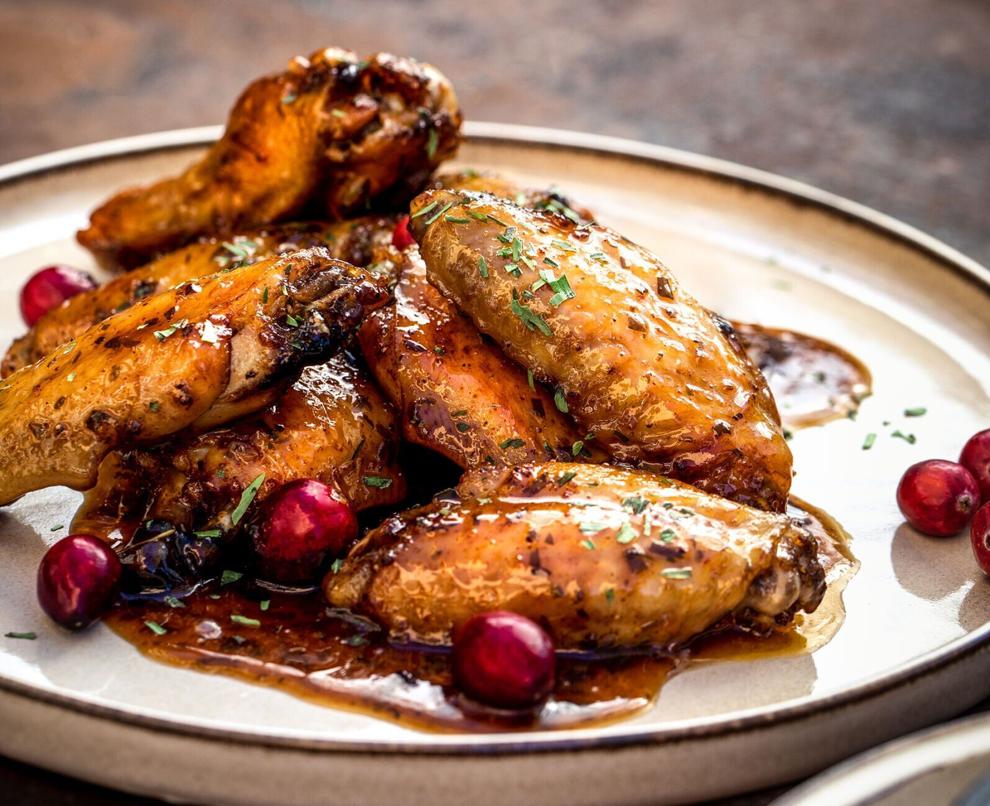 ---
Cranberry Tarragon Chicken Wings
2 Tbsp olive oil 
1 Tbsp kosher salt
1 Tbsp ground black pepper
1 Tbsp garlic powder
1 Tbsp paprika
2 lbs chicken wings
3 cups cranberry juice cocktail
Juice of ½ lemon
3 shots (4.5 oz) bourbon or whiskey
Pinch kosher salt
Pinch ground black pepper
1 Tbsp dried tarragon
3 Tbsp salted butter
4 Tbsp honey
Preheat oven to 375°F. In a large bowl, combine olive oil, salt, pepper, garlic powder and paprika. Add chicken wings and toss to coat. Bake wings on a sheet pan for 15 to 20 minutes, or until chicken has an internal temperature of 170°F to 175°F. Wings should be crispy on the outside. 
While chicken is baking, make the sauce. In a 12- to 14-inch sauté pan or frying pan, combine cranberry juice cocktail, lemon juice, whiskey or bourbon, salt, pepper, tarragon, butter and honey. Bring mixture to a boil over medium-high heat, then reduce heat to low. Cook at a simmer, stirring frequently, until sauce thickens, 3 to 5 minutes.
Immediately add wings to sauce. Toss to coat and then serve.