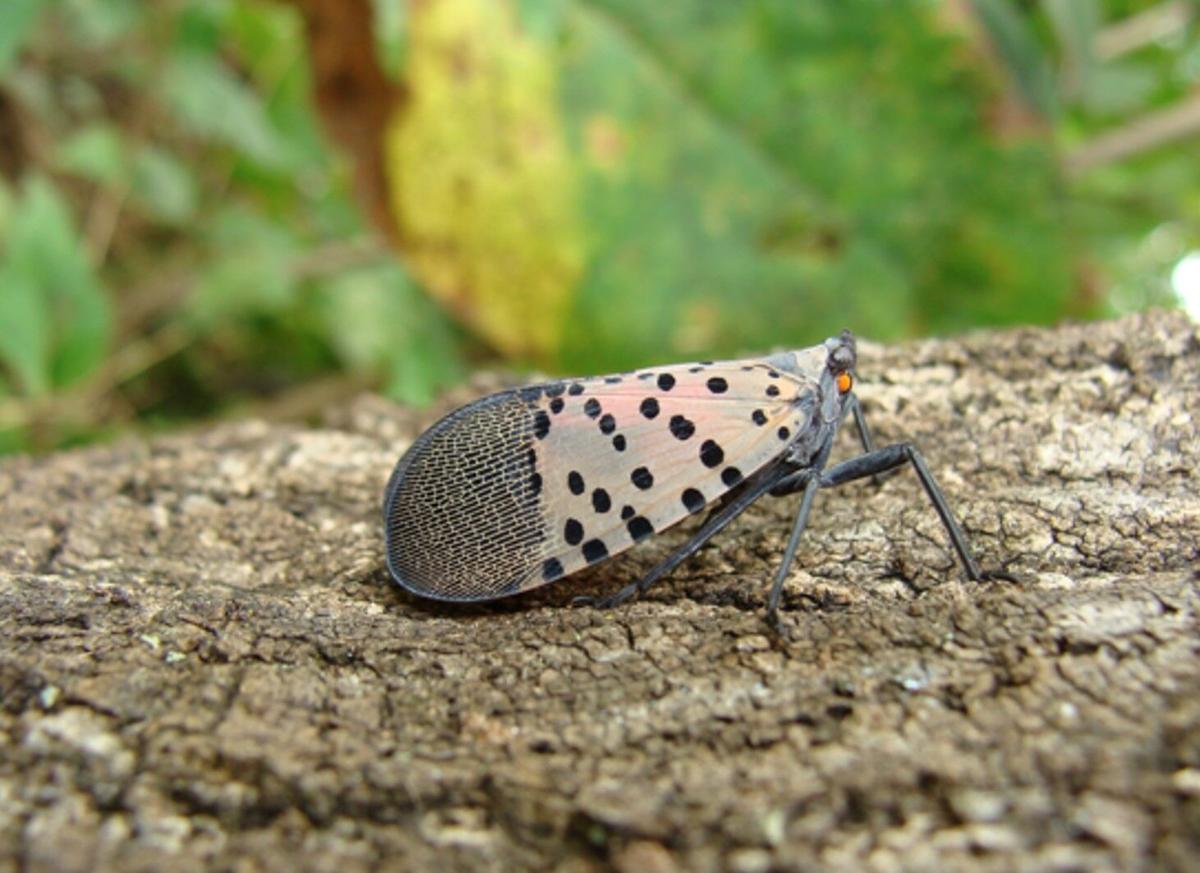 A destructive insect has traveled by train to Lynchburg, prompting concern among grape, peach, apple and hops growers.
The spotted lanternfly is actually a beautiful insect with brownish upper rings and black spots, and bright red on its lower wings.
That's not something I say very often, but in this case, the goal is to slow the spread of this invasive pest, which lays 30 to 50 eggs at a time, leaves oozing sap on trees, vines and crops, and when it feeds, excretes a substance that leads to the growth of black mold.
They first appeared in the United States in September 2014 in southeastern Pennsylvania, and most likely came from China.
On May 28, 2019, the Virginia Department of Agriculture and Consumer Services (VDACS) announced its first spotted lanternfly quarantine for Frederick County and the city of Winchester, where it was first detected in January 2018.
Spotted lanternflies feed on more than 70 plant species, including Ailanthus altissima (Tree of Heaven), which is its preferred host and also an invasive.
According to VDACS, prior to the January 2018 detection in Virginia, the only spotted lanternflies found in the U.S. were in Pennsylvania. Populations are now established in New Jersey, Delaware, Maryland and increasing parts of Virginia. They are also creeping into New York, Connecticut and Ohio.
Sarah Hagan, Lynchburg's urban forester, has taken on the task of trapping and tracking these invaders because Lynchburg has no extension agent.
"There's an extreme lack of boots on the ground," she said.
She has enlisted the help of the Lynchburg Tree Stewards to check the traps, and she has found some adults. Michael and I are monitoring two traps, which are placed on Ailanthus, but have found none to date.
Most of the lanternflies have been found along the train tracks near Candlers Mountain Road and Liberty University, Hagan said.
These insects do not sting or bite so killing them does not put you at risk. They will be laying eggs in the next month or two and their masses need to be destroyed, either by smashing, freezing or dunking them in alcohol.
Lanternflies die easily when heat or frost arrives. The most effective way to stop their spread is to remove Ailanthus.
On a recent trip to Pennsylvania, Michael and I encountered them firsthand, as we watched family members swatting at them as they hopped around their porches.
Yes, they hop. Lanternflies aren't actually flies, but planthoppers. They hop like grasshoppers.
While at rest with their wings closed, they appear almost black, and are about an inch long. Their wingspan is two inches.
A banner on the trail near Percival's Island shows the stages of this pest, which can also be found on the internet.