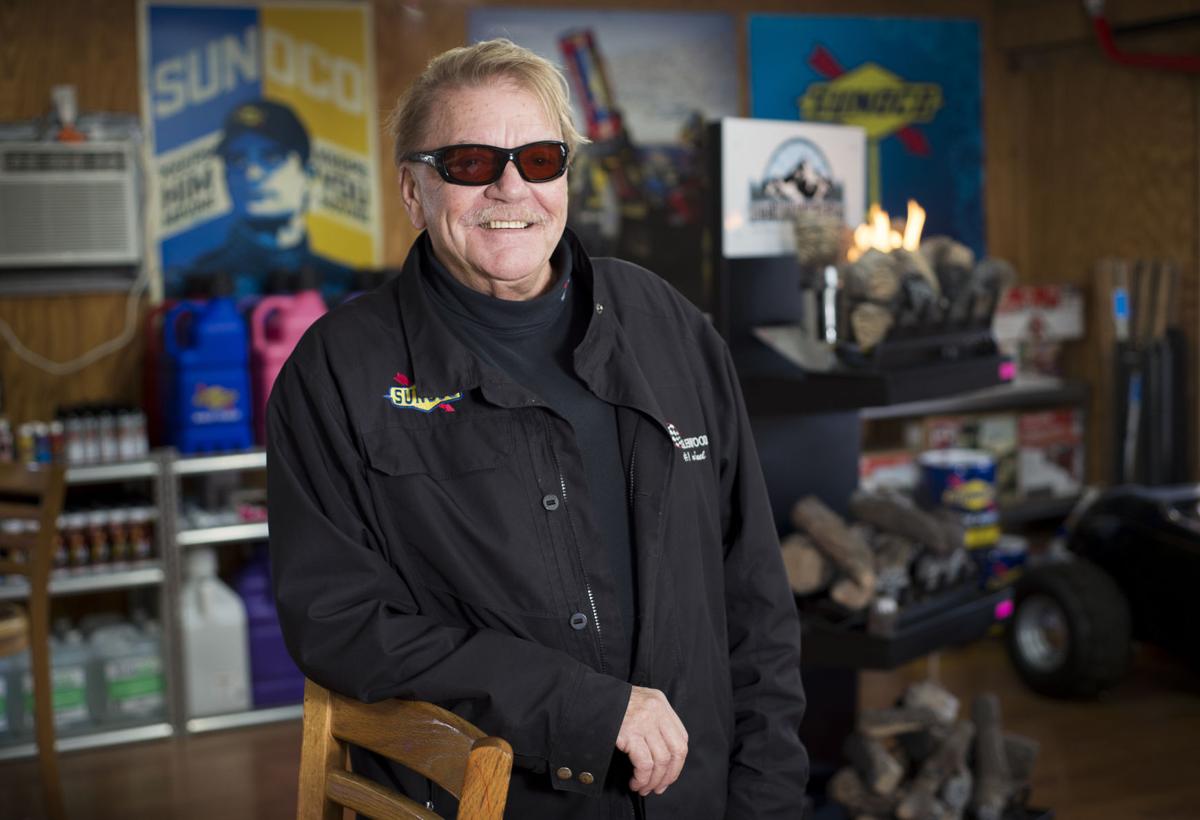 HUDDLESTON — As unique in character as he is in name, Huddleston resident and business owner Curry Martin is well known in his community.
Rose Hayden, a friend and employee of about 20 years, described Martin as a grown-up child and said there is never a dull moment working with him.
"He accomplishes so much because he never stops going," she said. "It's like that perpetual Energizer Bunny and he doesn't care what it is, he will do it. He just never stops."
Hayden said her boss at Glenwood Oil and Automotive in Huddleston is very smart and knows how to get things done.
"He's full of energy," she said. "He's got to get something going. If you've got a problem, don't tell him because he'll try and fix it."
Hearing this, Martin said "I'm the crisis man."
In Martin's opinion, he said others would describe him as "a little crazy, a little smart and a lot of fun."
Martin, 70, is the CEO of Glenwood Oil and Automotive, which offers propane delivery service in Bedford, Botetourt, Campbell, Franklin and Pittsylvania counties as well as Roanoke City, in addition to installing and selling propane and fuel tanks and related equipment.
He's been CEO since he was 30 years old. The company was opened by Martin's father, Wilbur, in 1953 and will celebrate its 65th year in business this year.
Martin said he is most proud of carrying on the business from his father, the exact same thing his son, Chris, plans to do for him.
"It was [my father's] knowledge that has me where I am today," Martin said. "I can be doing something now and something he says pops up in my mind when I make a decision. It still helps me."
Martin served on the Bedford Board of Supervisors for five years before stepping down at the end of 2017 to focus on his business.
He said he is proud of the things he was able to accomplish while on the board, such as a resolution that funded new running tracks for all three of Bedford County's high schools, implementing restrictions regarding leaving trash on the highway, filling pot holes on roads and getting funding for the local fire departments and rescue squads.
Martin said he left the board because he felt it was time for younger citizens to serve.
"It's like a sun setting," he said. "It's a time for the sun to come up and a time for the sun to set and I felt like there needed to be younger people on it. The decisions they're going to be making are decisions that will affect them. The young ones are going to have to make the laws that they're going to have to live with."
Martin starts his day around 7 a.m. walking around the various areas of his business, which also includes a restaurant, mini-mart and beauty salon. He checks in on all of his employees, making sure everything is running smoothly.
"I love the people here," he said. "I would describe them as somewhere between marvelous and excellent — seriously. I can probably pick up the phone and call anybody right now and tell them any kind of story or [say] I need help and they would show up."
Cary Odden, a longtime friend, meets up with Martin and a few others every morning for breakfast at Cousin Boogy's Grill, which is located in the Glenwood building. The group gets together to drink coffee and review the news of the community, Odden said.
One of his favorite stories about Martin dates back to the mid-1990s when Odden's church pastor came to service on Sunday claiming he was happy to be alive after a man driving a Corvette with the license plate "Fas Lane" had sped past him doing what he said was 100 miles an hour.
"I was only going 70 or 75 miles an hour," Martin said in early March, sitting at Boogy's Grill with Odden. "And if I was going that fast, how would he have seen my license plate?"
A lover of fast cars, Martin still uses the same license plate on his Corvette to this day.
His motto in life is "drive hard."
"Whatever you do, go at it," he said.
Ronnie Turner, one of Martin's best friends since elementary school, said he sees Martin just about every day and never grows tired of him.
"It's always different, it's never dull. When you've got me and Ronnie, I can promise you, it will never be dull," Martin said of the two.
Martin can always be found wearing a pair of dark black sunglasses on his face. It has almost become part of his identity. He said after years of welding, the sun irritates his eyes.
Martin also owns the Glenwood Center, a building nearby that can be rented for music, events, weddings and dances. For the past three years he has allowed the county to use the land around it free of charge for the Bedford County Fair, an event that had not been held since the 1970s until its revival in 2015.
"The bottom line is giving. You learn how to give and you'll go as far as you want to go," he said. "So many people don't get that part."
Martin considers himself lucky. With more friends than he can count and more experiences under his belt, Martin said he never feels anything but young.
"The favorite thing I've done in my life is life," he said. "I've pretty much done everything I've wanted to do."
Be the first to know
Get local news delivered to your inbox!