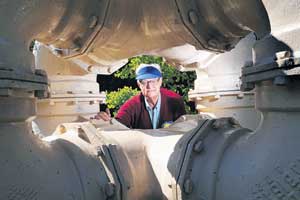 Adrian Gagestyn was living in New York City during the United States bicentennial. To celebrate, he gave his Dodge van a new paint job: red, white and blue with stars on the roof.
Three decades later, his eyes twinkle at the memory. "I'm 75 years old, but my mind is a 19-year-old; it never got old."
For year 2000, Gagestyn, who had retired to Lynchburg, expected the city to erupt into an elaborate millennium celebration, similar to the festivities he witnessed in New York.
"What did Lynchburg do? I don't think they did a thing," he says in his gruff Brooklyn accent.
"I was pissed. I thought to myself, 'I'm going to do something.'"
So Gagestyn bought two plots at the historic Presbyterian Cemetery, where, instead of a grave, he erected a tall granite stone that reads, "Millennium, Year 2000" and "Thank You America."
Next, he decided to create a sculpture inspired by a Lynchburg-based industry. His medium of choice was massive pipe fittings from Griffin Pipe, one of the city's last surviving foundries along the James River.
"Pipes are usually buried underground or in a building," he says. "I wanted to make a sculpture that people could touch, so the younger generation would know what it's like to touch a big pipe."'
Gagestyn finalized his design with a small plastic model. Since the Griffin pipes weigh thousands of pounds, he hired a local business, Jefferson Lighting, to do the heavy labor.
The result was a twisty sculpture with a telescope-like opening made from a "wye" pipe fitting. It sits on the front lawn of Jefferson Lighting on Odd Fellows Rd.
Gagestyn was satisfied with the piece, but it wasn't enough.
Eight years later, he is putting the finishing touches on his fourth pipe sculpture, "ISEEU," which bears a resemblance to "WALL-E," the robot from Pixar's summer blockbuster. It weighs about 5,000 pounds, or 2½ tons, and cost nearly $11,000 in materials.
He also built a Sept. 11 memorial: two stainless steel towers, 7-feet tall, on a wooden base.
For years, Gagestyn visited the World Trade Center during his weekly commute when he lived in New York. The blue visor he wears religiously came from the plaza.
"I used to sit there and read the Wall Street Journal underneath the round globe of the world," Gagestyn says, referring the iconic bronze sculpture, "Sphere for Plaza Fountain," which was partially destroyed during the terrorist attacks.
With five sculptures under his belt, Gagestyn faces a new challenge.
"I have to find a permanent home for these things," he says on the lawn of Jefferson Lighting, where the owner Dave Norton has agreed to store them indefinitely.
Gagestyn approached the city a few years back, but they weren't interested. This time, he plans to cast a wider net. He hopes to move them to a public park, playground or street corner — somewhere visible where people can interact with them.
"If not, there's the Internet. There's a big world out there."
But that would be a last resort. Gagestyn is determined to keep the sculptures in the same place those Giffin Pipe fittings were made: on Lynchburg soil.
Adrian Gagestyn sits on his sculpture 'WYE and Five Tees,' made from large pipe fittings.