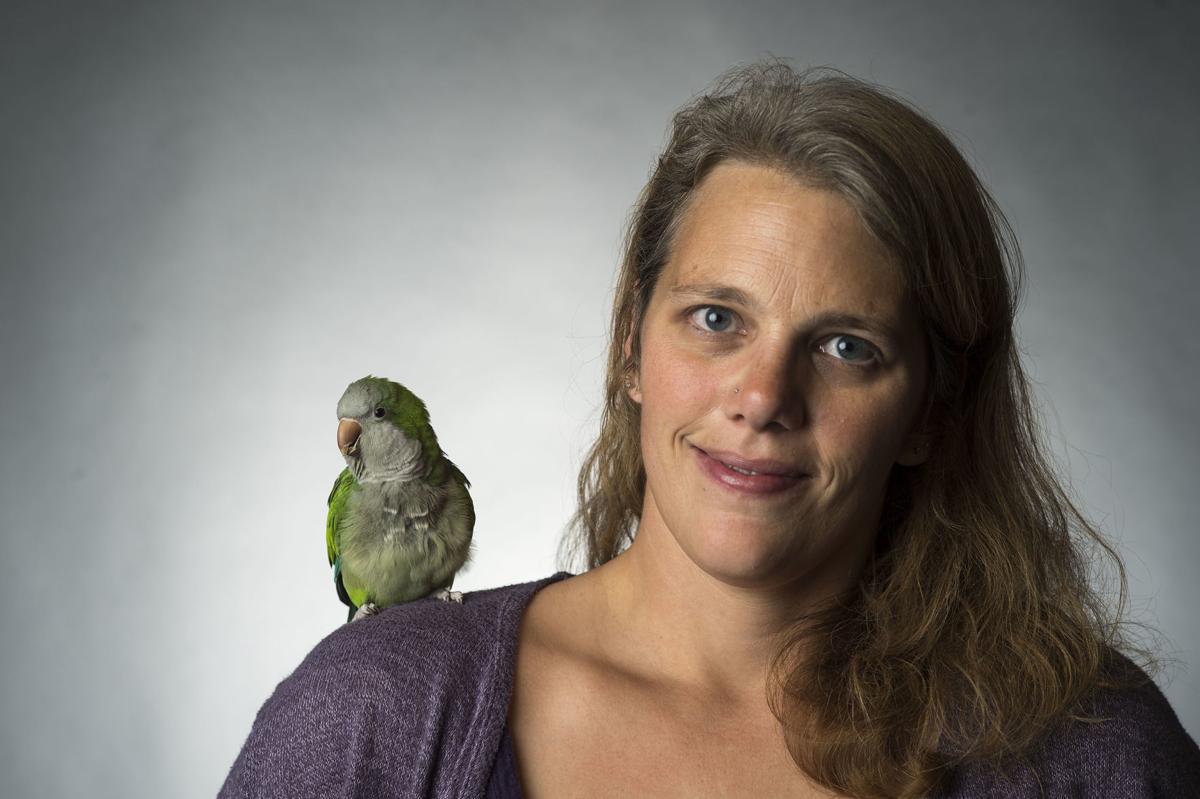 Alliances shift regularly, though rarely am I ever on the outs.
Simon, my little green quaker parrot, has always looked at me with a doughy brown-eyed expression of love even when I leave him for a week.
Don't get me wrong — he's still upset. I'm not allowed to pick him up from his cage but the moment he begrudgingly exits on his own, he flies to my shoulder to resume his gentle preening of my wild hair.
I know he's upset at being left for a week but he can't bring himself to hold a grudge. Never against me, anyway.
I can't say the same for the quaker who came before him. That little guy would punish me for leaving for about two days less than the number of days I was gone. He would sit on my knee, with his back turned, refusing to allow me to pet him or interact with him all the while rubbing his beak together contentedly.
It was an odd shunning, half "I missed you so," and half "You're dead to me."
Simon, though, seems to want head scratches too much to snub me.
Don't feel sorry for Simon — he got spoiled absolutely rotten with food and epic whistling sessions with his pet sitter. He gorged himself on blueberries, jalapenos, his beloved Nutriberries and who knows what else in my absence.
There even is a video of Simon and his pet sitter practicing whistling "The Andy Griffith Show" theme song, though the video shows the human doing all the practice and Simon bobbing his head along as though he's offering up his encouragement.
But the rules he applies to me are different from the way he treats others.
Shortly after returning home, I loaded Simon up into his travel cage and we went off visiting friends.
Simon adopted this particular family shortly after he adopted me. First, he bonded with the dad but in recent months he's been particularly affectionate with the teenage son.
Sometimes he even left his perch on my shoulder to fly to this boy to hang out, often bypassing his father along the way. Together, the teen and Simon would rove around the house with Simon snagging bits of carrots or hunks of pancakes along the way.
I really think the way to Simon's heart is through his stomach — particularly if you have a little bit of sharp cheddar.
For some reason, though, when I brought my little roadie over after being out of town, he shunned the teen and preferred instead to climb all over me. I shrugged the change off — after all, I am Simon's human.
But then he left my side and flew to the father to pal around like the social butterfly he is.
The teenager was a little miffed by that; the dad thought it was funny.
I chuckled as well. Simon apparently decided who was to blame for my absence.
Simon will get over it soon enough and I'm sure the pair will be tight once again. But for now, I get to keep most of the Simon cuddles and we can continue practicing our own trick.
I'm trying to teach Simon to make a kissing sound when I ask him for kisses. He knows the sound and he knows the word and he gets quite excited when I make the sound, bobbing his head and begging for more.
Perhaps he's trained me to show my affection on command instead of the other way around.
Sidener is the special publications editor for The News & Advance. Reach her at (434) 385-5539.
Sidener is the special publications editor for The News & Advance. Reach her at (434) 385-5539.
Get a dose of adorable in your inbox
Receive local adoptable pets PLUS updates for pet lovers in your inbox every week!