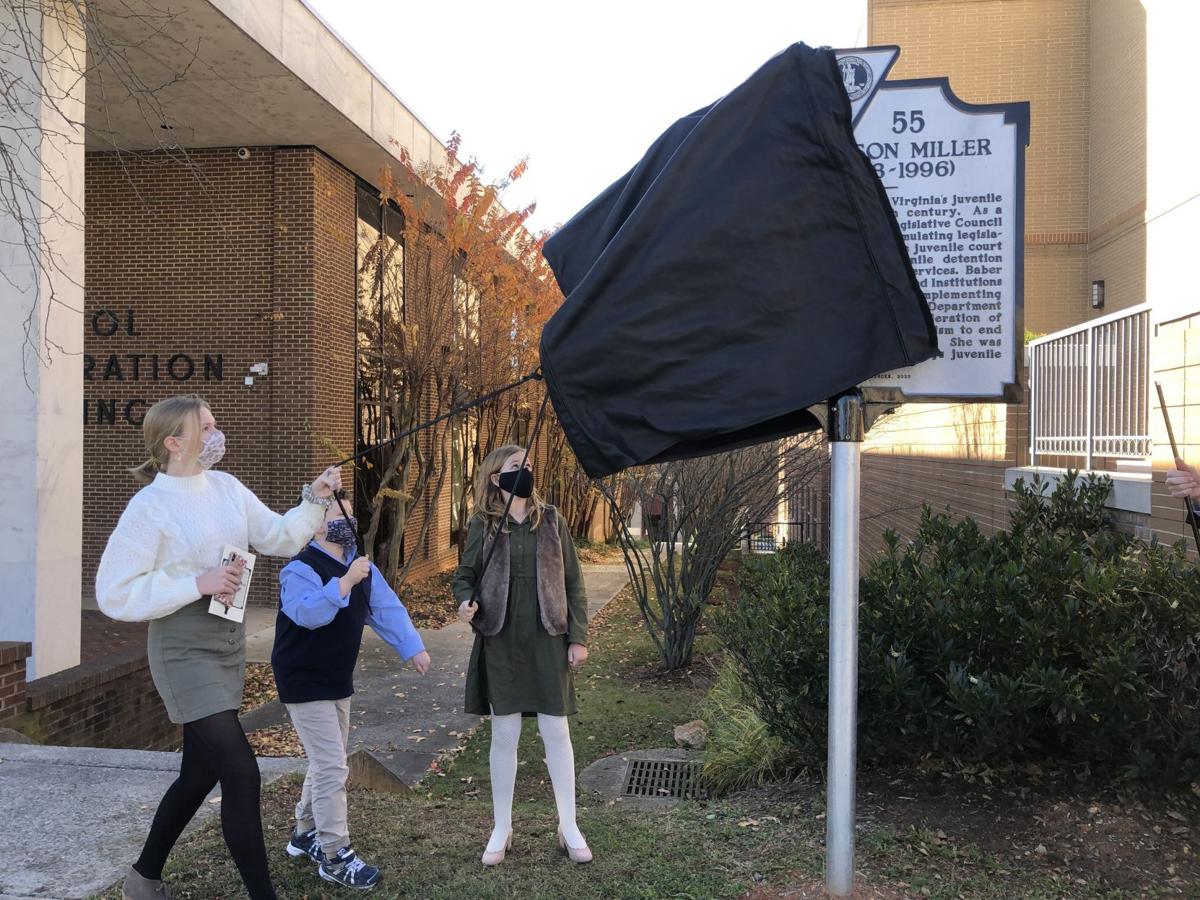 Anew historical marker highlighting the life and work of Lucy Harrison Miller Baber, a pioneering reformer of Virginia's juvenile justice system, was unveiled Saturday morning outside Lynchburg's downtown court complex.
The marker tells the story of Baber's yearslong commitment to overhauling the state's then-antiquated court and detention system for children. In an hourlong dedication ceremony attended by about 50 people, local leaders and descendants of Baber recounted her effort to reform the system in the mid-20th century.
"Lynchburg has a rich legacy of activism and it's into this tradition that Lucy's work squarely fits," Vice Mayor Beau Wright said. "She fought for people who traditionally, and certainly at that time, didn't have much of a voice. She fought for the young."
Baber helped educate Virginians about the scope of childhood incarceration and she encouraged residents to personally investigate the issue, according to her published work. As the chair of the Welfare Department of the Virginia Federation of Women's Clubs, a 20,000-member organization devoted to community service and civic engagement, she publicly pushed for reform.
"... The very fact that our State has any such total as 2,295 children — either necessarily or unnecessarily — committed to jails in one year should be to each individual and to every organization with a professed interest in welfare of children, not only a cause for concern but a real challenge to find out why," Baber wrote in a 1951 article.
Baber, who died in 1996, played a key role in bringing the reforms she championed on behalf of the state's youngest citizens to fruition.
In 1950, as a member of a subcommittee for the Virginia Advisory Legislative Council, she helped develop new laws strengthening the juvenile court system, requiring separate detention facilities for children and expanding probation services. She also served on an advisory committee to the institution tasked with implementing those reforms.
"None of what we do here can be possible without the foresight of those who were here before us, those who saw a need to better the system, those like Lucy Baber," Lynchburg Juvenile and Domestic Relations District Court Judge H. Cary Payne said.
Baber's work with children extended far outside her effort to reform the justice system. During World War II, she helped establish one of Lynchburg's first nursery schools. The Child Care Center, as it was known, allowed local women who could not afford private child care to enter the workforce while their husbands fought overseas.
"In its first year it boasted that it made 115 mothers available for war industries and for other essential civilian work," Ted Delaney, director of the Lynchburg Museum System, said. "It quickly grew from caring for 40 children to a daily enrollment of 125. It was a true cooperative community effort "
In addition to her work advocating for children, Baber was a passionate amateur historian. She spent years researching her own family history and helped compile multiple books of genealogy.
In 1968, she co-authored a history of the original section of Lynchburg's Old City Cemetery — a name she also helped coin, according to Delaney. The book included a master list of everyone buried in the old brick enclosure, a mammoth feat accomplished without the help of computers.
The marker, which now stands at 909 Court Street, was sponsored by Jane Baber White, Baber's daughter and a Lynchburg resident known locally for her own civic-minded work. White has helped research and sponsor many of the more than 60 historical markers which now dot the Hill City.
Saturday's dedication ceremony was attended by more than a dozen members of Baber's family, including her two children, several grandchildren and great-grandchildren. In their remarks honoring Baber, some of her descendants spoke of the lessons she instilled in them more than a quarter century ago.
"One trait that seems to historically run through parts of our family is a laser, singular focus on projects that matter," K. Spencer White Jr., Baber's grandson, said. "Lucy Baber was laser focused on whatever she was doing. And I will always be proud to look at this well-deserved historical marker and read my grandmother's name."