For Deputy Michelle Sizemore, patrolling the streets of Campbell County often begins at sunrise.
Her 12-hour shifts take her across wide swaths of northern parts of the county, through the growing suburbs that wrap around Lynchburg and the rolling hills that extend toward Rustburg.
On any given day she could drive up to 300 miles in her patrol car, serving warrants and responding to 911 calls.
The work can be tiring, she said, but often is rewarding.
"I never thought I'd be a Campbell cop, but I love it," Sizemore said on a ride-along last month.
But since joining the department last spring, Sizemore has watched as several of her fellow deputies have left the force.
"As soon as you get a new batch of people it seems like you get a batch that leaves," she said. "Right now, law enforcement nationwide is a revolving door."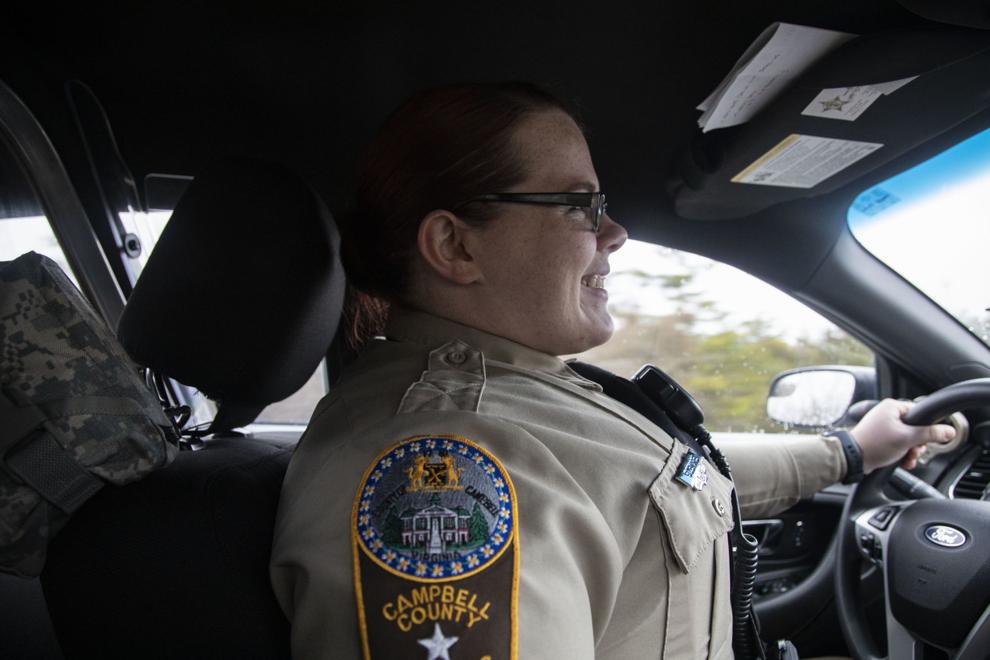 The turnover in Campbell County reflects a larger trend in sheriff's offices across rural parts of the state.
Over the last 10 years, more than 200 deputies have left sheriff's offices in Amherst, Appomattox, Bedford, Campbell and Nelson counties, according to records provided to The News & Advance. Many have sought higher-paying positions at rival law enforcement agencies or have left policing entirely for private-sector jobs.
For some, the costs of raising a family or paying off debt are too great to handle on a deputy's salary.
The average starting pay for a new deputy without any previous experience in the Lynchburg area is about $34,000. In comparison, new troopers with the Virginia State Police make an annual salary of about $44,000 and new Lynchburg police officers make nearly $38,000.
"Financially, it's a hard job; it's hard on your family, it's a lot of stress," Sizemore said. "And if you don't have good coping mechanisms and a good support group, I can't blame them if they don't last long."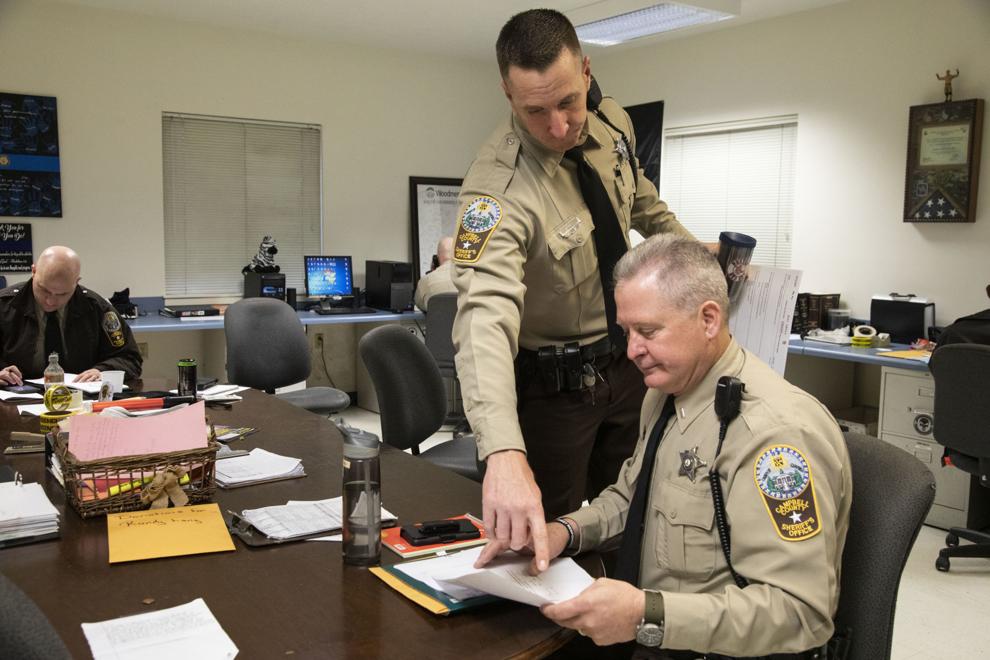 In Campbell County, the starting pay for a new deputy has increased by about $3,000 since 2013, while starting pay for a state trooper has jumped more than $8,000 in just two years.
The incremental pay increases, which in most cases have lagged behind inflation, have resulted in perennially vacant positions and more deputies with less experience, according to sheriffs in the region.
As of last month, 15 deputy positions were unfilled in the five county sheriff's offices in the region.
Campbell County Sheriff Steve Hutcherson said he has tried to fight for raises since he was first elected nearly eight years ago. But with limited resources, county and state lawmakers have largely rebuffed efforts to substantially boost pay.
"It's a question of priorities," Hutcherson said. "Are we a priority or not? A lot of the times we're not much of a priority and that part is frustrating."
According to department records, 13 deputies left the Campbell County Sheriff's Office last year — the most in more than a decade. The turnover rate has grown so high Hutcherson has begun requiring new hires to sign three-year contracts.
"I didn't want to do that," he said. "I never wanted to do that. But I had people that were leaving within a year of going through the training."
For Hutcherson, the move toward contracts is only a stopgap measure. The long-term solution, he argued, will require salary increases to compete with state police and city police departments.
"You can't attract the best people and retain the best people unless you're competitive in salary — it's just not going to happen," he said.
The consequences could prove dramatic, according to Hutcherson. With every departure, the office is forced to hire a deputy who often is younger and far less experienced.
A widespread lack of experience could lead to a drop in the quality of service and could threaten response times if the issue isn't resolved in the coming years, he said.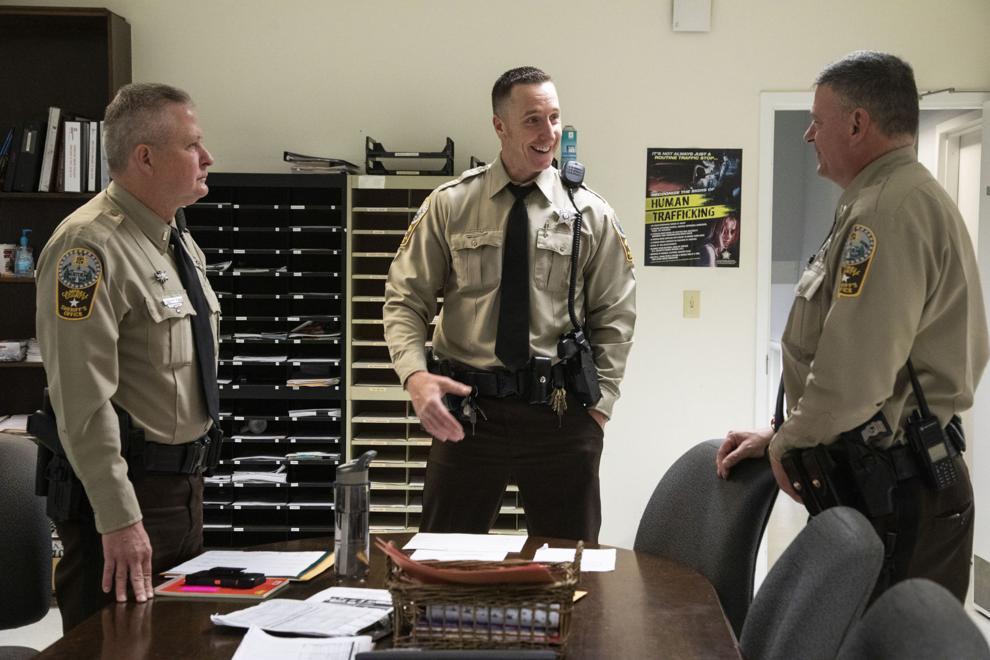 Amherst County Sheriff E.W. Viar said he feels it is "ludicrous" officers in his department on the front lines dealing with dangerous situations are not better compensated.
"It's frustrating," Viar said. "We're trying to get our police officers decent money for what they do."
Last summer, a handful of sheriffs, including Hutcherson and Viar, decided to take the matter into their own hands.
The team formed a new organization to lobby state lawmakers to approve pay increases for 86 of the 123 sheriff's offices in Virginia with primary law enforcement duties.
Known as Virginia Law Enforcement Sheriffs, the organization represents sheriff's offices tasked with responding to 911 calls and other emergencies. In a news release announcing the group, VLES called on the state legislature to pass a 10 percent pay raise to ensure all law enforcement deputies earn a living wage.
State lawmakers have set the annual salary for entry-level law enforcement deputies at $32,500, though local governments supplement that figure by several hundred or a few thousand dollars every year, depending on the county.
Amherst County provides an additional $471 annually to new deputies, while larger localities such as Bedford County add about $3,000.
In Nelson County, after years of supplementing state-funded salaries by a few hundred dollars, county officials dramatically boosted pay last year to help bring in new recruits.
The county, the smallest by population in the region, now supplements starting pay by more than $5,000 and offers the highest starting salary in the Lynchburg-areafor new deputies at $37,000 a year.
"We have been really fortunate lately as the county has raised the starting pay, showing that they are supportive of us attracting qualified individuals," Nelson County Sheriff David Hill said.
The Nelson County Sheriff's Office is an outlier among the region's sheriff's offices.
When adjusted for inflation, new deputies in Amherst, Appomattox and Bedford counties are making less today than they would have 10 years ago.
In 2009, a new Amherst County deputy made $30,285 compared to today's starting salary of $32,100. According to the U.S. Bureau of Labor Statistics, $30,285 in 2009 would be worth $36,103 today. In Appomattox County, starting salaries have lagged behind inflation by more than $1,000 and in Bedford County the difference is about $500. Campbell County has outpaced inflation by about $700.
According to the Massachusetts Institute of Technology, which developed a "living wage calculator" to estimate the cost of living in a particular community based on typical expenses,an annual living wage for a single parent with one child in the Lynchburg region is about $48,000. The average median household income is about $53,000, according to the U.S. Census Bureau.
"It is a disgrace that our hard-working law enforcement deputies place their lives on the line daily and still qualify for public assistance and food stamps," Richard Vaughan, the Grayson County sheriff and president of VLES, said in a news release last fall.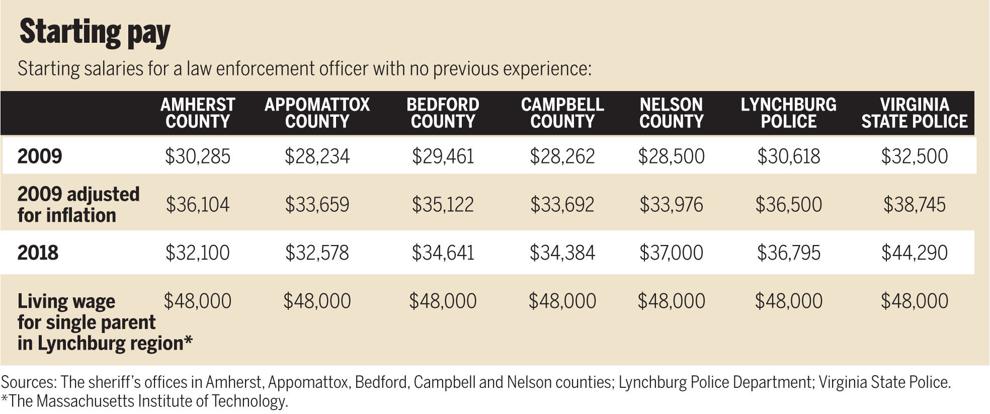 In January, state Sen. Charles W. Carrico, a Republican from Grayson County and a former state police trooper, introduced a budget amendment allocating nearly $8 million for pay raises for law enforcement deputies.
The amendment, if it had passed, would have increased salaries by more than 9 percent — the largest raise for deputies in more than a decade.
But the proposal died in a Senate committee, despite lobbying efforts by sheriffs and deputies from Amherst, Bedford, Campbell and Nelson counties.
Lynchburg Sheriff Donald Sloan, who oversees an agency of about 30 deputies tasked largely with court security, said while he respects and appreciates the needs and mission of VLES, he feels the lobbying effort is divisive. Where one previous group, the Virginia Sheriff's Association, went to state legislators seeking help, now there are two.
"We all have budgetary needs, we all have manpower needs," Sloan said. "All of this is a dangerous job."
He said he is hoping the effort by VLES effort has positive effects and said he wants to see sheriff's offices with primary law enforcement duties succeed. The camaraderie among area law enforcement remains strong, he said, and he is not offended by VLES's efforts.
"My hats are off to them," Sloan said. "I'm just sad it's come to this because it's like robbing Peter to pay Paul. I wish them the best. I have no ill feeling. I feel like law enforcement in general is underpaid for this line of work … But again, I hear what they're saying. They've got a big job to do."
In Lynchburg, deputies mainly keep courthouses secure, handle transports and make arrests when offenses are committed in their presence.
"The more we can work together to provide public safety … our citizens are better served," he said of cooperation among area agencies. "I want to see them succeed and be provided for. I just don't like things that divide."
Hutcherson, who will retire at the end of the year, recalled his own experience as a young deputy with the Campbell County Sheriff's Office struggling to pay health care costs and to save money for his children's college fund.
"We didn't go on vacations back then," he said. "If something broke it was hard to save money for that, much less to save for retirement or college for the kids. That's really what hurt."
He ultimately left the office in the early 1990s for a higher-paying position at the Altavista Police Department.
As sheriff's offices in largely rural areas move forward with the daily work of law enforcement, Hutcherson said he's hopeful the new organization will eventually help convince state lawmakers to take the issue seriously.
"Nobody's found a solution over the last 36 years, and I don't think they'll find a solution overnight," he said, "but hopefully they'll find a solution to the problem."