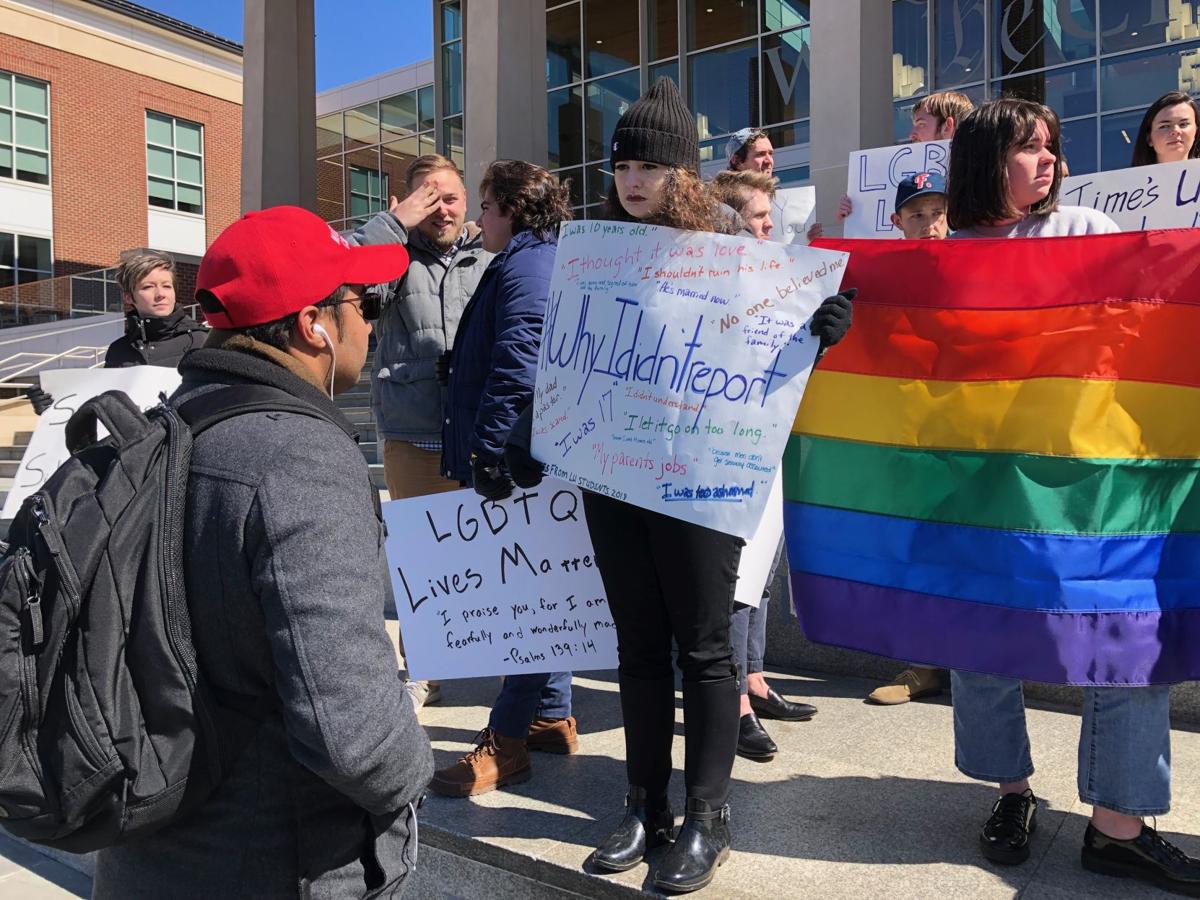 Liberty University students, upset over comments made last week by President Jerry Falwell Jr. and Becki Falwell about their granddaughter's gender identity during the televised Conservative Political Action Conference satellite event held on Liberty's campus, staged a protest Wednesday on the steps of the student union.
Carrying signs in support transgender rights and waving a gay pride flag, a group of about 30 students rallied at the heart of campus from 11:30 a.m. to 3 p.m.
"We're out here mainly to start conversations, but to also be supportive and to let people know that, yes, this is a Christian campus and, yes, Jerry Falwell Jr. has insinuated that he does not care about you but that does not mean that every Liberty student does not care about you — we love you," Elizabeth Axley, a sophomore who is bisexual, said.
The controversy erupted Friday during a roundtable discussion featuring the Falwells, Donald Trump Jr. and former Fox News commentator Kimberly Guilfoyle.
As the speakers discussed abortion, Becki Falwell mentioned the family recently welcomed a newborn baby girl named Reagan.
"She's our granddaughter, and we're raising her as a girl," she said. "We're not letting her have a choice. God makes the choice of what the babies are going to be and God decided she would be a girl."
Jerry Falwell said there was no need to make a concerted effort to raise their granddaughter as a girl because "she's got a little baby doll right under her arm every second."
"My boys always had guns in their hands," he added.
"Hashtag me too," Trump Jr. joked.
The discussion immediately sparked backlash online.
Addyson Garner, a senior who organized the protest, called the Falwells' comments transphobic and said Trump should not have reduced the #MeToo movement to a punch line. She said she was moved to stage the demonstration to show support for Liberty students who may have experienced sexual abuse or are members of the LGBT community.
"Regardless of where you stand, we all agree that we should show those students love and support," Garner, who also serves as senior class president, said. "Respecting people shouldn't be controversial."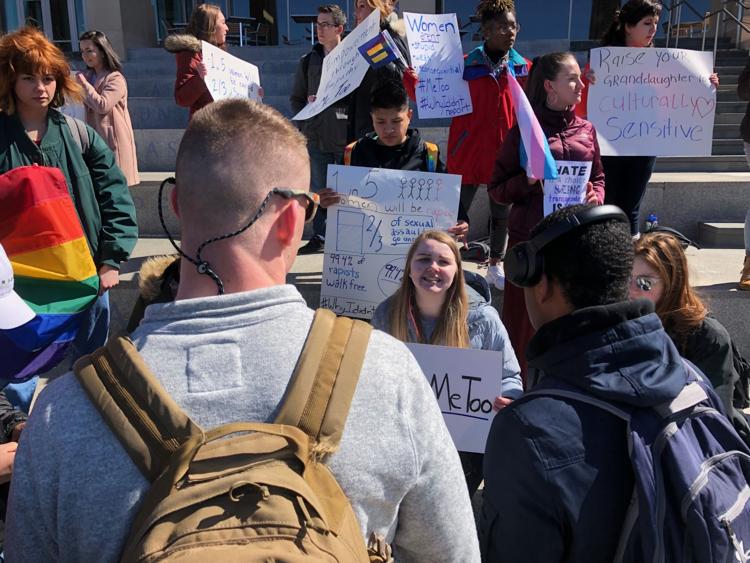 Isaac Zralii, a transgender man and Liberty graduate who now runs transgender programs for the Lynchburg Diversity Center, said transphobia marginalizes those who fall outside of the traditional male female gender binary and opens them up to abuse or even violence.
"The biggest takeaway is that for transgender students, with those kinds of comments you don't feel accepted, you don't feel loved, you don't feel protected," Zralii said.
As students protested in the brisk late winter weather, some passersby offered encouragement while others questioned the demonstrators. Garner and Axley said the discussions, though spirited, were positive and constructive.
Caleb Fitzpatrick, a senior and demonstrator, said the group hoped to use the event to spark a shift in attitude on a largely conservative campus.
"Our hope is to start a conversation that can hopefully lead to change within social perception and university policy," he said. "Hopefully we can create an environment where comments like Friday's aren't welcome and aren't normal."
Reached by phone Wednesday,Scott Lamb, a vice president for the university, said Falwell and the school had no comment on the protest.
"We have protests quite frequently," Lamb said, adding the university supports free speech and the right to assemble.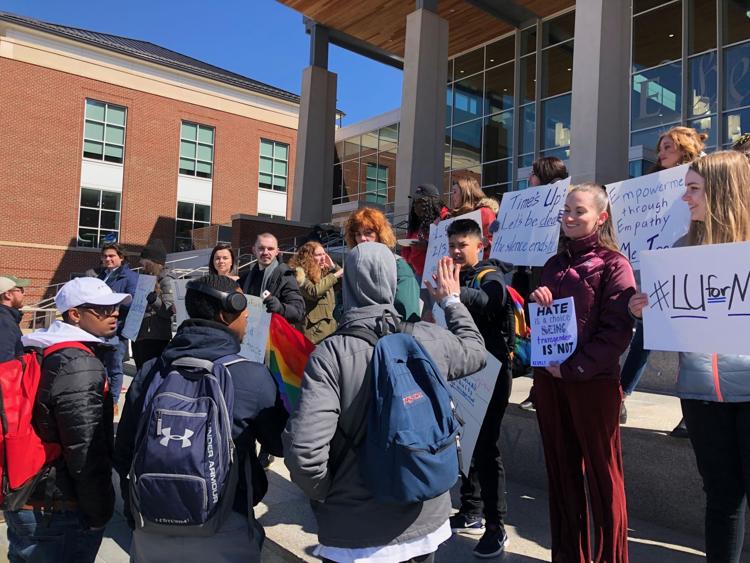 Falwell did not respond to tweets from Liberty students criticizing his comments but did engage with U.S. Rep. Alexandria Ocasio-Cortez on Twitter Tuesday regarding 2015 comments the congresswoman mistook for comments made at CPAC, calling the New York Democrat "dumb" and "a liar." Falwell later invited Ocasio-Cortez to speak on campus.
Caleb Utz, a sophomore, said he agreed with the protestors that the comments made by the Falwells and Trump were inartful but was skeptical the demonstration would influence Falwell in the future.
"They're standing here defending what they believe," he said, "and that's good but will it change anything? No."
Garner, however, said the rally was a step toward a more equitable campus.
"Students today felt seen and they felt heard," she said. "And even if it just makes one person feel a little less alone on campus, to me, it's worth the cold."
Get local news delivered to your inbox!
Subscribe to our Daily Headlines newsletter.