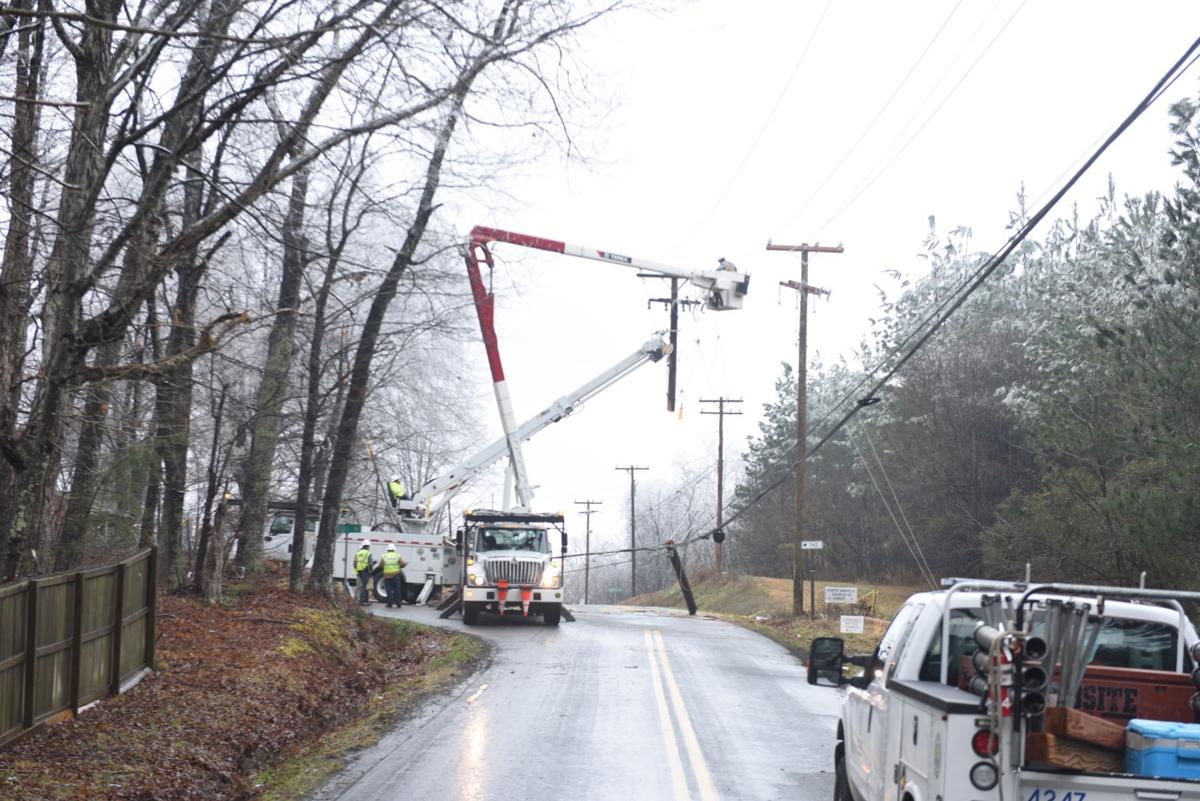 Local officials on Tuesday warned residents of additional potential power outages as a result of the freezing rain and sleet forecast for Thursday.
Thousands of residents in the Lynchburg area remained without power Tuesday after ice downed trees and power lines last week and into the weekend.
Less than 40 Appalachian Power Company customers in the Lynchburg area were without power as of 5:30 p.m. Tuesday, down from more than 1,800 on Sunday night.
About 460 Dominion Power customers and about 2,800 Southside Electric Cooperative customers in the Lynchburg region also were without power Tuesday evening following last week's ice storm.
Campbell County Public Safety officials Tuesday urged residents to prepare for the impending storm, and the potential outages and hazardous conditions that could follow. In a news release, the county encouraged people to take added precautions to keep warm and safe during the upcoming ice event.
If residents could not get warm at home, any Campbell County library or fire and rescue agency in the county could serve as a temporary warming station, according to the release. During operating hours, public libraries also can be used as charging stations for electronic devices, such as phones and laptops.
Sherry Harding, director of public and employee relations for Campbell County, said electronic device charging stations were available at the Timbrook library, Rustburg library and Brookneal library. Wall outlets at the Altavista library could be used to charge devices, as well.
The county advised residents not to call 911 to report power outages, unless in the case of a medical emergency, and instead directly call the electric service provider.
On Monday, Bedford County Deputy Chief Janet Blankenship, with the EMS department of Bedford County Fire and Rescue, said dispatchers had not received many calls for aid in the county and had none as of Monday evening.
Bedford County Sheriff Mike Miller and Blankenship invite Bedford County residents in need of assistance to call the non-emergency phone line at (540) 586-7827.
Blue Ridge Community Church's New London campus at 2361 New London Road, Forest, has coordinated with the Bedford County Fire and Rescue Department to offer a warm space to Bedford County residents without power, Blankenship said Tuesday afternoon.
Open from 1 to 7 p.m. Wednesday through Saturday and 2:30 to 7 p.m. on Sunday, services include charging stations, showers, a childrens movie area, and coffee and bottled water. Masks and social distancing are requested by the church, and the church will provide sanitation and PPE, Blankenship said.
Campbell public safety officials urged residents to have adequate non-perishable food, water, medicine, batteries, fuel and any needed pet supplies on-hand.
"Be sure to call or check in on your neighbors or those who may need special assistance in your neighborhood," stated the release. "Please note, that due to COVID-19, masking and social distancing should be applied in public warming areas and if around others not in your immediate family."
The department recommended people bring pets indoors during severe winter weather, and to prepare barns, supplies and water sources in advance if they own livestock. It also advised people to avoid travel when road conditions are icy, and if power outages disable traffic lights, to treat any intersection with disabled lights as a four-way stop.
Lynchburg is among areas facing winter storm conditions, and the potential ice amounts could be at or above a quarter of an inch, which is enough to bring down trees and power lines.
Predictions warn that the storm could feature a full range of precipitation types in Central Virginia: snow, sleet, freezing rain and rain.
Nelson County should expect five or more inches of snow today into Thursday, as part of the next round of winter weather, according to the National Weather Service's latest winter storm watch.
The watch, which will start this evening and last through late Thursday, is for the Central Virginia Blue Ridge, as well as Albemarle, Augusta and Nelson counties. According to the weather service, power outages and tree damage are likely due to the ice and travel could be nearly impossible for those areas.
Richmond Times-Dispatch reporter John Boyer contributed.