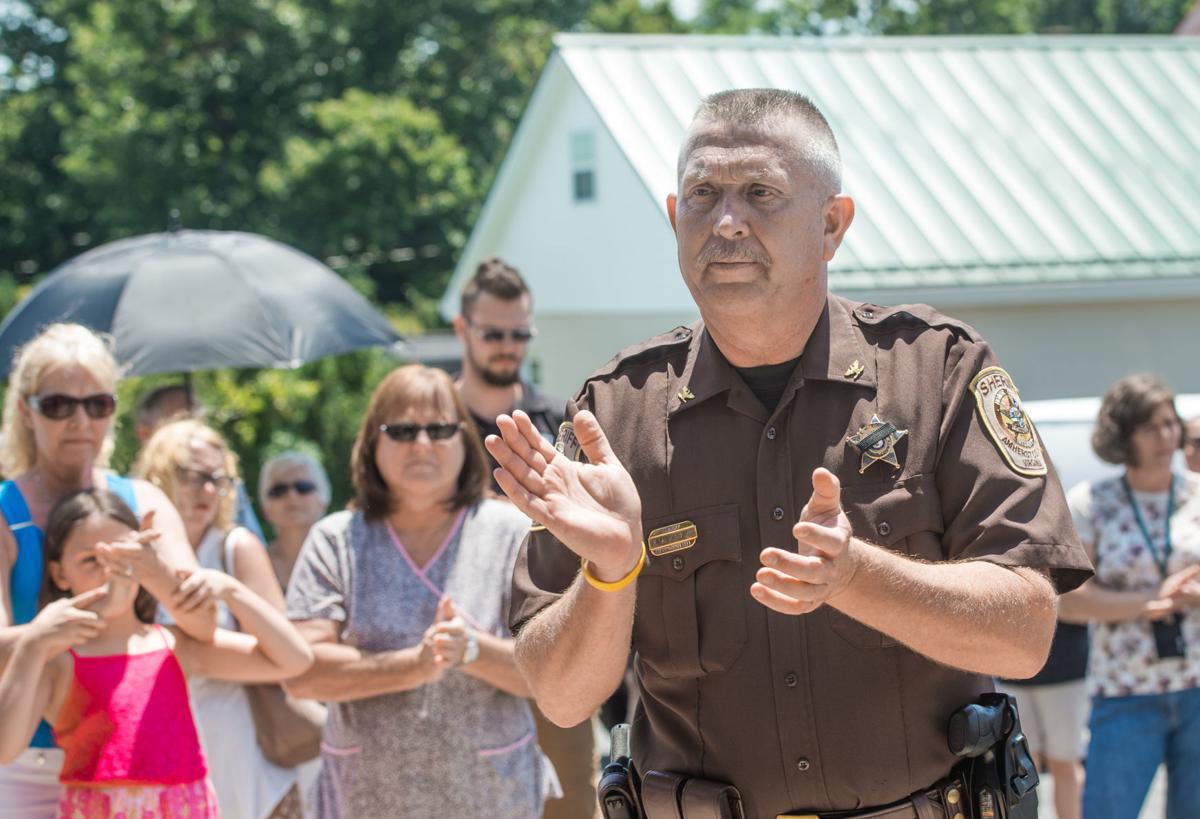 AMHERST — After many twists and turns in Amherst County's budget season, including plans for a tax increase and later adjusting to take a wait-and-see approach when the coronavirus hit, the roller coaster ended this week with the adoption of a 2021 fiscal year plan.
The Amherst County Board of Supervisors on Tuesday unanimously approved a budget with a general fund of $42.9 million and 2% pay raises for all county employees, which was 1% less than originally laid out after recalculating finances to offset the negative effects of COVID-19. The new budget, which takes effect July 1, keeps the tax rate of 61 cents per $100 of assessed value in place after the board chose not to equalize, or lower the rate, to bring in the same amount of revenue in a year when the value of all property in the county was reassessed.
Total value of property in Amherst County, excluding additional assessments because of new constructions or improvements, increases to 2.7% in the fiscal year 2021 budget. A lowered tax rate to equalize would have been 60 cents. While the 61-cent tax rate remains the same, the 1-cent increase over the equalized rate, or 1.7%, is what the county refers to as an "effective tax rate increase" since real estate taxes are bringing in more revenue and some residents will pay more based on their assessments, though others will not.
The board prior to the effects of COVID-19 becoming widespread in March had leaned toward a tax increase, discussing as high as a 6-cent increase and as low as a 2-cent hike, to generate more money to keep revenue afloat with expenses mounting due to inflation. However, COVID-19 caused the board to put off the tax increase and instead ask all county departments and agencies to slash their spending 4% to absorb the projected financial hit.
"We studied over this many, many hours," Chairwoman Claudia Tucker said, adding all staff worked together in a team effort to make the budget work in a challenging fiscal climate.
Supervisor Tom Martin said the 1-cent difference above the equalized tax rate was necessary for the county to balance figures and thanked the staff for reducing spending, which allowed for the 2% pay raises. Other goals met include raising the starting salaries for law enforcement and public safety to $40,000 per year and adjusting salaries so roughly three dozen employees earn their market average, a pair of measures officials said makes the county more competitive with other localities.
"I think that if we had equalized [the tax rate], we'd be looking at even more cuts across departments to accomplish what we've been able to do in this budget," Supervisor Tom Martin said. "We wish we could do more … we just couldn't do it this year."
No one spoke for or against the 61-cent tax rate at a public hearing Tuesday and a previous hearing on the budget drew no public response. Based on the tax rate and changes in other tax rates, the county's FY21 budget is a 2.1% increase over the current budget year.
The county the Amherst County Public Schools division at $13.9 million this upcoming fiscal year. School employees will receive a 1.5% raise and could receive a bonus later in the upcoming school year if finances allow, the Amherst County School Board has indicated.
In addition to the general fund, supervisors also recently approved a $1.7 million solid waste fund and $2.75 million in federal stimulus money to respond to COVID-19, the majority of which is targeted for broadband expansion and relief for struggling local businesses and nonprofits.
The board also scaled back drastically capital improvement spending, cutting projects from slightly above the $1 million mark to $248,000. County Administrator Dean Rodgers said in a recent virtual chat with the Amherst County Chamber of Commerce the county projects revenues will get back to normal in the fourth quarter of the 2021 fiscal year.
"Sales tax receipts are not as low as we projected them to be," Rodgers said.
The county had 34 positions that were below the market average and have been for some time, which is addressed in the new budget. Some county departments have seen nearly 100% turnover and properly compensating staff is a major priority, he has said.
Inflation is even more of a challenge the board will have to deal with in the fiscal year '22 budget, he said.
"Every year it costs more just to unlock the doors and turn on the lights," Rodgers wrote in his budget outline to supervisors. "Every year citizens expect government to do more of that for which they could do for themselves."
From organizing roadside litter pickup to ambulance crews responding to non-emergency aches and pains, the county increasingly spends taxpayer resources to perform functions that used to be done by family, friends and neighbors, he wrote in the budget presentation.
Sheriff E.W. Viar said in a phone interview he is grateful to supervisors for the raises and bumping starting pay for deputies, which he said is beneficial in recruiting and retaining them in a time when the law enforcement profession is under much scrutiny amid national events.
"Who wants to be a police officer now?" Viar said. "... I couldn't imagine not having law enforcement."
He said the Amherst County Sheriff's Office is "ahead of the game" in using techniques to de-escalate situations and achieving cultural diversity among officers. His department is fortunate to have the backing and appreciation of many residents, Viar said.
"I want to thank the people for all the love and support they show us," he said.
Reach Justin Faulconer at (434) 385-5551.
Reach Justin Faulconer at (434) 385-5551.