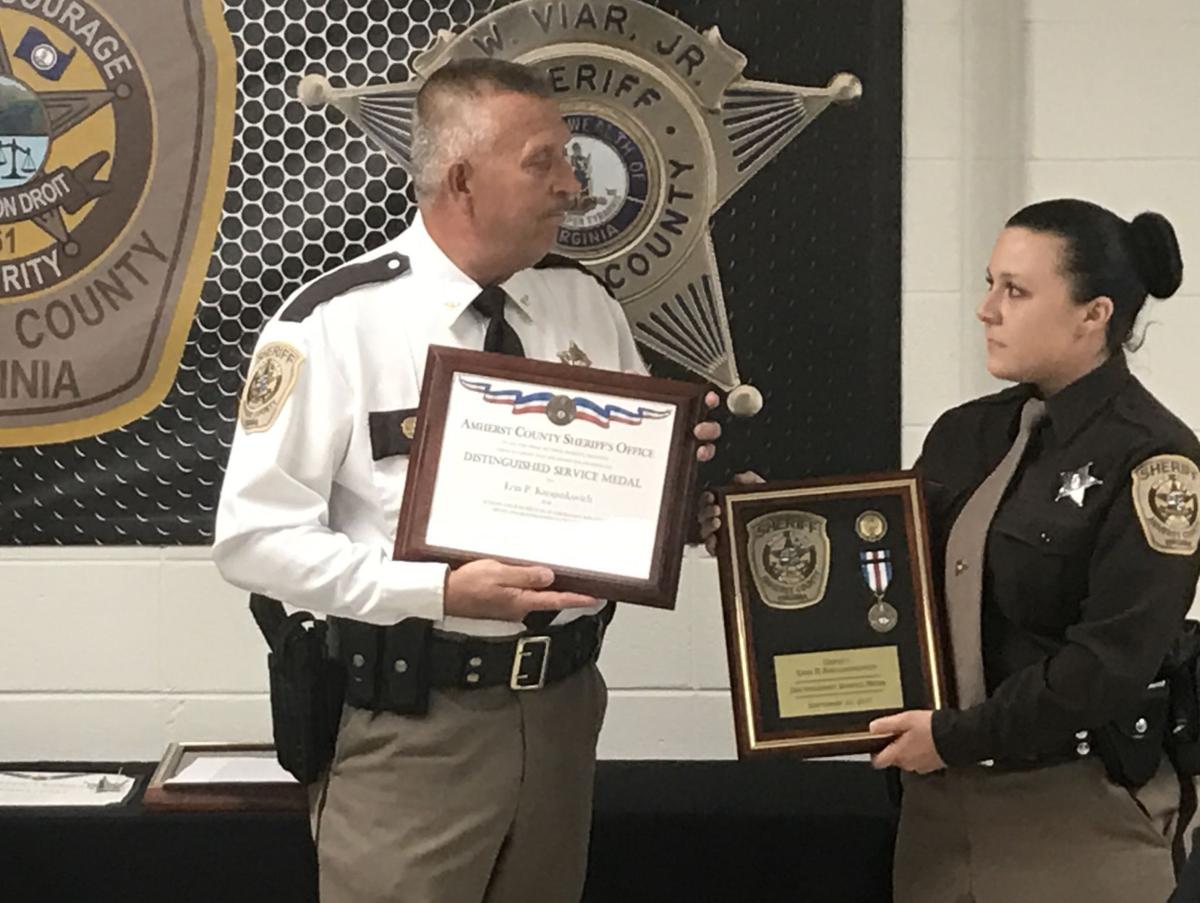 AMHERST — For the first time, the Amherst County Sheriff's Office awarded a Purple Heart, Medal of Valor and Distinguished Service Medal on Thursday to two deputies involved in a shooting last fall that resulted in the wounding of a deputy and a Monroe man.
Trevor Dawson Ewers, the 23-year-old involved in the incident, is charged with two counts of attempted capital murder of a law enforcement officer, two counts of use of a firearm in commission of a felony and one count each of aggravated malicious wounding, malicious wounding, possession of a firearm by a violent felon and possession of ammunition by a felon.
He is in custody awaiting a Sept. 10 jury trial in Amherst County Circuit Court.
Ewers was arrested following a September 2017 traffic stop at the Monroe Post Office on U.S. 29. He is accused of shooting sheriff's Lt. Jason Meador, who suffered a head injury and recovered. Another deputy, Erin Karajankovich, shot Ewers, who suffered non-life-threatening injuries, during the incident.
At a ceremony Thursday at the Amherst County Sheriff's Office, Sheriff E.W. Viar awarded Meador with the Purple Heart and Medal of Valor while Karajankovich received the Distinguished Service Medal. The awards are for acts of bravery in the line of duty. Amherst County Sheriff's Capt. John Grieser said Thursday marked the first time the sheriff's office ever gave those awards.
Viar said he responded to the "pretty hectic" scene Sept. 22, 2017, and saw Meador was bleeding profusely but still performed his duties.
"It was scary," Viar said. "Everyone kept their composure [and] did a tremendous job. Thank God no one lost their life that night."
Deputy William Nash and Town of Amherst Police Officer Dante Robinson also were honored with certificates of commendation for their roles in responding to the incident that night during Thursday's ceremony.
According to a search warrant affidavit filed in Lynchburg Circuit Court the day after the shooting, Karajankovich initiated the stop while Nash, Meador and Robinson assisted. Ewers was a rear passenger in the vehicle, and Nash heard Ewers say he was drunk and "not going back," the affidavit states.
Nash then heard a gunshot, ran to the driver's side of the vehicle and observed Ewers and Meador on the ground engaged in a struggle, the warrant states. Nash observed a silver handgun in Ewers' hand, Meador's weapon was holstered and blood coming from Meador's head, the warrant states. While attempting to gain control of the weapon and Ewers, Nash heard another gunshot and later learned Karajankovich fired her gun, the warrant states. Ewers suffered non-life-threatening injuries.
Meador testified at a December 2017 preliminary hearing in Amherst County General District Court that when Ewers was asked to exit the vehicle, he asked, "Why?" According to Meador's testimony, Ewers was "very intoxicated" and smelled like alcohol.
Meador testified as soon as he saw Ewers aim the gun, he grabbed him and tried to control him.
Meador said in court he went to the hospital and was released that night. The wound has healed, Meador said, but there may be some permanent hearing loss.
Virginia State Police investigated the shooting and determined no criminal wrongdoing by deputies occurred, according to the Amherst County Sheriff's Office. The sheriff's office concluded its administrative findings with no adverse findings, Capt. John Grieser, of the sheriff's office, previously said in an email.
Karajankovich previously was placed on paid administrative leave pending the investigation, a standard procedure, and since has returned to full-time duty, Grieser has said.
Viar said he couldn't believe how Meador performed through his injury and maintained his calm when most would have panicked.
"I thought he was dying," Viar said. "I'm so proud of all of them."