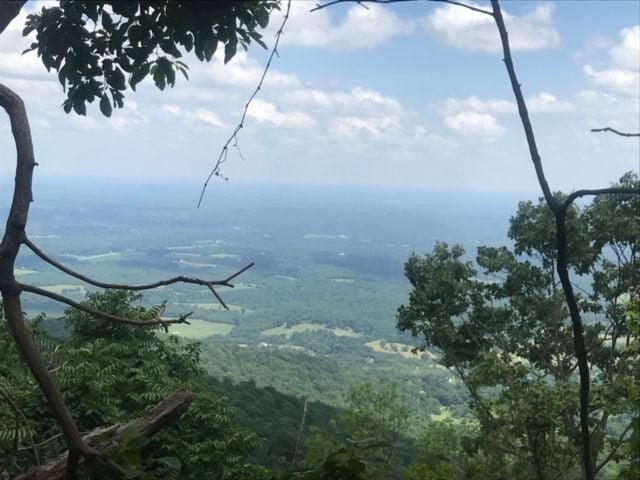 AMHERST — A resident of Phyllis Lea Drive in the Elon area of Amherst County for nearly 33 years, Jewel Newman recalled her husband first seeing the road and declaring it "God's country."
Newman joined more than a handful of other residents during a public hearing before the Amherst County Board of Supervisors on Tuesday to strongly oppose a 195-foot-tall cell tower Verizon Wireless planned to locate at 801 Phyllis Lea Drive. Residents expressed concerns the tower would obstruct their scenic views of Tobacco Row Mountain and negatively affect land values.
The board voted against the company's special exception request 4-1, with Chairwoman Claudia Tucker voting for the tower.
Tucker said she has felt strongly about boosting broadband in rural areas since joining the board a decade ago and those efforts are more crucial than ever during the COVID-19 pandemic and increased distance learning. She said she has one of the best views in the county of Panther Mountain and she accepts a cell tower as part of it.
"I'm thankful I have access to broadband," said Tucker, a Lowesville area resident, adding she's grateful if her husband were injured in a farming accident she could quickly dial 911 on her cellphone.
The scenic mountain backdrop of Tobacco Row is what Newman said led her husband to call their home the most beautiful place he'd ever seen.
"Please don't ruin our view," Newman said to supervisors Tuesday.
While officials said, the board is not opposed to wireless towers in general, it found the proposed tower would impair the mountain view from Virginia 130, one of Virginia's Scenic Byways and an important tourist route for the area, according to a news release the county issued following the meeting explaining officials' denial.
"The view of Tobacco Row Mountain is iconic in Amherst County," District 1 Supervisor Tom Martin said.
Verizon Wireless sought to locate the tower on agricultural-zoned property, which required the special exemption. The Amherst County Planning Commission recommended its denial in June.
Lori Schweller, an attorney representing the company, said Verizon Wireless' objective was to improve coverage for the Elon area by providing all services it offers. She said in a presentation more than 60% of the population no longer has landline telephone service and demand for wireless has increased.
"Wireless is an essential utility," Schweller said. "Without wireless, you may not have the connectivity you need."
She said her research shows the presence of more wireless would improve overall property values. Wireless is the second most important factor people look for when searching for homes, second only to good hospitals, she told supervisors.
Verizon Wireless's tower would help the county as it seeks to boost Internet coverage, Schweller said, noting 64% of Virginia's rural population lacks access to broadband.
"It serves the greatest number of people most quickly," Schweller said of the wireless service the company proposed.
She said Verizon Wireless also had implemented would use techniques to mitigate the tower's visibility.
Greg Freshour, of nearby Kimberlea Road, said he and his wife have lived there for 22 years and during recent months have worked from home with adequate wireless and phone coverage. He and other speakers said they are not opposed to Verizon Wireless' goal of improving coverage but feel a better, less obtrusive location should be pursued.
"Tobacco Row Mountain is a landmark in Amherst County that we love and why we moved here," Freshour said. "I'm all for progress and you should pursue cell towers in Amherst County, but not at the expense of affected viewsheds of those who have beautiful views of Tobacco Row Mountain and other valuable viewsheds across the county."
He presented a petition to supervisors with signatures of 81 area residents opposed to the tower.
Tim Beverly, whose house would face the proposed tower, said the scenic views and landscape are major selling points for the county.
"I'm just asking you to protect the property of the people around there," Beverly said. "I'm asking you to keep Amherst County beautiful. Keep it the way it is."
Ken Thomas, whose 95-year-old mother lives on Kimberlea Road, said his parents selected their home in 1957. "They picked it largely because of that incredible view of Tobacco Row Mountain and High Peak. I would hate to see that damaged," Thomas said. "It's more than about money, as far as we're concerned. We love that place, we love the view. It's a big part of why we live there."
Mary Weiss, who also lives on Kimberlea Road, said as a retired educator she is not opposed to improving technology but the mountain backdrop is why she moved back last year. She recalls a Sunday drive with her late parents when she was 12 years old and the beauty of the Elon area inspiring them to pursue their home in 1956.
"Mother turned to daddy and said 'this is it.' We don't need to look anymore," Weiss said. "I still feel that way."
Jim Thompson, an Elon-area resident who serves on the commission, said he has done his best to vet every cell tower request that came before him in his four years on the panel. He told supervisors he feels the planned location is not what's best for local residents and he feels alternative solutions are available.
Whitney Gregory, of Phyllis Lea Drive, said her father built her family's home in 1976 and the spot Verizon Wireless selected is one of the county's most breathtaking locations. She said she opposes a "permanent eyesore" and looks forward to another proposal that honors the area's natural beauty.
Preserving the county's natural features is an important part of the county's comprehensive plan for guiding growth and development, Martin said.
"I think we need to look at alternative sites," District 5 Supervisor Jennifer Moore said.
Supervisor Jimmy Ayers, who represents the Elon area, said he respects the passionate feelings of Elon area residents, some who have grown up their entire lives with such gorgeous views he couldn't support disrupting.
"Tobacco Row Mountain, you can see it for miles and miles … it's something I think we should protect and preserve," District 4 Supervisor David Pugh said. "That's a reason people move here."
Reach Justin Faulconer at (434) 385-5551.
Reach Justin Faulconer at (434) 385-5551.
Get local news delivered to your inbox!
Subscribe to our Daily Headlines newsletter.