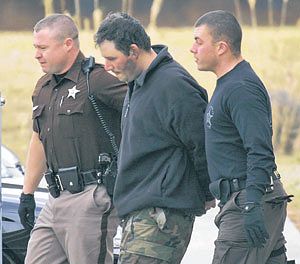 The rainy Wednesday afternoon air in Appomattox County, already electric with tension in the wake of Tuesday's killing spree, was ripped by the sound of explosions coming from the scene of the massacre.
Bomb squad technicians had just begun to detonate a "multitude" of devices found in and around the home at 3030 Snapps Mill Road, where seven people were found shot to death Tuesday. An eighth person found alive nearby later died.
The victims included three teenagers and a 4-year-old. The motive is unknown.
Christopher B. Speight, 39, was jailed Wednesday at the Lynchburg Adult Detention Center on a single charge of first-degree murder. Speight surrendered to police at about 7:10 Wednesday morning after hiding out in the woods overnight.
Bureau of Alcohol, Tobacco, Firearms and Explosives spokesman Mike Campbell said Speight told agents he had booby-trapped the area, but those at the scene have described it as being more extensive than what they expected, Campbell said.
The detonations are expected to begin again at daybreak today, Virginia State Police Sgt. Thomas Molnar said in an afternoon news conference.
State police identified the victims late Wednesday as Lauralee Sipe, 38; Dwayne Sipe, 38; Joshua Sipe, 4; Morgan Dobyns, 15; Karen Quarles, 43; Jonathan Quarles, 43; Emily Quarles, 15; and Ronald Scruggs, 16.
Scruggs is from Dillwyn. The others are from Appomattox.
Lauralee Sipe is listed as Speight's only sister in their mother's 2006 obituary. Dwayne Sipe is listed as Lauralee's husband.
An early statement from a county commissioner said the victims included Speight's wife and child, but acquaintances said Speight was not married and had no children.
Virginia State Police spokeswoman Corrine Geller said Speight lived at the home, which he co-owned, and was acquainted with the victims.
Appomattox County Schools Superintendent Dorinda Grasty said schools will open late today and that grief counselors will be ready.
Neighbors and former coworkers said Speight set up a shooting range on the property that he used frequently. He bragged about guns and explosives, and a former supervisor said he was paranoid the government was out to get him.
Monte Mays, Speight's nearest neighbor, lives about 250 yards from the site of the slayings. Mays said police used his hunting cabin as an outpost during the manhunt. He and his wife had to be evacuated.
The retired commissioner of the revenue said he lived close enough to see Speight's shooting range. He said he and his wife heard him out there almost every day.
"We couldn't even take a nap on Sunday," Mays said. "It sounded like a war going off."
About a month ago, he said, the shooting escalated from half-hour sessions of what sounded like one-at-a-time target shooting to what sounded like fully automatic gunfire.
Then they started hearing gunfire at night. It bothered him, he said, but he never complained to Speight.
"He was within his legal rights. And I wasn't going back there," Mays said. "I'm not stupid."
He said Speight was a loner, but "polite and cordial" in face-to-face encounters. Speight was not someone he believed had a propensity toward violence.
"I was stunned," he said. "It's horrible. It leaves questions that will never be answered."
The Mays were allowed to return to their home Wednesday afternoon. Though the house is technically safe again, he said, he still feels uneasy.
"Who do you trust when people seem normal? It leaves a question mark."
Connie Anderson is the co-owner of the Sunshine Market on Campbell Avenue in Lynchburg where she said Speight occasionally worked as a security guard, most recently on Saturday. Anderson said Speight talked to her husband Saturday night about an apparent family dispute involving the home.
Anderson and Mays said the home was left to Speight and his sister after their mother died in 2006.
Investigators have refused to comment about possible motives for the massacre.
Anderson said she and her husband had used the shooting range at his house. They had known each other for about five years.
"It's very sad that it happened," she said. "I'm shocked. I didn't believe it at first. I didn't want to believe it."
James Bohannon, owner of a Spout Spring heating and air-conditioning business, said Speight worked for him for 2½ years until the end of June 2005. Bohannon said Speight, a 1988 graduate of Rustburg High School, was a good worker who rarely missed a day. He said Speight had trouble writing and couldn't do much on his own, but worked well with others.
"He did believe in conspiracy theories," he said. "He thought the government was out to take his land."
He said Speight talked about having a lot of firearms and even hand grenades. Speight frequently brought up his conspiracy theories, he said, but he never thought the man was a threat to anyone.
Appomattox County court records showed Speight had regularly renewed a permit that allowed him to carry a concealed weapon since 1999.
More than 150 law enforcement officers began converging on Snapps Mill Road on Tuesday after neighbors Tammy and Joyce Randolph found one of the victims in the road around noon Tuesday. Another person was on the ground nearby, obviously dead, Tammy Randolph said.
She heard gunfire as first-responders arrived and quickly left.
After police say he shot up a circling state police helicopter and forced it to land, law enforcement officials surrounded Speight and kept him from escaping overnight. When he surrendered Wednesday morning, he was wearing a bulletproof vest, said Geller, the state police spokesperson. He was escorted out of the state police division headquarters about 10 a.m. looking disheveled in a black fleece top and woodland camouflage cargo pants.
In a police-escorted tour of the home site on Wednesday afternoon, a child's bike and basketball goal stood in front of the stairway leading to the house. The front door was ajar, opening into a lighted foyer and wooden staircase. A phone inside could be heard ringing.
Neon green evidence flags were planted throughout the yard between a small shed, a woodpile and what appeared to be a freestanding wooden blind.
The road around the home, about 3 miles north of U.S. 460, was otherwise closed to traffic.
A team from the Office of the Chief Medical Examiner assigned to mass-casualty incidents was working the scene Wednesday as bomb squads also tried to make it safer, state police officials said.
"This is a horrific tragedy," Geller said Wednesday morning. "It's definitely one of the worst mass killings in Virginia, probably since the Virginia Tech tragedy in April 2007."
Thanksgiving 2008 marked the last Appomattox County shooting death. Ardie Jackson, 46, was sentenced last month to two years of incarceration after being convicted of the involuntary manslaughter of Michael King, his daughter's fiancé.
w Staff writers Liz Barry, Carrie J. Sidener and Duffie Taylor contributed to this report.
Get local news delivered to your inbox!
Subscribe to our Daily Headlines newsletter.