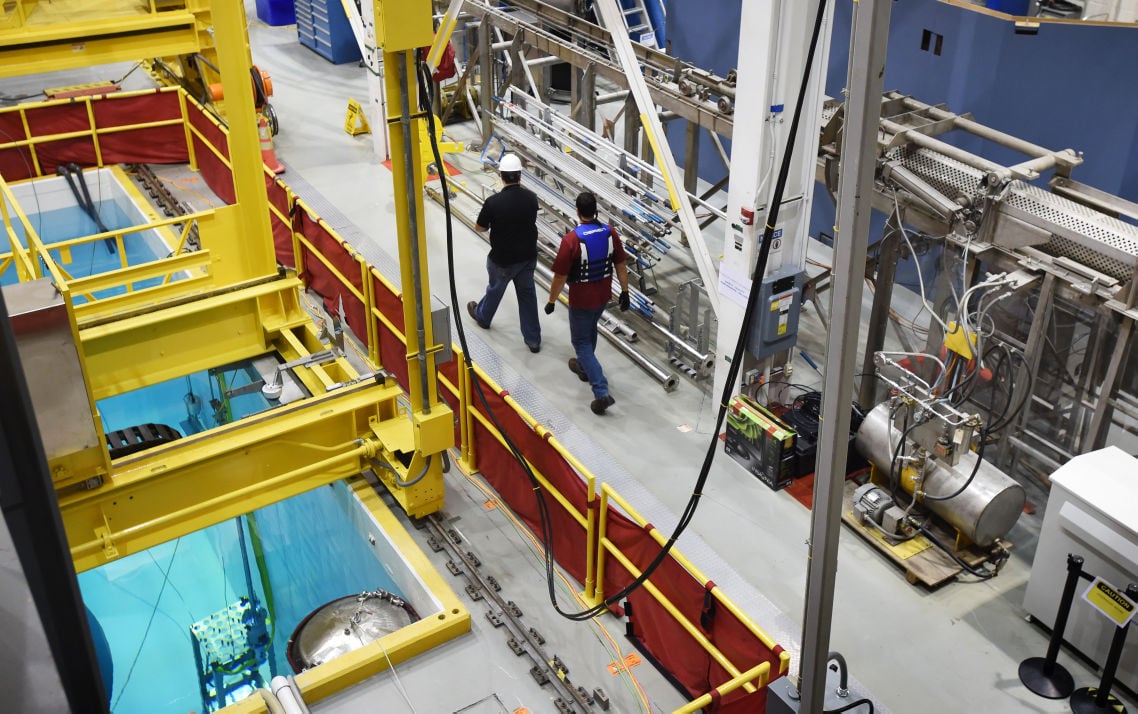 Lynchburg residents who remember the Framatome name will see it around town yet again.
As of Jan. 4, the nuclear-energy firm Areva has become Framatome, a name the city hasn't seen since 2006.
Denise Woernle, Framatome's vice president of communications in North America who is based in Lynchburg, said the company is excited for the rebranding as it is a major milestone in the final transformation of the company.
"It is a well-known brand that inspires respect," she said Monday. "It is a well known name in our community. There are many people who worked for Framatome in the past and they are embracing our heritage. We are moving forward as a stronger company."
While there have been changes over the years, Ray Perkins, proposal manager for installed base sales at Framatome in Lynchburg, said the people who make up the team are very supportive.
"They all bring their unique experiences and expertise, and I look forward to this next chapter for our company," he said. "Framatome is a recognized name that our customers know and I experienced earlier in my career."
Jeff Whitt, director, Business Development Contracts & Services North America Fuel Commercial & Customer Center at Framatome in Lynchburg said he is excited to embrace the heritage of the company.
"This name reflects both our foundation and strong leadership as we continue to advance nuclear energy," he said.
In 2006, Areva acquired Framatome, but in 2015 the company announced a significant financial deficit based on 2014 financial results, Woernle said.
Due to that, Areva as a global company introduced a transformation plan for the company to return to financial health. Part of that included the investiture of Areva to EDF, a French power company and other shareholders. "This is the completion of that," Woernle said.
EDF is the primary shareholder of the company, owning 75 percent of Framatome. Mitsubishi Heavy Industries owns 19.5 percent and Assystemowns five percent.
"In Lynchburg we will continue doing business as we always have," Woernle said. "There will be no impact on facilities."
Framatome is a technology company, holding around 3,500 patents covering about 680 inventions, which serve the needs of its customers which include key international energy leaders. Framatome operates on more than 250 reactors worldwide, a press release states.
Framatome will continue operating out of its Lynchburg locations on Old Forest, Mill Ridge and Mount Athos roads.
Framatome has 1,300 employees in Lynchburg, 2,300 employees in North America and 14,000 employees globally.
Woernle said employees in Lynchburg will continue to participate in community philanthropy and volunteering as they always have.
"We will stay actively engaged representing the Framatome name," she said.
She said many employees who once worked for Framatome in the 1990s and early 2000s are excited to work for a name that is familiar to them.
"They are excited about the change," she said.
Most importantly she said the change will return the company to financial stability.
"We are emerging in this transformation as a debt-free company," she said.