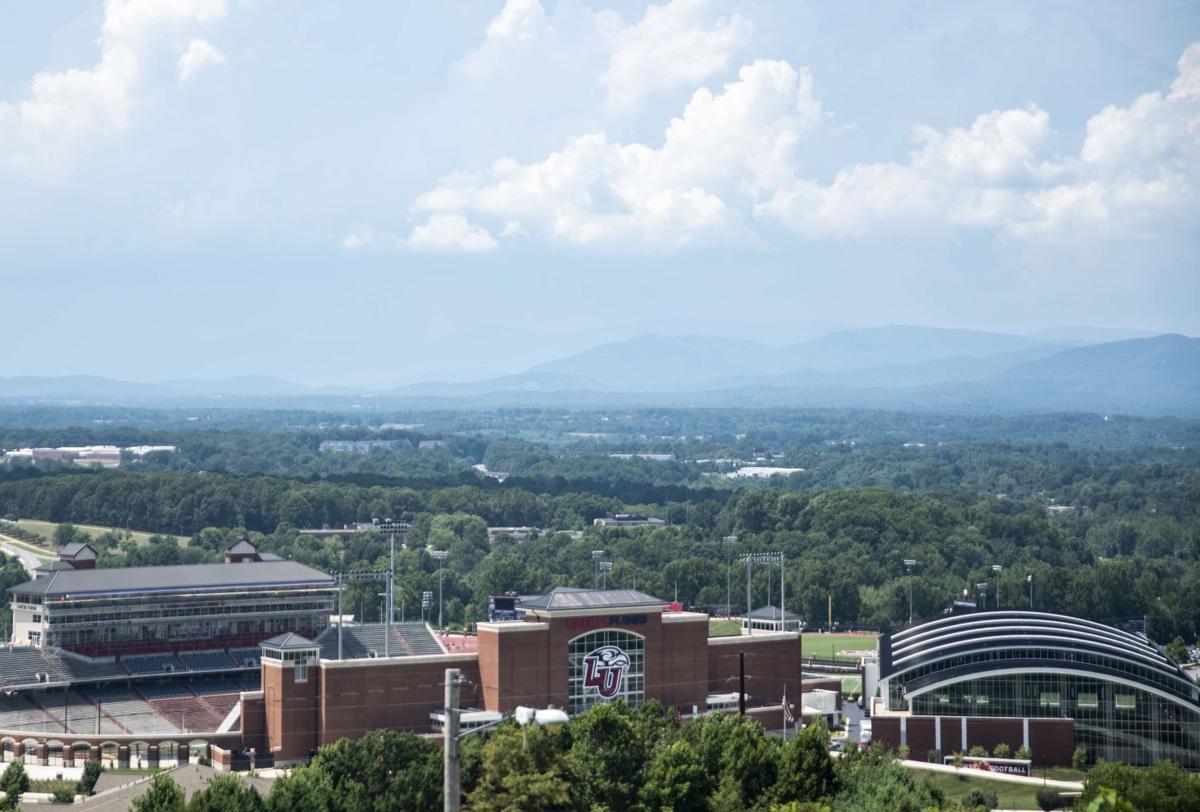 Total enrollment at Liberty University this fall, including new students at the school's vast online program, jumped nearly 12% over last year, according to early estimates from the State Council of Higher Education for Virginia.
Liberty's explosive growth came as the number of students enrolled in Virginia's public and private nonprofit institutions dropped by 1.3% — or 6,658 students — during the still-ongoing coronavirus pandemic.
"We don't take it for granted and we don't take it lightly that people choose to invest themselves with us," Liberty spokesperson Scott Lamb said. "We're thankful for that and we hope we can serve them well."
As Liberty records an influx of new students, other local colleges and universities have seen enrollment fall or inch up only slightly.
Enrollment this semester fell nearly 9% at the University of Lynchburg, 8.3% at Randolph College and 7.5% at Central Virginia Community College. Meanwhile, Sweet Briar College in Amherst County saw enrollment tick up almost 2%, according to SCHEV estimates.
Liberty, which operates one of the largest online education programs in the country, has pitched itself as a top destination for those looking to pursue a college degree amid the global health threat.
More than 95,000 students signed up for in-person and online classes at Liberty this fall, up from 85,000 last year, according to SCHEV data, which was released Tuesday.
The SCHEV data does not differentiate between online and residential students, but Lamb said virtually all of Liberty's new enrollment reflects a surge in new online students. Residential enrollment has stayed relatively flat at 15,000 students.
The recent rise in students continues a more than decade-long trend of increased enrollment at Liberty. The conservative religious institution has added more than 40,000 students since 2010, the majority of whom take classes online.
Liberty's growth, which far outpaced any other institution of higher learning in the state, was largely driven by a nearly 15% increase in out-of-state students. Meanwhile, the number of in-state students climbed by 1.6%, according to SCHEV data.
Liberty as a whole this year also saw a 7.6% increase in undergraduate students, an 18% increase in graduate students and a 4.4% increase in students pursuing professional degrees. Enrollment among men and women rose at roughly equal rates.
In a report released Tuesday, Tod Masa, policy analytics director for SCHEV, said an overall statewide increase in first-time student enrollment and undergraduate enrollment at four-year, private nonprofit institutions in Virginia can be directly attributed to Liberty.
Other large institutions in the state saw relatively small changes in enrollment. The University of Virginia grew by 0.3% and Virginia Tech jumped 2.2%, though public institutions as a whole fell by 0.3%.
Liberty's increase in students has not come without its challenges. As total enrollment at the school has ballooned, some programs — namely the humanities — have seen cuts due to a lack of new students.
Last year, Liberty eliminated a dozen positions within the Rawlings School of Divinity in response to dwindling interest. In May, the school dissolved its philosophy department after a steep drop in enrollment in the program.
In recent years, the share of Black enrollment at Liberty also has fallen, tracking a broader national trend. Black enrollment at the school peaked at nearly 20% in 2011 but fell to nearly 11% by 2018, according to U.S. Department of Education statistics.
Liberty, one of the largest employers in the Lynchburg region, has been a major factor in the area's steady rise in population. The region has added nearly 10,000 residents over the past decade, which researchers at the Weldon Cooper Center at the University of Virginia have attributed in part to Liberty's expansion.