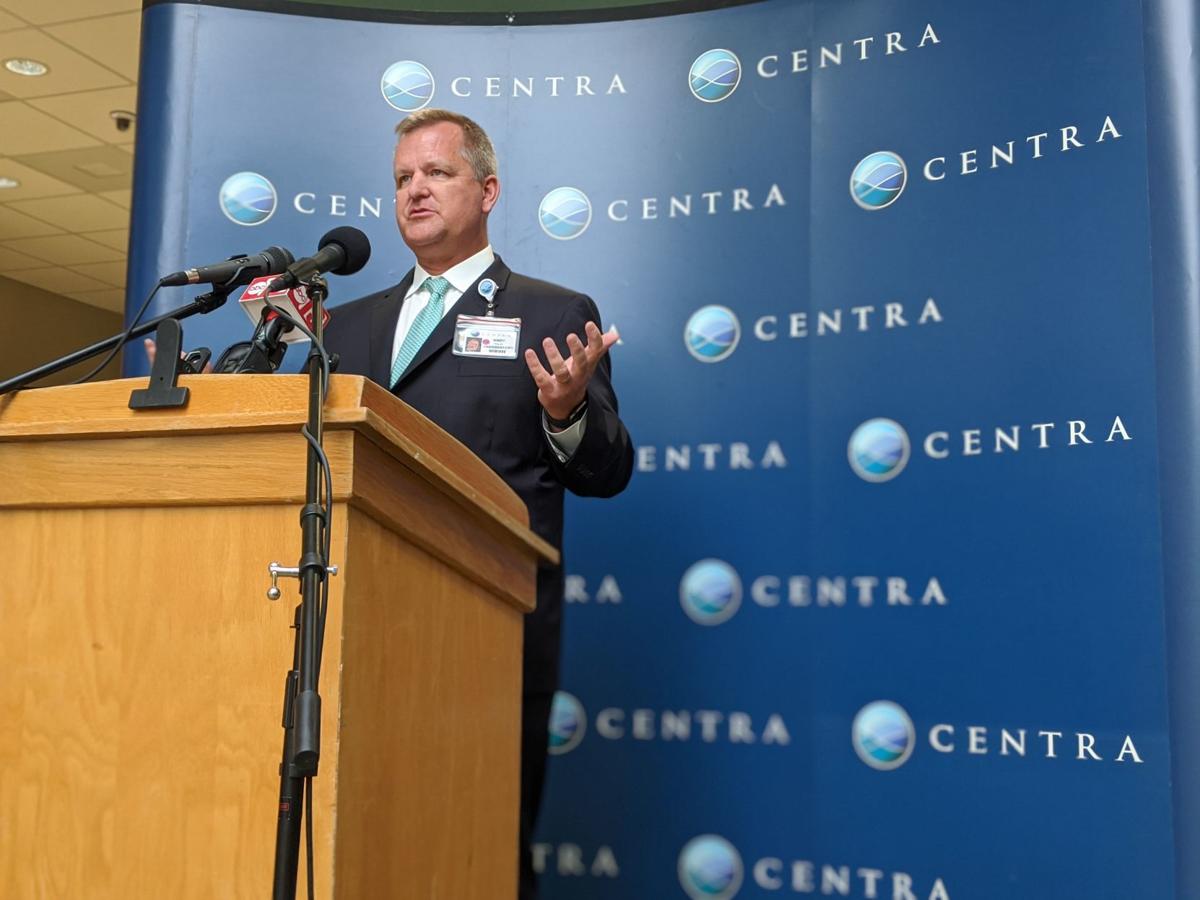 Centra Health officials said Tuesday they have "significant capacity" to handle a potential influx of patients with COVID-19, the disease caused by the novel coronavirus, as the pandemic grows.
Chris Thomson, Centra's chief medical officer, said the provider is aware of five confirmed cases of the virus in its about 9,000-square-mile coverage area, which includes Lynchburg, the surrounding counties and Farmville. One is at Longwood University in Farmville and the other two cases — both in Bedford County, according to the Virginia Department of Health — emerged between Monday evening and Tuesday morning.
Prior to Tuesday, VDH had confirmed two cases in the Lynchburg area: a man in Amherst County in his 30s and a person in Bedford County. The Thomas Jefferson Health District confirmed one case of COVID-19 in Nelson County late Tuesday.
Anyone with a confirmed diagnosis has exhibited mild to moderate symptoms and has been able to isolate themselves at home. Thomson said Centra will continue to be in touch with those people, since the coronavirus typically takes about two weeks to run its course. No one staying at Centra's four hospitals has the virus.
He said Centra has tested just shy of 300 people for the virus, and about one-third of those have returned results. Centra currently has around 700 remaining tests to use, but Thomson said supply "may not last more than a few days."
Criteria for people to be tested for the virus — at tents set up outside emergency departments and drive-up sites at Centra facilities — continue to change, Thomson said. Spread of the virus is now occurring within the community, meaning people have contracted it locally rather than while in a foreign country or another state.
Thomson said Centra has started to send tests to the University of Virginia, where tests can take as little as 24 hours to process. Tests Centra is currently administering take about five to seven days to return results.
CEO Dr. Andy Mueller said the provider has freed up about 40% of its bed capacity at its Lynchburg hospitals for sicker patients as the virus looms, since Centra has been over capacity there "almost on a daily basis."
Lynchburg General is a 358-licensed bed acute care hospital, while Virginia Baptist Hospital has 161 licensed acute care beds and 156 licensed beds for other health care services, including adult, child and adolescent, and geriatric psychiatric care and acute rehabilitation services.
Reduction in "nonessential procedures," Mueller said, also has freed up caregivers to give them more space physically and mentally to gear up for future cases.
"It's given them an opportunity to catch their breath a little bit, and it's also given them an opportunity to work on preparations," he said.
There are 20 ICU beds in Lynchburg that Mueller said could be largely dedicated to coronavirus patients if the need arises. Beyond that, he said 36 beds could be made available at Lynchburg General Hospital for people with symptoms that don't need to be in the ICU.
In the event Centra's beds are overwhelmed, Mueller said leadership has considered conversion of the Dawson Inn — which usually provides lodging for patients' loved ones — to serve more patients, with a capacity of 40 people.
He said Centra also has been in touch with local colleges and universities about the potential for using dormitory spaces for patients. The University of Lynchburg is one Centra has focused on due to its proximity to Lynchburg General.
The University of Lynchburg is ready to assist Centra, according to Michael Jones, associate vice president of communications and marketing.
"Our new residence, Westover Hall, is best suited to handle additional beds and this has been shared with Dr. Mueller," he said in an email. "Should our facilities remain vacant, we are prepared to work with Centra."
The 140-bedroom Westover Hall opened in the fall. Earlier this week, 19 students still were staying on the university's campus.
Thomson said Centra has about 100 ventilators at its facilities and more are on order.
Centra has sufficient protective equipment and masks for its providers, but Mueller said they're still being "incredibly conservative" with them, since supply chains have been a bit "gummed up," according to Thomson.
Both men recognized an outpouring of community support in providing food and masks to Centra. Thomson said there's a collection bin in front of the Dawson Inn, at 2012 Tate Springs Road, for donated items.
Reach Rachel Mahoney at (434) 385-5554.
Rachel Mahoney covers courts for The News & Advance. Reach her at (434) 385-5554.
Concerned about COVID-19?
Sign up now to get the most recent coronavirus headlines and other important local and national news sent to your email inbox daily.