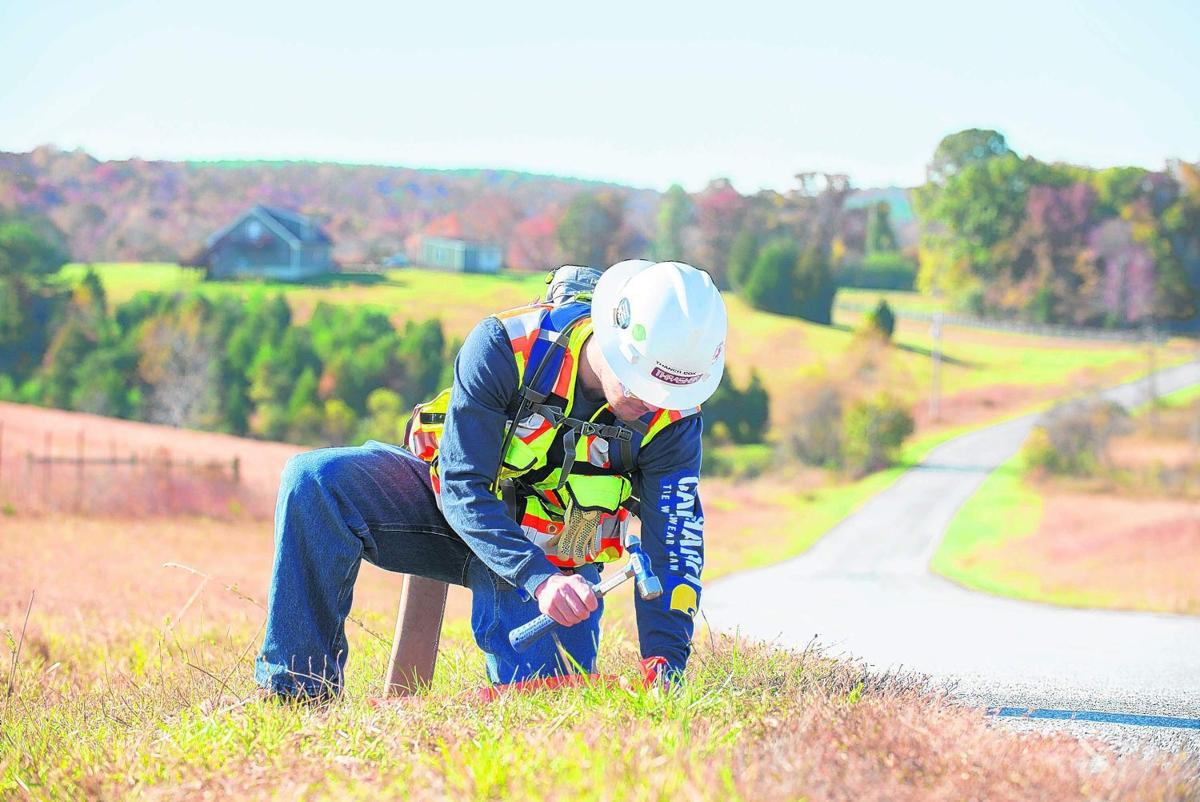 With negotiations currently stalled, the Fenton family last week became the first Nelson County landowners to be sued by the Atlantic Coast Pipeline under the power of eminent domain.
In the United States District Court's Western District of Virginia on Jan. 31, Atlantic Coast Pipeline LLC filed suit against Fenton Family Holdings LLC, the company of Will and Lilia Fenton, seeking permanent and temporary easements for the project.
The right of way sought by the ACP contains land on which the Fenton Inn sits. The Fenton Inn, a Bavarian village-style bed-and-breakfast off Virginia 664 near the Blue Ridge Parkway and Wintergreen Resort, opened nearly two years ago.
According to the suit, ACP "has negotiated with the Owner and has made several efforts to acquire the Easements by contract. However, [ACP] and the Owner have been unable to agree upon the compensation to be paid." The suit means a judge will determine "just compensation."
In a phone interview Thursday, the Fentons said they were offered compensation for their land by Dominion Energy, lead partner of the 600-mile natural-gas pipeline project, at least twice and turned down those offers. Will Fenton said additional attempts to negotiate appropriate compensation were unsuccessful.
"We have done everything conceivable to make them aware of our situation, explain our worries about the situation and what we're looking at economically, because we don't want to be forced out of business by their big business," he said.
To move the process toward construction, Dominion spokesman Aaron Ruby said ACP has reached a point that now requires legal action with multiple landowners along the route who have not signed mutual easement agreements yet. ACP can sue under the power of eminent domain following the Federal Energy Regulatory Commission's approval of the project last October.
"Over the last few months, we've made final, good-faith attempts to reach these agreements. In each case, our final offers were well above the appraised value of the properties. We were pleased to reach agreements with some of these landowners, but unfortunately, we could not reach an agreement with all of them," Ruby said.
"Accordingly, we've started the process in the federal courts to secure easements for some of these properties where we plan to begin construction this year. … This is not our preference. It is an absolute last resort that we're only taking after exhausting every other option. We remain actively engaged with all landowners in the hopes of reaching agreements."
More than 80 percent of landowners on the route — which will go through West Virginia, Virginia and North Carolina, as well as 27 miles in Nelson County — have signed easement agreements already, Ruby said.
He added ACP so far has filed suits to gain easements from about 100 landowners who make up a portion of the remaining 20 percent. Landowners who have been sued own properties where ACP plans to begin construction in 2018.
ACP has not yet reached agreements with all landowners on the route in Nelson County, but no eminent domain suits have been filed against other Nelson landowners. Most ACP construction in Nelson is slated for 2019, Ruby said.
In the case of the Fentons, the company seeks the easements because it plans to start construction on the land this year, Ruby said. Construction in the area focuses on horizontal directional drilling that will be used to bore beneath the Blue Ridge Parkway.
ACP's suit seeks "immediate possession of the Easements prior to the determination of just compensation." Such a judgment by the court would allow ACP to move toward construction without having to wait for a final determination on how much a landowner deserves for the easement on his or her property.
In all eminent domain cases, if ACP is granted easements or immediate entry onto properties, ACP still would only be allowed to perform permitted activities. In Virginia, ACP cannot conduct full-scale construction yet and is allowed only to fell trees in upland areas with handheld equipment.
Additionally, FERC ordered in its approval last October all permanent rights of way are restricted to 50 feet.
Will Fenton said Thursday the years-long ACP process, including the latest court fight, feels akin to a "slow-motion robbery."
"It's kind of like being a fish on a fish hook," he said. "How long 'til you get exhausted and let them reel you in, as far as negotiations? That's where we're at."
He added any monetary compensation from ACP, including early offers and the number that will be determined during the eminent domain proceedings, won't be enough to offset losses he believes his family's company will take.
"It's not as if we [were] waiting around to get extra compensation," Fenton said. "There's not really a point economically that [is worth putting] myself through this four-year experience that we've had so far, and it's really only beginning. … If we could make the pipeline disappear from our property, from our area here, there's numerous people [in Nelson], including myself, who would write a check … to not have gone through this."
The Fentons' case is set for 9:30 a.m. Feb. 26 in Lynchburg.
Get local news delivered to your inbox!
Subscribe to our Daily Headlines newsletter.