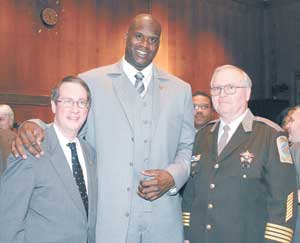 A rap performance at a New York City nightclub officially ended Shaquille O'Neal's association with the Bedford County Sheriff's Office and Operation Blue Ridge Thunder.
The association was severed when video surfaced of the Phoenix Suns star rapping about his former teammate, Kobe Bryant, on the celebrity news and gossip Web site TMZ.com.
In the song, O'Neal blames Bryant for ruining his marriage and uses racial slurs and other vulgarities. O'Neal and Bryant played together on the Los Angeles Lakers, and won three straight NBA titles from 2000-2002.
"As a result of this event in New York, which (was) unacceptable, his unofficial association with the Bedford County Sheriff's Office is suspended," Brown said in a news release. "His likeness, which is used by Blue Ridge Thunder, will be removed from our Web page and other documents."
Brown said O'Neal is no longer associated with either entity.
"He made a mistake and he knows it," Brown said in an interview Wednesday afternoon. "We can't uphold those comments. They were unacceptable."
The song also lost O'Neal his association with Maricopa County Sheriff Joe Arpaio, according to the Associated Press. Arpaio made O'Neal a special deputy in 2006.
"I want his two badges back," Arpaio told the Associated Press on Tuesday. "Because if any one of my deputies did something like this, they're fired."
O'Neal told ESPN.com on Monday, "I was freestyling. That's all. It was all done in fun. Nothing serious whatsoever."
O'Neal still retains his full-time reserve officer status with the Tempe (Arizona) Police Department.
He was sworn in as a Bedford County reserve deputy in 2005. That affiliation ended in January when he was not reappointed. Brown said that was not the result of any action by O'Neal, but rather because of the NBA star's busy schedule.
With each sheriff's election, all the deputies have to be reappointed and O'Neal could not make it to Bedford for the ceremony.
Equipment, including a Bedford County sheriff's badge, was returned to the sheriff's office earlier this year, Brown said. O'Neal does still have a badge showing his association with the Internet Crimes Against Children Task Force that will be returned, Brown said.
"I hope that people remember the great things he did for the Internet Crimes Against Children Task Force here and across the country," Brown said. "He's done several public service announcements that have been shipped to task forces across the country. Kids watch these PSAs and parents do, too."
Because of O'Neal's affiliation, Brown said the task force has been able to attract other celebrity sponsors like Erik Estrada and Miss America Lauren Nelson, and is in talks with several high-profile NASCAR drivers.
"Shaq drew a lot of attention to the task force across the country," Brown said.
Brown spent more than $11,000 on trips to woo the NBA star to become a national spokesman for the Bedford-based Safe Surfing Foundation. During a three-day visit in 2005 to Bedford, Lynchburg and Roanoke, $3,000 was spent on the star. Thousands more were spent filming public service announcements with O'Neal.
Federal money provided to the Southern Virginia Internet Crime Against Children Task Force by the U.S. Department of Justice paid for those expenses.
In 2006, O'Neal took part in serving a search warrant for child pornography at the wrong house after an Internet service provider provided an incorrect address to deputies. One of 10 law officers serving the warrant, O'Neal also helped search the Gretna house.
In O'Neal's biography on NBA.com, he said he wants to be a sheriff or police chief when he retires from playing. He's worked with the Los Angeles Police Department and the Miami Beach Police Department during the off-seasons. He has also attended the Los Angeles County Police Academy.
He received an honorary deputy U.S. Marshal badge in 2005 and became the national spokesman for the Safe Surfin' Foundation, which is the educational section of the internet crimes unit of the Bedford County Sheriff's Office and Operation Blue Ridge Thunder.
The video was posted on TMZ.com. In the song, O'Neal raps that "Kobe couldn't do without me," in reference to the Lakers' player's inability to win a championship without O'Neal.
Warning: explicit and offensive lyrics