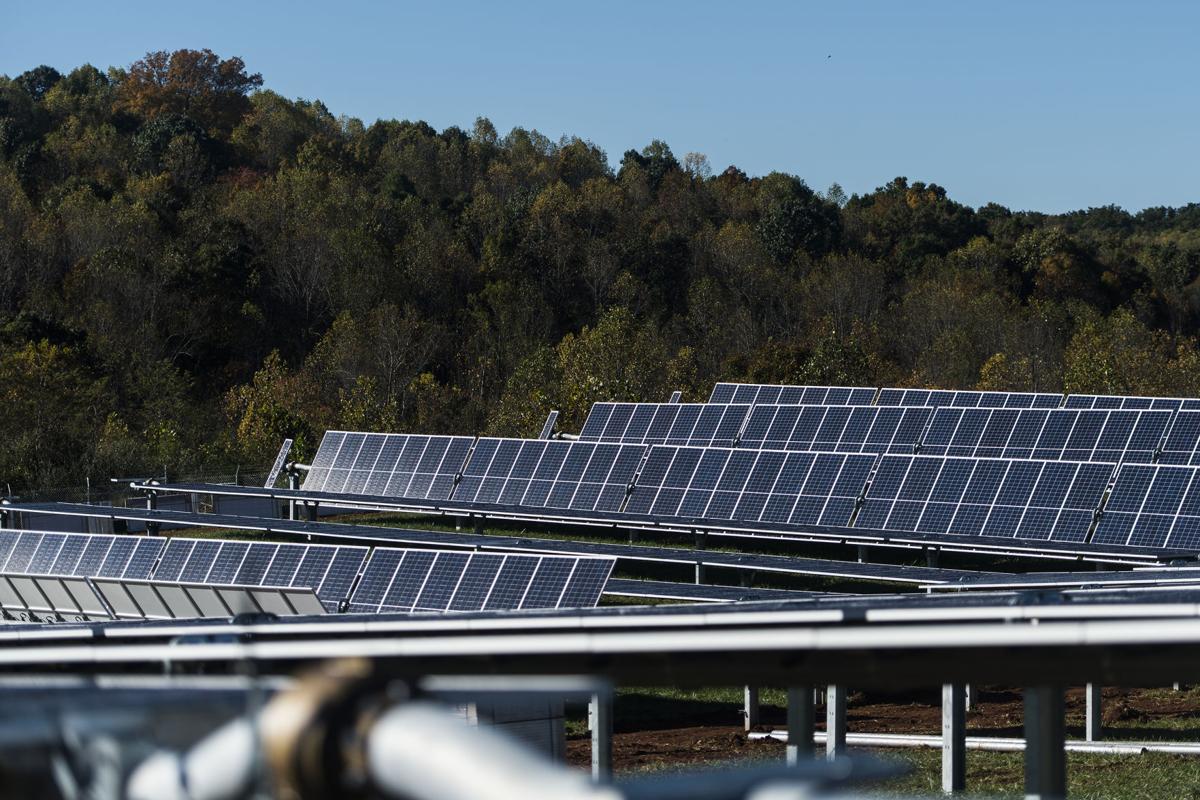 After nearly two hours of discussion, the Campbell County Board of Supervisors voted this week to move forward with an ordinance developed by the planning commission to regulate solar farms, three of which have been proposed for development within the county.
"Entities that want to consider a solar facility in Campbell County can make an application to do so with a special-use permit in areas that are currently zoned industrial, business, heavy commercial or agricultural, and those requests will be considered by the planning commission and board of supervisors based on their individual merit against any potential local impacts," County Administrator Frank Rogers said in a Wednesday phone interview.
According to the ordinance now on the books, solar energy proposals must include a traffic study and a plan for how the installation will be decommissioned after the life of the project.
"Now it will be incumbent upon the planning commission and the board to act on each individual request at such time as they're submitted," Rogers said.
Much of the discussion at Tuesday's work session centered on a proposal from Rustburg District Supervisor Jon Hardie, who recommended the county include an ordinance that requires solar inverters — a type of small power station — to be set back 500 feet from the property line for noise mitigation. The inverters, Hardie said, produce a noticeable hum that solar farm neighbors may find bothersome. He expressed concern the noise could stifle future development near the facilities, which currently are surrounded by agricultural land.
"I think that setting some standards could be a very good thing," Hardie said.
Brookneal Supervisor Charlie Watts supported Hardie's recommendation but suggested flexibility on the setback, such as 200 to 300 feet, rather than the 500 feet preferred by Hardie.
Other supervisors, however, balked at the inclusion of a setback standard for solar farms.
"I don't see any reason to box ourselves in like that," Sunburst Supervisor Bob Good said.
Hardie's recommendation ultimately failed as supervisors decided to move ahead with the ordinance adopted by the planning commission following a public hearing April 23.
The ordinance was enacted Tuesday on a 5-1 vote with Altavista Supervisor Stanley Goldsmith the sole opponent and Timberlake Supervisor Susan Hogg not present at Tuesday's work session. Goldsmith said his dissent was due to his belief the county should regulate solar farms like other businesses and require them to follow the noise ordinance in place. According to county code, noise should not exceed 65-82 A-weighted decibels — sound levels perceived by the human ear — from 10 p.m. to 6 a.m. The county code factors in where the sound level is measured based upon the distance from where the noise is generated.
According to research presented by Rogers at Tuesday's work session, noise near the solar inverters can reach 55-65 dBA, which he compared to an air conditioner or a dishwasher.
Campbell County did not have regulations governing solar energy projects in place prior to separate proposals brought forth since last year to develop three such facilities. The largest, proposed by Charlottesville-based Apex Clean Energy, is planned for a 1,200-acre plot near Lynch Station and, depending on the technology used, likely will be 400 to 700 acres of solar panels, according to a Wednesday phone interview with Development Manager Blaine Loos.
With regulations now in place, Loos said Apex will submit a new solar facility application, which includes a traffic study and a decommissioning plan for when the 35-year lease ends.
"We still have quite a way to go before we're ready for construction, but approval of the ordinance is a really big step forward," Loos said.
According to Loos, the Apex project will produce 80 megawatts of energy, enough to power 15,000 homes, and will support 200 construction jobs during the installation. With installation anticipated to begin in middle to late 2019, Loos said the project should be online by 2020. He added in addition to energy, the solar farm will generate $50,000 per year in county tax revenue.
Other interested solar farm developers are Cypress Creek Renewables and Coronal Energy. The proposal originally submitted by Cypress Creek Renewables last fall was for a 15-megawatt solar energy facility located on 260 acres along Lynbrook Road outside of Rustburg.
Cypress Creek representatives did not return a message left at their Asheville, North Carolina, office.
Bennie Arthur — a Campbell County landowner leasing property to Charlottesville-based Coronal Energy for a 105-acre, 15-megawatt solar farm off of Depot Road outside of Rustburg — said Wednesday the company will resubmit its application.
Arthur, who said the acreage has been in his family for generations, noted this is one way to keep the land within the family despite a lack of interest by younger generations in farming.
"We don't expect them to come back to the family farm," Arthur said, noting leasing the farm for solar energy production would provide income off the land for years.